A tectonic shift is underway in the kids entertainment industry, and earthquakes are sure to follow. Two of those seismic shocks are likely to come courtesy of upcoming launches from Apple and Disney.
Apple recently poached Amazon head of kids Tara Sorensen for a soon-to-be-launched video service, while also securing a landmark deal with Sesame Workshop. The House of Mouse, meanwhile, arrives in 2019 with an international streaming service supported by an extensive catalogue of much-loved IPs—including exclusive shows based in the Marvel and Star Wars universes.
While the industry is poised for some serious tremors, what the landscape will look like when all is said and done is up for debate.
"Every medium lives through a half-life," says Fred Seibert, CEO of New York-based Frederator Networks. "Usually, that's when a significant competitor comes on the scene. In broadcast, it was cable. In the age of YouTube, it was Netflix. Once you pass that moment of half-life… I don't want to say panic ensues, because it's not panic. It's, 'Oh, the world has changed. How am I going to change with it?'"
Invest in custom content
Right now, it's the industry giants that are making headlines with SVOD power plays, but there are many others who are jostling their way into the game. And they're discovering the importance of investing in original IPs.
"There are the very big SVOD platforms, and then there's a huge amount of activity below them, where you have smaller and medium-sized players starting to gain traction," says Lucas Bertrand, CEO of London-based digital distributor MoMedia. "That's largely being driven by broadcasters going: 'Oh shit, we've got to be in that space.'"
MoMedia was founded in 2005 to feed the billion handsets on the market. (The company's name is an abbreviation of 'mobile media.') That was a good primer for what's happening now, Bertrand says, as the company has worked to stay on top of the latest technology and consumer trends.
"We're always trying to learn and unlearn what we think we know," he says. "The one constant in digital is that as soon as you build a successful model, someone's going to come along and innovate and destroy it."
SVODs used to be all about getting a big catalogue together, boasting 10,000 movies or 100,000 episodes. In the last six to 12 months, however, that's shifted. "The big platforms want to own content outright, make it themselves, and own all rights in perpetuity," Bertrand says. "They're willing to make big investments now and reap the benefits of owning content."
That willingness to spend is as much about increased competition as it is about differentiation. Andrew Thomas, director of content acquisition at Hulu Kids, says his service sees content as a foundational piece of future growth.
"The networks are becoming more conservative about how much content they license to digital platforms," he says. "The new shows coming out on linear are becoming harder and harder to get to, so we have to go upstream to talk to studios, and anticipate that there will be less content available for us as we get into 2019, 2020 and 2021."
It's now a balancing act between the content they are licensing—which they're very much still in the market for, he says—and trying to create long-term stability through successful original content.
Most outlets have their own voice. PBS KIDS has an established personality, as does Cartoon Network. But what does a Hulu kids show look like?
According to Thomas, Hulu sees itself as a playtime destination, with content oriented towards comedy, fun and imagination. That's clear in its recent deal with Amblin Television and Warner Bros. Animation to bring back the classic series Animaniacs. It's a great title, but like many SVOD players, what Hulu really wants is a voice of its own.
"We're going to find that show that's really iconic, the one that's synonymous with the Hulu kids experience," Thomas says. "We don't know exactly what it is yet, and that's part of the fun." Hulu offers prime screen space to partners like Cartoon Network and DreamWorks Animation, so it would only make sense that its original IPs might be designed to live comfortably alongside partner content. But that's as much of a challenge as an opportunity for IP owners pitching the service.
"The platform is set up democratically and all content is more or less treated equally," says Thomas. "So how will new content reach the audience? It has to live next to Curious George, Teen Titans Go! and Adventure Time. It has to stand up next to these mega-shows in terms of popularity, so what's the show going to do for an audience that we're not already doing? We're open to hearing a great answer."
No country for stale content
Original properties may be a driving force for a successful SVOD, but the savvy operators know that securing fresh, high-profile titles is also a key part of the formula.
"I think it's going to be very hard for new players to break into the kids SVOD space without recognizable IPs. It's the exclusivity that locks subscribers in," says Phil Birchenall, projects director at London-based K7 Media. He argues it will take landmark programming to force viewers to take notice and attract them to services.
It's a tall order. SVOD is still waiting for the kid version of The Sopranos or Orange is the New Black, an iconic show that establishes the platform and captures wide audience attention.
"To me, the marker of an SVOD's success in the kids space won't be buried away in proprietary data we'll never see. It'll be about the omnipresence of the IPs it produces," says Birchenall. "Is a big streamer capable of generating a Peppa Pig-sized brand, recognizable across the world on our screens and in the hands of our little ones? We're certainly not there yet. I think Disney's platform will be a shock to the system for many looking to build kids programming for the on-demand generation. They have the creative talent, a wealth of much-loved IPs, routes to consumer merch through the Disney Store, and they'll have a root audience at the point of launch, too. That's a level of vertical integration none of the other streamers can boast."
Build brands on many platforms
And, really, merch is where the money is. But without access to vertical integration like Disney's, the natural solution for content owners—for now at least—is to cast a wider net.
"In order to provide support to get consumer products going, you really have to be with a major broadcaster," says Debra Pierson, SVP of global content distribution and marketing at Genius Brands, as well as president of the company's AVOD/SVOD/OTTS network, Kid Genius. "We develop IPs from the start with the idea that we will be working with a major broadcaster and a major SVOD."
Pierson says they use the Genius Brands networks, SVOD partners like Netflix and linear partners like Nick Jr. to support brand-building efforts and create the greatest attention possible for brands such as Baby Genius, Llama Llama and Rainbow Rangers.
"There are so many platforms that it's hard to make money in distribution alone," she says. "You always need to be thinking about what revenue streams are going to be associated with content."
She's not alone in that approach. "Clearly, there are shows that perform well across many platforms," says Mike Watts, CEO of UK-based Novel Entertainment. "It's about how you can get to consumers. How are consumers watching shows? Where do they spend their time? How can you reasonably be on as many platforms as possible?"
Novel's Horrid Henry was one of the first animated British shows to be picked up by Netflix UK when it launched in 2012. The streamer pairs 11-minute linear episodes to create 22-minute hits for SVOD viewers.
"Horrid Henry is a brand," notes Watts. "It's a world of characters. There's a licensing program and it has been massive in DVD. We did the live-action movie and look to do another one. We've done stage shows. Horrid Henry has its own YouTube channel, and we create short-form content for it on a weekly basis."
Cue the innovators
Getting the attention you need for an IP launch is a huge challenge in the SVOD universe, but there are many who think they're up to the task.
California-based media company Pocket.watch has partnered with five of the largest YouTube kid influencers in the world—including Ryan ToysReview, EvanTubeHD and HobbyKidsTV—to help build the momentum it needs for IP success.
"The brands and creatives that we partnered with had massive audiences, but they were not present outside of YouTube," says Pocket.watch CEO Chris Williams. "They were literally one screen, one platform, and we really see the world through that franchise lens. When we look at something like Ryan ToysReviews—yes, he's a six-year-old kid star—but he has this massive audience. He's a brand that we really believe will translate into many things. We can look at him like a franchise."
Pocket.watch has built a machine to do just that. The company is launching a significant retail push around Ryan, working with about 15 licensees and kicking off a 75-location Ryan's World experiential tour at Walmart locations across the US. The end of the year will also see the launch of the new book imprint Watch this Book! with Simon & Schuster.
"One of the things that was very important to us from the beginning was that our brand had to be able to live everywhere—including, obviously, on other people's platforms and channels. Kids really don't acknowledge something emotionally as a franchise unless they are seeing it everywhere."
In Q1 2018, Ryan ToysReview reached 113 million unique users globally. In the US alone it hit 73 million. "That makes it the third-largest cable network for kids," says Williams, "so I think, for us, the bar is very high in terms of reach and prominence."
Show me the numbers
Finding IPs with a pre-existing audience or star power is obviously a clever shortcut. "The number-one thing is audience," says MoMedia's Bertrand. "SVOD platforms are looking to acquire or commission programming that already has a big audience."
MoMedia recently partnered with Amazon Prime for Outfit7′s Talking Tom and Friends. "The app has been downloaded eight billion times," says Bertrand. "There are only six billion people in the world. But it clearly shows the size of the audience out there that isn't necessarily on traditional broadcast media."
For its part, LA-based Gaumont Television is in development on the series Do Re & Mi with Hollywood stars Kristin Bell and Jackie Tohn for Amazon, as well as Heal The Earth, a series based on books by New York Times bestselling children's book author (and son of Beatle) Julian Lennon and Bart Davis.
"There's just so much content," says Vanessa Shapiro, president of worldwide distribution for Gaumont Television. "We're trying to find things that are going to resonate with the audience, with characters you can get attached to."
Pre-awareness of a brand, celebrity or creator continues to be an easy entry point for audiences, which was part of the appeal of Animaniacs for Hulu. "Animaniacs is beloved by my generation, and it's a great opportunity to re-engage parents and families together with content that they know from childhood," says Thomas. "That kind of formula is something that excites us."
Spread the word
If you don't have the luxury of an established brand or star power, it just means you have to get a little more creative.
For Ponysitters Club, Toronto's Brain Power Studio decided to take the message to the masses themselves, bringing on local shop Neon Brands to support the show's run on Netflix. Polly Beel, a partner in Neon with industry vet Gabrielle Gauthier, spent five years at Entertainment One specializing in independent theatrical marketing. Kids IPs looking to make a splash for their SVOD launches should take a similar approach, Beel says.
"You want to see spikes," she says. "You need to drive traffic the same way a film release does. Netflix isn't going to track these over six months; they know pretty early on if the show is something they want to move forward with."
Beel prefers a combination of tactics—from PR events to social pushes—to create a buzz-worthy tipping point for the brand. "That's where the marketing has to switch, because if you have a series and you know Nick Jr. or Disney Junior is committed to 26 or 52 episodes, chances are they're going to play it out," she says. "In the Netflix world, you have to go fast and furious. You have to change your strategy."
The goal, she says, is to create enough of a splash out of the gate to make it onto the SVOD's trending list, so that the success can perpetuate itself. One of the ways Neon and Brain Power did that was through creative innovative partnerships.
For a show about rescue horses and ponies, for example, it made sense to bring on 4-H Clubs, the agriculture-focused youth organization with more than 6.5 million members in the US alone. It worked. The first season of Ponysitters Club is already in 21 languages in 150 countries.
"Use people with expertise," says Brain Power founder Beth Stevenson. "Think about the great partnerships you can bring on board. All of these organizations are trying to figure out how they can get attention, and they are spending money on their own social teams."
Aaaaannnnddd… innovate!
Moving forward, a deeply differentiated engagement will emerge as the gold standard in terms of how IP owners measure their success, says Sundance Feniger, VP and GM of Turner's premium VOD service Boomerang. That may mean watching videos, playing games, engaging in some sort of academic or curriculum-based activity, or even AR and VR as technology allows. But it will be about listening to consumers and following their lead. "In this business, the more interaction you have with your customers, the better you get at iterating and refining," he notes. "You start to figure out what's important."
That said, the industry is still in rapid experimentation and learning mode. "I think you can have the slickest, most advanced user interface and product experience, but if you don't have content people care about, you're probably going to have a relatively short runway," says Feniger. "I'm a firm believer that you can't replace great content, but going forward, just having great content probably won't be enough. I think the next evolutionary phase will focus around interactivity, play and personalization—creating a more immersive and customized experience."
Frederator's Seibert agrees. "We have a long, long way to go," he says, "and anyone who ignores the next innovation is going to be left behind. While content is critical, understanding where technology lies and how it works with the audience is really critical, because the first people to absorb new technology are the audience members themselves."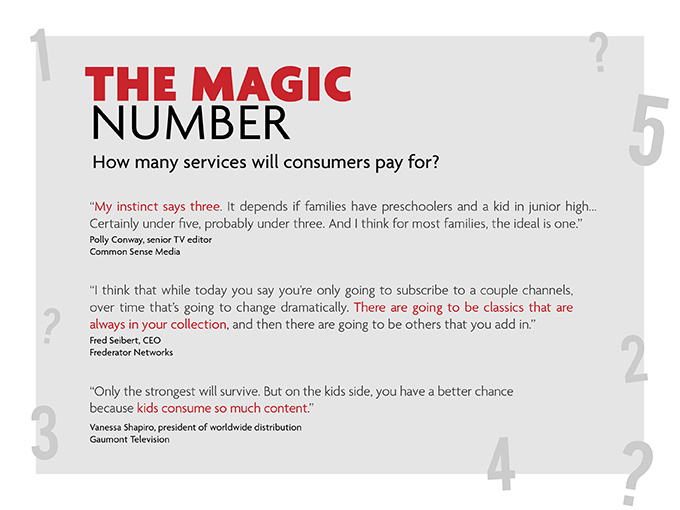 The advertising angle
London-based VOD365 was founded in 2012 with the goal of bringing advertising-driven premium VOD channels to TV and mobile devices. Today, the company's offering is led by kids-oriented channel Ketchup TV and a documentary channel called Planet Knowledge.
Ketchup is an advertising-led VOD platform that's available free to viewers via a dedicated channel on Freeview-connected TVs and set-top boxes, as well as other platforms. That's about 19 million homes in the UK through Freeview alone.
Ketchup exists on the EPG alongside channels like CBBC and CBeebies, and looks like a normal linear channel until you click it and are taken to a VOD interface. Viewers can choose from top kids content (think Peppa Pig, Casper, Ben & Holly's Little Kingdom and Fireman Sam), but it also allows for advertising, offering clients unique branding opportunities and full measurement.
"We've got the distribution, we've got the technology, and we've got the advertising. So we can now start pushing new channels out, which helps aggregate more impressions and puts us in a stronger position with the advertising agencies," says VOD365 co-founder Paul Coster.
For example, toy manufacturers can take a branded splat—the character icon the platform uses for content navigation—and add a promo video. "You can book X number of impressions at X price," says Coster, "and we do all the data, measurements and targets, even regional ones. We can do all of that good stuff around placing and impressions." Starting this month, the service can even target specific ads to specific pieces of content.
"We're creating an entire distribution ecosystem that's being led by Ketchup TV," Coster says. "It's a fully integrated advertising solution. So now we need to use it for a number of different curated content channels. We're not trying to be all things to all people. We're saying: Let's pick off niche content opportunities, wrap them in a nice brand that says what it does on the tin, and curate the content. If we can target audiences with specific content, it's a much easier sell to advertisers."