Online matchmaking is a thriving business, and we're not talking about Tinder or OkCupid. The most successful hook-ups are happening between brands and online influencers.
Influencer ad spending has been a trend for a while now, and it's still growing. In Canada and the US, brands spent US$211 million in Q2 this year on influencer marketing, according to Points North Group. And that spend is expected to increase to US$10 billion per year by 2020. Increasingly, online celebs are becoming the key for kid brands looking to drive eyeballs to a new series or toy launch in a crowded marketplace. And the payoff can be huge.
A recent survey of 14,000 people in the US conducted by Collective Bias found that 70% of Millennial consumers are influenced by the recommendations of their peers in buying decisions. The same survey found 30% of consumers are more likely to buy a product suggested by a non-celebrity blogger.
But working with online influencers is not without its risks, particularly when it comes to kids media. For evidence, one need look no further than Logan Paul, an influencer juggernaut who quickly and dramatically fell out of favor with brand partners and parents when he made a controversial video relating to suicide.
With so much untapped opportunity, and with such high stakes at play, the behind-the-scenes practices of how to match up with the right influencer remain a mystery. So we asked brands to share their successful hook-up stories and offer advice on how to find the perfect partnership.
The arranged match-ups
Of all the options for seeking out a brand or influencer partner, working with an agency like Fullscreen is one of the most popular. An agency offers expertise in the space and often has proprietary technology and databases that no one else has access to, as well as keeping a pool of creators that it manages on hand.
Pete Stein, general manager of brand services at Fullscreen, has identified several factors that are important to look for in finding the perfect influencer for each brand. They include making sure the creator isn't working with a competitive brand, and putting more stock in high levels of engagement as opposed to just high views.
"The smarter brands are thinking, 'How can we find a group of creators that we can work with in the long term?' Ideally, you start using them for organic integration or shout-outs, then move to more of an ambassador relationship, and then potentially co-development of products," says Stein. "As the creators scale, they don't have as much engagement. But some are able to hold engagement levels pretty high even as they scale, so that is a very important factor," he says.
Fullscreen works with some of the top creators in the space, including Zach King and Elle Mills. When a brand comes to the agency, its first step is to understand what the brand's objective, key performance indicators and target audience are. Then it dives into its DataHub. This is a database of info gathered about Fullscreen creators and social influencers, including preferences, what brands a creator has worked with in the past, and even when their birthday is—anything that helps them understand who they are. Then the team narrows focus on a couple of creators and checks for brand safety before presenting them to a client.
Fullscreen also recently acquired influencer marketing startup Reelio—which previously described itself as the Match.com of brands and creators on YouTube—with the intent of offering a more complete set of services in influencer marketing to create stronger matches.
Beyond agencies, brands often turn to tools such as FameBit (acquired by Google in 2016), a marketplace that connects video creators with marketers who want to sponsor their content. Others include Upfluence, a professional influencer search engine, and Socialbook, which acts as a pay-for-access database of influencers across a number of platforms.
The hands-on hook-ups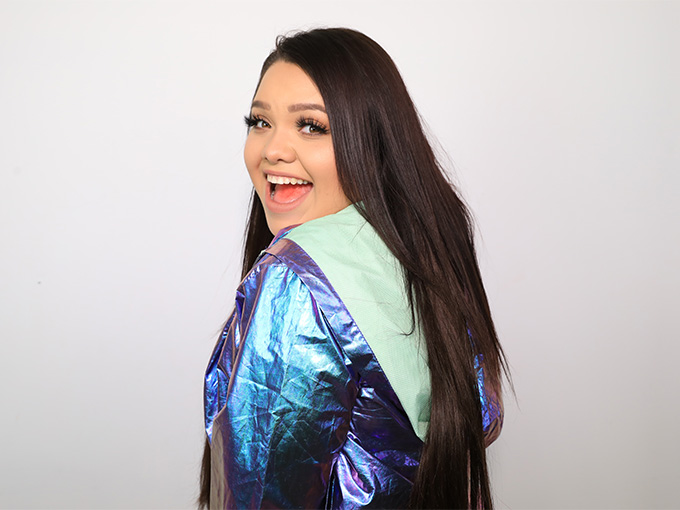 However, some companies—including GoldieBlox—prefer to do things with a bit more of a hands-on approach. Since it has its own content on YouTube, including the Hack-a-long Show and Robot Runway, the California-based startup is mainly interested in influencers who can be featured in that content or promote it on their respective channels, rather than a straightforward product placement.
To find its perfect match, the content team will simply go to YouTube and look for creators doing similar things, subscribe to those creators, then see who they're following and subscribe to those channels, too.
"A lot of brands don't participate in YouTube on a personal level," says Anthony Deptula, GoldieBlox's head of content. "They think of it as a marketing tool and they don't realize that it's actually a community of creators talking to each other."
GoldieBlox has worked with lots of creators in the DIY space, including My Froggy Stuff, Vat19 and Karina Garcia.
The latter is an absolutely massive You-Tuber with 8.2 million subscribers and more than 1.1 billion views, mostly amassed in the last year after she essentially became the go-to source for all things slime on YouTube. Her most popular video alone—"100LBS of SLIME! DIY Giant 45 Kilo Slime Stress Ball!"—racked up 25 million views.
Deptula says the team found her the same way everyone else did—by hearing about her slime videos, and going to her channel to watch them. They then reached out to her manager because they noticed that most of Garcia's audience was made up of the same group of kids GoldieBlox is courting.
"We kind of knew she would work well before we reached out because she's a maker, she makes slime, and that's part of our DNA," says Deptula.
So far they've done a video collab together on both channels, and then Karina went to Houston to give away a bunch of slime kits and make a live video and vlog for GoldieBlox. Deptula says they plan to continue to work together in the future.
Despite collaborating with one of the most popular YouTubers of the moment, GoldieBlox actually prefers to work with smaller creators on a more one-on-one basis, so they don't have to go through management and agencies.
The cool factor
Toyco WowWee uses a similar approach and also doesn't mind working with creators with a slightly smaller following. Sydney Wiseman, creator of Fingerlings and brand manager at WowWee, says that her brand works with influencers in two ways: through paid influencer campaigns that it mostly sets up with agencies; and with "earned influencers." This involves sending product to a bunch of people and then letting the ones who really like it put it in a video, if they choose.
Wiseman says her team goes through YouTube videos, Instagram pages and comments on influencers' pages, or sends out blind emails to managers and agencies hoping they'll write back. She notes that they often work with agencies, and says it is definitely the easiest route since most offer a menu-type service.
For Fingerlings, the brand went for a two-pronged approach. "We wanted to make sure we had the kids who were setting trends, who other kids see and think are so cool, like the Mackenzie Zieglers of the world," says Wiseman.
"Secondly and very importantly, moms need to feel comfortable enough with the brand that they'll go out and purchase it, so we need to make sure that moms know we're a trusted and cool brand," she adds.
When Fingerlings was launching, Wiseman worked with twin kids Jacy and Kacy. She met the pair at an event in New York called Sweet Suite, where brands display their products for influencers to pick up and review on their channels. Melissa Hunter of Mommy's World (formerly MommyandGracie) was a big part of the Fingerlings strategy of catering to the mom audience. Hunter came into the fold because she knew one of the employees at WowWee through a connection in the toy world.
The personal touch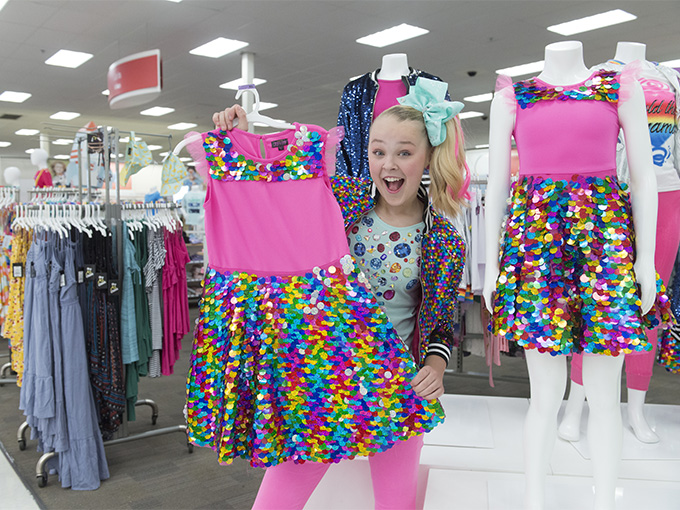 Personal connections are actually a surprisingly popular way of courting big YouTubers, who get thousands of requests from every brand imaginable. It's how Nickelodeon found JoJo Siwa, the mega-star online influencer the kidcaster now manages.
"She came to us through a woman on my team who was, quite frankly, very friendly with the family, and knew JoJo was looking for representation," says Pam Kaufman, president of Viacom and Nickelodeon consumer products. "What was appealing was that she was very young—only 12 when we met her—so she was squarely in our core demo."
Siwa has 7.4 million subscribers and 1.6 billion views on her main YouTube channel, as well as 2.8 million subscribers on her vlog channel.
While Nickelodeon works with influencers to promote brands and TV series, three years ago the kidcaster began looking for someone it could partner with to help fill a gap in its offerings. It had plenty on toy shelves for preschoolers, but was really missing something for the nine to 14 set, Kaufman says. So they started looking for an influencer who could do that.
"We found out that both parents and influencers are heroes to kids today," says Kaufman. "Influencers have started gaining ground as people who are more important in [kids'] lives than the president or teachers and best friends."
But there are thousands of influencers out there appealing to the demographic. Nick says Siwa stood out because of her work ethic, her ability to communicate well with her audience, and her anti-bullying stance. She also happens to be a good singer and dancer, and the fact that her signature look includes a bow—which parlays nicely into consumer products—certainly helped. (To date, the kidsnet has sold more than 35 million JoJo bows globally.)
Courting the King of YouTube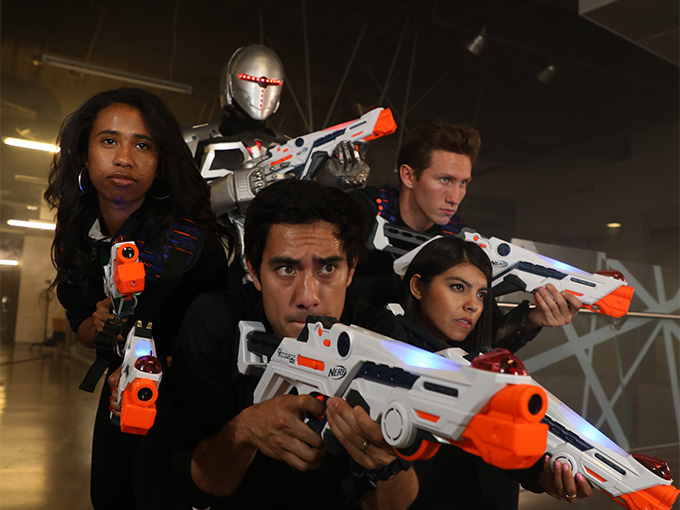 Sometimes the perfect matchup is found in a much more serendipitous way, as was the case for Hasbro and YouTuber Zach King. The toyco's SVP of digital marketing, Victor Lee, was at a Google event when he heard King talking about how much he liked the toyco and its NERF brand. The extra magic of the moment was that Lee happened to be looking for someone to be the face of a new NERF campaign. King was quickly brought in for a meeting.
"We don't go into any of these meetings saying, 'We need Zach King to write, create and produce 15 episodes for us' without even knowing if he has the capability or if he's done it in the past," says Lee. "When you have a conversation with him, you quickly understand what [King] is really good at. Then we balance that against what would work well with our brand, and naturally you arrive at that special place."
Knowing when it's right
Hasbro also signed a major deal with YouTube comedy duo Rhett and Link. The childhood best friends and all-around family guys are signed to co-produce several games that will be advertised on their Good Mythical Morning channel, which boasts 14 million subscribers and frequently features games.
But this time around, Lee didn't find the pair as spontaneously. Instead, he went to influencer agency Studio71 for help in finding the right people to work with.
"Hasbro knew Rhett and Link. They've been around in the marketplace, and they knew that there are thousands of creators to choose from for partnerships," says Peter Leeb, EVP of US partnerships and operations at Studio71. "But a lot of the Good Mythical Morning storylines are around families and games, so it was a natural fit."
Over the years, Studio71 has worked on more than 7,000 campaigns for brands, so Leeb certainly knows his stuff. The network encompasses around 800 creators who often have multiple channels. And, like Fullscreen, Studio71 has a pool of data it can pull from that includes subscribers, views, engagement levels, and more.
"I know every minute of every day how the content resonates or doesn't resonate, so we know—from an optimization standpoint—the best time to post content and the best time to market it. We have demographic information," says Leeb.
As these partnerships become more common in the kids biz, the honeymoon phase may be coming to a close. But with the right tools and a focus on brand safety, brands have a good chance of keeping the love alive.