Scholastic is getting ready to roll out new publishing programs for upcoming series revamps She-Ra and the Princesses of Power (pictured) and Clifford The Big Red Dog.
In partnership with Universal Brand Development and DreamWorks Animation Television, Scholastic will launch an extensive line in the US and Canada next summer for She-Ra, including original fiction for seven- to 10-year-olds written by bestselling author Tracey West (Dragon Masters). The program will also feature graphic novels curated by series executive producer Noelle Stevenson (Lumberjanes, Nimona), as well as fill-in journals, in-world guidebooks and novelty boxed sets.
Telling the story of an orphan who discovers a magical sword that transforms her into the legendary warrior princess, the new She-Ra series is slated to debut on Netflix on November 16.
Meanwhile, Scholastic's iconic big red dog Clifford will also be making a splash in print leading up to the fall 2019 premiere of the company's rebooted series (pictured below ) on Amazon Prime Video and PBS KIDS.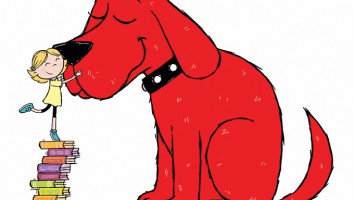 Illustrated in the same style as the new TV series, three new Clifford books will launch in the US next year. First off the presses will be a title about swimming in May, followed by a back-to-school title in July and Welcome to Birdwell Island, which is set to roll out with the TV series launch and introduce readers to the  cast and their world.
More titles inspired by the Scholastic reboot will follow, including an updated edition of the original Clifford book. To date, more than 133 million copies of books in the Clifford series have been sold worldwide in 16 different languages.
Produced by Scholastic Entertainment with creative support from 100 Chickens and 9 Story's Brown Bag Films, Clifford The Big Red Dog will feature brand-new storylines in which Clifford and his best friend Emily Elizabeth will speak to each other for the first time. Original songs, new characters and a curriculum focused on imaginative play, early literacy and social-emotional skills are also on the drawing board, and Scholastic is planning a hybrid live-action movie for Clifford with Paramount Pictures.