Set the scene
Storyboard artists are in demand.
Like a comic-book panel (minus the word balloons), storyboards act as a guide-post for everyone involved: from writers, who can see the story brought to life; to animators who have a map to follow; to FX folks who need to know what effect shots will be created later. While the script is important, the storyboard is the foundation upon which the entire animated project can rest.
According to the US Bureau of Labor Statistics, employment of multimedia artists and animators is projected to grow 8% from 2016 to 2026, due to increased demand for animation and visual effects in video games, movies and television.
And as demand for animated kids fare from the likes of Netflix, Disney, Apple and Hulu continues to grow, so too does the need for these foundation layers.
Meet the characters
"There are so many opportunities right now, [and] it's letting artists find projects that speak to their sensibilities. You have so much to choose from," says Sam King, who is three years into her career and working as a storyboarder on Disney Channel's hit series DuckTales, as well as teaching character animation at CalArts.
But across the pond, Paris-based animation director, storyboarder and scriptwriter Nicolas Le Nevé (TeamTO's Mighty Mike, Xilam's Oggy and the Cockroaches) says the increase in jobs is putting a strain on the industry.
"In France, we have a staff shortage problem right now. Young artists often only spend six months at one studio before moving to another. It's also not solely a French problem. I was in China and Malaysia recently, and they have the same issues," says Le Nevé.
That demand is prompting businesses in France to change tactics in order to retain talent over longer periods of time, he says. Companies are looking to shift their work culture and become better at listening to employee concerns. There is also a push to create more collaborative work environments, Le Nevé says.
"It's more efficient and fun to work together in a writer's room or put storyboarders together as a team," he says. "This kind of process is new in France, but all the big companies like Gaumont, Xilam and TeamTO are trying it. They're growing new teams of creative people and looking for boarders who can be writers and directors or heads of storyboard."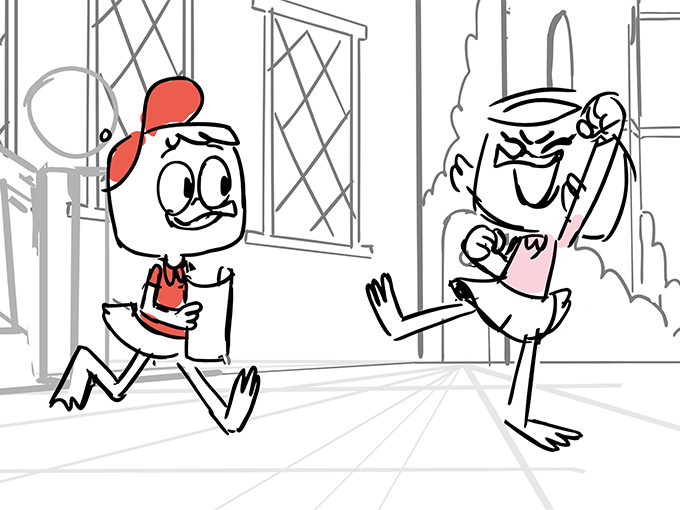 Advance the plot
It's a similar career map to the US, where many former storyboard artists launched into creator-showrunner careers, including Rebecca Sugar of the hit Cartoon Network series Steven Universe and ex-Gravity Falls director and storyboarder Matt Braly of Disney Channel's series Amphibia. In France, it's far more common for storyboarders to move into directing, says Le Nevé. Bucking the trend, though, his own original show concepts, Tiki Tam Tam for Cyber Group Studios and Tiny Bad Wolf for Xilam (which is a Cartoon Forum selection this year) are in pre-production.
"I was lucky, but I don't have many showrunning friends," he says. "The concept of showrunner doesn't really exist [in France] as it does in the US, but it's starting to come."
Stateside, King says she would love to take what she's learned as a storyboarder and apply it to directing and more.
"Being a showrunner is definitely something that speaks to my interests and my career," she says. "But right now, I'm focusing on being a great board artist so I can become a good director."
Turning the page
King's commitment to learning new skills is something 20-year veteran artist Matt Danner can appreciate. As supervising director (and the voice of Kermit) on Disney Junior's top-rated mixed-media series Muppet Babies, Danner not only oversees boards, he also watches over the animation, writing, compositing and cameras. And to keep up with rapidly changing technology, he has to continuously hone his storyboarding chops. For example, since Muppet Babies is a hybrid of live action and animation, new camera, thumbnailing and 3D-set processes had to be integrated.
"Putting 3D characters into 2D or photo-real backgrounds required some new techniques. We build digital sets to use in the storyboards so we can pick our camera angles ahead of time," says Danner.
"During our storyboard meetings, we go through the digital set with a 3D camera to map out the action. Teaching people who are used to drawing their backgrounds to actually pick their angles more like a live-action show has been a learning process."
Once Danner and his team determined all of the shots, they used simplified 3D versions of the characters to plan out scenes before incorporating acting and expressions.
"Most of our board artists have worked with some sort of 3D software like Google SketchUp, but this is the first time I've implemented it throughout an entire show," he says.
Planning the sequel
As a young professional not far removed from her days as a student, King is encouraged by the influx of opportunities for animators and artists, but says more mentorship and training will be needed for the long-term health of the industry.
"It's great that there are more students at school learning from people working in the studios," she says. "Having teachers who can speak honestly to what the industry is looking for is important, as is encouraging creativity alongside the more technical elements, because that can often be a barrier to entry when you are first trying to get a job."
Tricks of the trade
Leading stroyboarders Sam King, Matt Danner and Nicolas Le Nevé provide their top tips for emerging artists.
You must learn how to draw before entering an animation school. Don't think that because you're paying for school you will have the skills. Most schools teach you how to make animation, but because making 2D- and 3D-animated content is complicated, they don't have the time to teach you how to draw.
– Nicolas Le Nevé, storyboarder, Mighty Mike (TeamTO)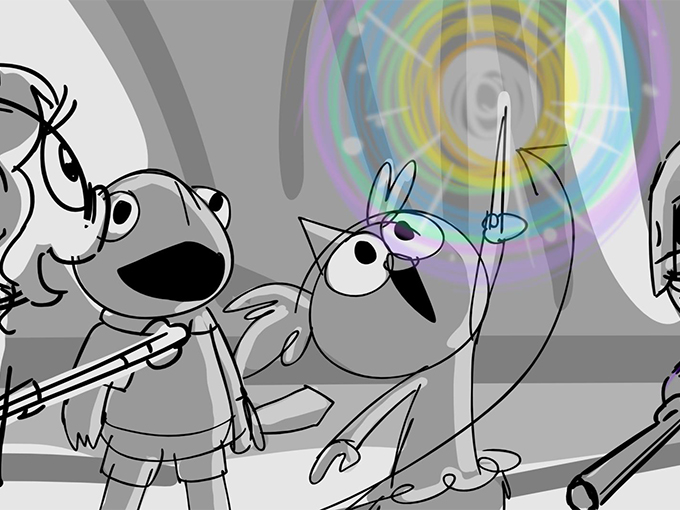 Seek out what you don't know because that is what will help you grow as an artist. If you are bad at drawing hands, buy an anatomy book. I could draw Bugs Bunny's hands, but I couldn't draw an actual anatomical one. Then I started figure drawing from television. I would watch a boxing match, for example, and pause it on an impact where you could see lots of muscles flaring out, and it was like I could see a 2D representation of the 3D object. Everybody learns things in their own way.
– Matt Danner, supervising director, Muppet Babies (Disney Junior)
Go out and live. It's easy for artists to just want to draw all the time, but going out and having life experiences and seeing new things will make your work stronger. It's also important to remember that art school is great because you're surrounded by like-minded people, but it's very expensive. For some people, it just isn't an option. But there are cheaper online schools, so even if you can't go to a big art school, there is a huge art community online that you can connect with and learn from.
– Sam King, storyboarder, DuckTales (Disney Television Animation)