Tweens and teens might traditionally be considered a rebellious group, but today's Gen Z is shocking adults in new ways: by embracing sensibility.
Drug use, smoking, arrests, alcohol consumption and teen pregnancy are all on the decline with the under-18 set, according to UK government statistics, and new waves of "sensible" behaviors are playing out each day.
What does this mean for kids companies? First, let's break down some numbers.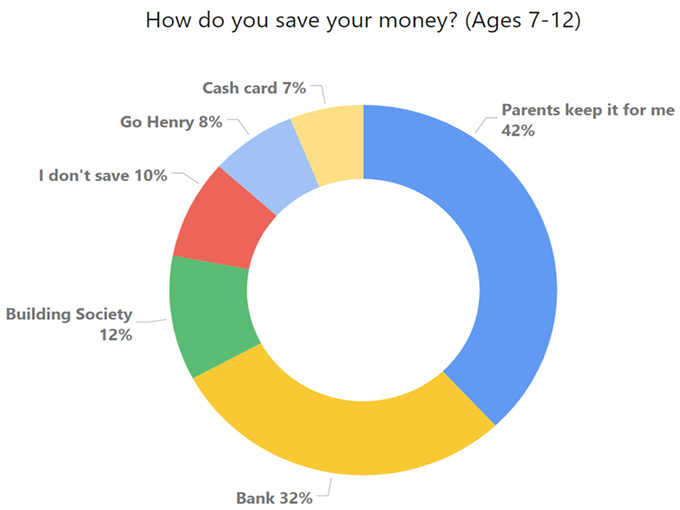 Personal growth
Kids these days are quite focused on their own futures.Our data shows that 95% of 10- to 12-year-olds in the UK spend time on the weekend doing homework or studying.
Reading, especially, continues to be the favorite hobby for girls of all ages—a pastime most popular with seven- to nine-year-olds. Only 8% of girls in this age range say they don't read any books for fun.
Academic achievement, meanwhile, is proving to be a big priority among children. A study from the British Pregnancy Advisory Service recently found that performing well on their exams or in future careers is a higher priority for young people than spending time with their friends.
And, according to the BPA, this focus on career and education is helping contribute to the decline in teenage drinking and pregnancies.
Financial stability
Beyond making choices designed to take their learning and careers further in life, children today are also being more sensible with their money. Nine in 10 seven- to 12-year-olds save at least some of their money, according to our recent survey.
Just over half of this cohort use a building society, bank account or the goHenry kids pocket money card to save money. (goHenry offers parent-controlled, kid-friendly debit cards, as well as features that allow children to earn pocket money for completing tasks.) The most common way for children to save is for their parents to keep the cash for them, and only 10% aren't saving anything at all.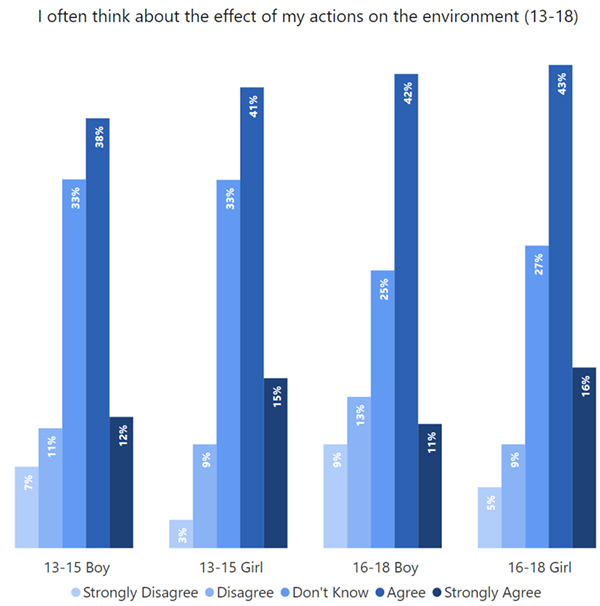 Planetary concern
More than half of 13- to 18-year-olds consider their effect on the environment, with 16% of 16- to 18-year-old girls strongly thinking about their impact on the world around them. (Only 11% of boys in that same age bracket do, but this is par for the course as, in general, boys are less concerned than girls about all issues except the economy, on which both genders are tied.)
Animal cruelty is also a leading issue, especially with teenage girls, for whom it is the second biggest concern, exceeded only by terrorism.
This growth is likely spurned by a general awareness of and greater conversation around climate change, as well as hit TV shows and documentaries such as Blue Planet II that are highlighting the negative effects of environmental damage on wildlife.
These concerns could help boost the already growing vegan and meat-free movement. Indeed, the Allied Market Research firm predicts fake meat will be a US$5-billion industry by 2020, thanks in no small part to Gen Z consuming less animal products. All of this means that brands without a clear and transparent environmental strategy may be at a competitive disadvantage.
Some companies are trying to get ahead of the trend. LEGO, for example, has already begun making some of its toys from plant-based materials. Disney, too, recently announced plans for plastic reduction, with all Disney-branded locations phasing out single-use plastic straws and stirrers by mid-2019. With Disney being the third-favorite brand among girls ages seven to 12, it's an opportunity for the brand to firmly align itself with the issues that matter most to kids.
In the UK, the favored shopping brands of teen girls—including Topshop, Boohoo, Primark and ASOS—have all recently pledged to stop using mohair, a material from angora goats that is used in various products. ASOS also pledged to ban feathers, silk and cashmere products from its site.
Of course, there's still plenty of runway for companies to improve on their environmental impact and connect more deeply with tweens and teens.
According to our data, 40% of children are influenced by the offer of a free gift when choosing what magazines to buy, but publishers are also under pressure to reduce the amount of plastic waste generated through free giveaways. Magazine publishers and manufacturers of small pocket-money toys may need to reconsider their tactics as public opinion shifts towards plastic reduction.
Ultimately, Gen Z kids are increasingly conscientious and "future-focused," not just for themselves but for the planet as well. As a result, they are making decisions more in line with longer-term objectives than the generations before them.
For brands to be able to capture and hold the loyalty of "generation sensible," they need to show that they are aware of, and genuinely interested in, these values.
Nick Richardson is CEO at UK-based market intelligence company The Insights People. Every week, the company's Kids Insights resource surveys 400 kids ages four to 18 in the UK (more than 20,000 per year). For sample reports and a free trial of the company's online portal, visit www.kidsinsights.co.uk/kidscreen.