The seismic changes in the broadcast environment over the last couple years have ushered in an era of increased global production for young adult (YA) content. The massive production and acquisition budgets of SVODs such as Amazon, Hulu and Netflix—not to mention the promise of new global platforms from Disney and a full production slate from Apple on the horizon—are driving what one industry insider described as an "arms race" for YA content.
The SVOD subscription model has helped create a renaissance for serialized, realistic live-action dramas for teens—the very best of which engages and inverts the well-known genre tropes, appealing to a newfound taste for realism. It has also triggered a feeding frenzy for IPs from traditional publishing areas and has opened up new, crowd-driven platforms that are themselves becoming robust production players. With opportunities aplenty, a new era of YA dominance is already here.
Bingeing and serialization
It was reported that Netflix will spend US$12 billion to US$13 billion on its original content this year—estimated to be greater than what every other studio and network will spend on content (not including sports). Amazon Studios will reportedly spend more than US$4 billion, while Apple will pony up US$1 billion. This all adds up to multi-billion-dollar spend, and the push for YA is apparent in what they're commissioning.
This year alone, Netflix has bowed feature films To All the Boys I've Loved Before and The Kissing Booth, as well as new serialized shows like Alex Strangelove, The End of the F***ing World, Everything Sucks and On My Block. In the pipeline, the streamer has commissioned an adaptation of popular YA book The Wicked Deep by Shea Ernshaw, tapped Bryce Dallace Howard to direct the feature Sorta Like a Rockstar, and announced a 10-episode mini-series called Cursed from graphic novelist Frank Miller. Ridley Scott is adapting Peternelle van Arsdale's The Beast is an Animal as a film for Amazon, while John Greene's Looking for Alaska is headed to Hulu as a limited series.
There are a number of factors driving this surge. First, because serialization works particularly well on SVOD platforms, the production model has changed dramatically to keep pace.
"Just a few years ago, with teen dramas, you had three months before kids had watched it all," says Orly Atlas-Katz, CEO of Tel Aviv, Israel-based Ananey Communications.
The company specializes in realistic teen dramas that include episode-rich series such as Teen Nick's Spellkeepers (100 x 22 minutes) and The Hood (150 x 22 minutes).
"Today, we are producing kids dramas and after two days, they've watched the whole thing." The faster they watch, the more is needed to keep kids tuned in.
Of course, the shift of SVODs toward subscriptions over ad-supported demographic targeting is helping bolster the YA demand. Young adult content, traditionally, casts a wider demographic net than animated fare, says Hadas Mozes Lichtenstein, founder and head of international ADD Content, an Israel-based global content creation and distribution agency. It's less about the who, and more about the how many. This shift allows SVODs to target family viewing (and therefore family wallets) and has spurred on the production of content that not only appeals to kids and teens, but that adults can guiltily watch as well, she adds.
This approach has reaped benefits for the platforms, driving the success of series such as CW's Riverdale. Netflix acquired the exclusive international broadcast rights to the show and makes each episode available around the globe the day after its original US broadcast. While ostensibly teen-focused, Riverdale is known to have a wide demographic appeal. Its season-two premiere saw a 151% increase in adults under 50, according to Nielsen numbers, while that same episode jumped 467% with teens.
"The audience for Riverdale can be anywhere from 13 to 54," says Terry Kalagian, SVP of animation and family for France-based Gaumont. "Everyone is watching it."
Keeping it real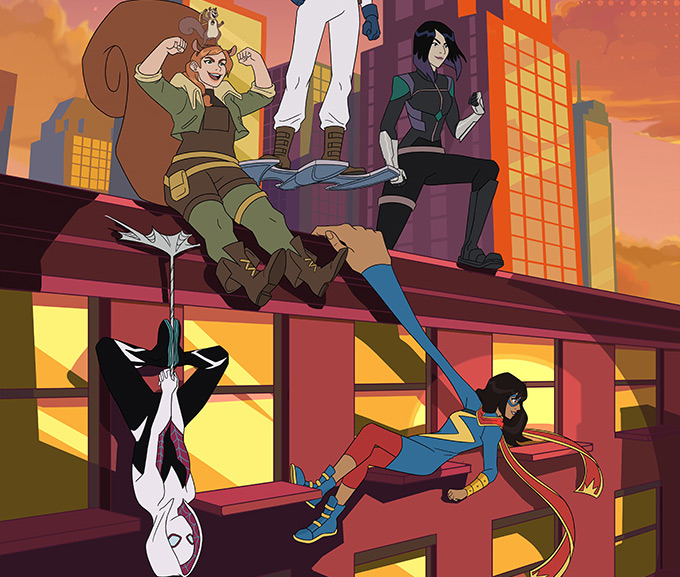 A trend in many new YA productions is a move away from the well-trod dystopian genre and into more realistic narratives that push boundaries. This narrative shift is a natural result of increased competition in the YA space: As more series are produced, one way to stand out is to mine controversial storylines like mental health, sexuality and suicide.
"We are picking all kinds of different and timely real-life topics," says Atlas-Katz. As an example, she points to teen drama The Greenhouse, which features a lesbian love story. The series received both praise and complaints for that particular plotline.
The Greenhouse aired in Israel in 2012 and was sold to Nickelodeon UK the next year. Following a group of gifted teens, the initial series enjoyed a 175-episode run in Israel and has since been revived as Greenhouse Academy on Netflix, where it premiered last September. A second season is currently running on the global platform.
Bryncoed Productions' The Athena is another example of a series that offers a realistic take on relevant, timely topics. Foz Allan, founder of the UK-based studio and a veteran producer on several children's drama series, says The Athena answers a need in the audience for a more realistic reflection of their lives.
From showrunner Holly Philips, the 26 x 30-minute live-action series centers on 18-year old Nyela, who shuns the life of a model because of its generally poor treatment of women. To become a designer herself, she enrolls at a prestigious art school. The Athena is slated to bow in spring 2019 on ITV.
"We wanted to put together a show whose main character is anxious, and really facing the traumas of her environment," Allan says. "She's a character who is a little lost and trying to find her way."
Even the superhero genre is getting in on the reality rush. Marvel Rising is a new franchise targeted primarily at eight- to 12-year-olds. It kicked off with the release of six animated shorts (Marvel Rising: Initiation) in August that will tie into an 80-minute TV movie premiering this fall.
"Sometimes there is an urge with superhero stories to always go bigger with the powers, bigger with the stories, and to add more explosions and higher stakes," says Marsha Griffin, VP of animation current series and co-executive producer on Marvel Rising. "In this case, we wanted to pull back. We wanted to hone in on the relationships—what it means to be a hero, what it means to be a teenager, and the conflicts that come with trying to survive life as a teen. The series really focuses on the human side."
Of course, a natural consequence of the new wave of realism is the danger of crossing a line that could alienate an audience. For example, the first season of Netflix's teen-focused 13 Reasons Why created a backlash for its portrayal of suicide and the darker side of high-school culture.
"When a show's subject is controversial and targets a fragile audience of teens, its creators should be twice as conscious about the possible impact it will have—no matter the intentions," says Claus Tømming, managing partner of The Ink Group in Denmark.
Tømming's warning is well-heeded and very much a topic of conversation among those in the YA sphere. "I feel like context and consequences are the name of the game. There is no subject you can't discuss as long as you provide those things," says kids industry vet Amy Friedman, president of Redhead Consulting.
Producers, distributers and broadcasters all have to trust their instincts when evaluating a potentially problematic series, she says, adding that 13 Reasons Why should be commended for bringing serious topics to light. "That show went really deep into the topic of suicide," she says. "It was groundbreaking. It was a great door to crack open."
The change ushered in by the series offers a new challenge to the industry as a whole. "Those kinds of topics should be talked about more, and they shouldn't be superficial or gratuitous," says Nicola Andrews, senior sales and commercial director of kids at Keshet International, a global content producer/distributor. "The narrative has to respect the audience," she adds. "It can't be silly or dumb or play things down. It is dealing with real life issues, head on."
Rising demand
The boom in young adult IPs has led to a spate of YA publishing properties getting snapped up. Most notable among these is Sony Pictures Television's first foray into the YA category through a new pact with Komixx Entertainment that included the feature adaptation of Welsh teen author Beth Reekles' The Kissing Booth for Netflix and BBC's newly announced slate of "rites of passage" content for its iPlayer platform.
The power of the publishing sector and the growing numbers of YA novels that have been tapped by producers has spread far beyond dystopian genre properties like The Hunger Games. The frenzy to pick up viable publishing properties, such as Dead Girls Detective Agency (recently optioned by Gaumount) and author Will McIntosh's sci-fi novel Watchdog (acquired last year by Sonar), has intensified because it is an area that continues to provide the deep storylines, iconic characters and initial fanbase that has always fed the YA pipeline.
"It's a really good source," says Andrews. "A successful book or book series demonstrates that the concept is already working—it has a fanbase and, importantly, a social media footprint."
However, lazy reboots and poorly executed adaptations are never going to cut it in a highly competitive marketplace. "Everyone is looking for pre-existing IPs—but that alone is not enough," says Gaumont's Kalagian. She says producers who are clever about how they reimagine an IP will end up reaping the biggest benefits.
The obvious example is Riverdale. A closer look at the series reveals an ingenious take on adapting and updating an iconic property. The series has enjoyed a ratings bonanza since Netflix picked it up. Although the platform doesn't release viewership numbers, after a summer of exposure on the SVOD, Riverdale's second-season premiere drew 2.3 million same-day viewers on the CW—more than doubling its finale numbers from the previous May.
"The new version is vastly different and darker than the source material," says Andrews. "The younger part of the audience watching Riverdale probably has no idea about Archie Comics."
But, she adds, the iconic IP helps initially sell the show by resonating with buyers. Of course, Riverdale's ability to tap into the older demographic that is familiar with the original IP also falls into line with the wider-appeal approach favored by SVODs.
Friedman expects the publishing category to continue to be a source for YA content. "You see a lot of it coming from publishing and, of course, reboots," she says. "It is a crowded marketplace—buyers are asking themselves how to cut through the clutter."
Wattpad wades in
What began in the early 2000s as a way for developers to read stories on their flip phones has grown into a powerful user-generated community of readers and writers that has also begun to flex its production muscle across a number of markets.
With an audience that's 85 % Millennial, Wattpad has 65 million unique monthly visitors who have uploaded an almost unfathomable 400 million stories in more than 50 languages. That works out to about 64,000 new stories every day.
"We are the largest storytelling community in every country in the world," says Aron Levitz, head of Wattpad Studios, the platform's production hub. "The close connection between readers and writers is what really defines us."
The sheer mass of IPs on the platform has made Wattpad a sought-after partner for production companies looking to fill their pipelines—especially in the YA arena.
Launched in 2016, the platform's production arm is working on Light as a Feather for Hulu and AwesomenessTV. It also used its considerable reach to help market Netflix film The Kissing Booth—an adaptation of a Wattpad story—that premiered on May 11. (While the SVOD is predictably tight-lipped about results, Netflix did say that one in three viewers re-watched the movie.)
Levitz says partners look at Wattpad as much more than just a repository of content.
One of the things that sets it apart from traditional publishing houses is that the company can provide partners with a real-time glimpse at a highly engaged community that often shares and even shapes content, he adds. While engagement is hard to quantify, Wattpad users reportedly spend an average of 274 minutes on the platform a month, with an average session lasting about 30 minutes—a significant number in these distracted times. But more than that, readers can, in real time, review and comment on the story, connecting with the author or fellow fans. Think of it like YouTube, but for stories.
This engagement—the relationship Wattpad has with its audience—is key to its success. "We can take a couple lines of a script [from a movie or TV adaptation], drop it to the audience and see how they react," says Levitz. "Or, we can take a casting video and ask people to choose who they prefer. It might not be the ultimate way we decide, but we keep the audience more involved in the development process."
He adds the platform's proprietary data-points are shared with partners throughout the production and adaptation process—informing choices and opening up the creative process in a different way.
"It can be as simple as going back and looking at the comments after the first 'I love you' between characters," says Levitz. "If we see a certain segment of the audience fell off at that point, we can use that information to see if we go left or right with the adaptation."
The feedback loop can also be used to market series back to the fanbase in new ways—engaging them in the production at a high level.
Levitz says that the platform will continue to ramp up production, drawing upon its powerful, collective community. "We don't have the gatekeepers," says Levitz. "It's not about the same seven people in Hollywood deciding what people are watching. It's millions of young people saying, 'This is what I'm actually interested in.' That's the difference."