Since rebranding from Playhouse Disney in 2011, Disney Junior has been a model of consistency for a generation of viewers, ranking as the top preschool channel in total viewers with kids ages two to five and women ages 18 to 49 for five consecutive years (2013 to 2017), according to audience tracker Nielsen.
While the bulk of the 24-hour cable channel's cross-category success has been driven by beloved properties Doc McStuffins, Sofia the First and Jake and the Never Land Pirates, newer entries like Elena of Avalor, Vampirina and Fancy Nancy have given Disney a multitude of options to extend the brand through its media networks, parks and resorts, consumer products and music divisions, to name a few. For Disney Channels Worldwide's EVP of content and creative strategy, Nancy Kanter—and her senior executive team—Disney Junior is growing, and its identity has never been clearer.
With a reach of nearly 300 million households worldwide, Disney Junior is often one of the first, if not the first, connection a child has to the House of Mouse. It's a connection not lost on the channel's long-time GM, Nancy Kanter, who oversaw the rebrand of preschool block Playhouse Disney to Disney Junior in 2011, and the subsequent launch of a 24-hour digital cabsat channel of the same name in 2012. The rebrand was put in motion after Disney recognized an opportunity to grow and rethink its content strategy.
"Playhouse Disney's tagline was 'learning powered by imagination,' which was somewhat of a disconnect in terms of what families naturally expect from Disney," says Kanter. "While our programs still help young children learn to navigate and explore their world, with Disney Junior we chose to emphasize attributes that feel closest to our overall Disney brand: magical storytelling and emotional connection.
"And magic, for example, doesn't necessarily have to occur in a fantasy world in shows like Sofia the First or its spin-off Elena of Avalor. Sometimes it's presented as a smaller, more grounded type of magic—like in Doc McStuffins and Puppy Dog Pals—but the audience always needs some form of emotional connection."
In terms of a new growth strategy, expanding from a single morning/early afternoon block on Disney Channel to both a block and 24/7 dedicated preschool programming channel was a no-brainer.
"We knew a dedicated channel would allow us to reach an even broader and deeper audience. With the majority of preschoolers attending full or part-time preschool programs outside the home, we needed to be available to them when they were physically able to watch us, and that was later in the day and early evenings," says Kanter.
Since zeroing in on a clearer identity for the brand, Kanter has been instrumental in turning popular series like Doc and Sofia into successful cross-category franchises, and has helped other shows including The Lion Guard, Elena and Miles from Tomorrowland become top-rated programs. Disney Junior has also seen its domestic subscriber base increase to 72 million in 2017, up from 58 million in 2011, according to the company's annual reports. Internationally, the channel has been growing even faster. In 2017, Disney Junior generated 151 million subs, more than tripling Playhouse Disney's 45 million total in 2010. As the slate and subscribers have grown, Kanter's responsibilities have, too. In February last year, she was upped to EVP of content and creative strategy for Disney Channels Worldwide, adding original live-action and animated content strategies for Disney Channel and Disney XD to her remit.
Two-way street
Reporting to Disney president and CCO Gary Marsh, Kanter has been steering the development of all content for two- to seven-year-olds on Disney Junior, and working with Disney's live-action and animation development teams to attract, nurture and retain talent. She's also overseeing the company's strategy for acquired content.
Kanter says her new tasks have helped inform Disney Junior, while her experience with the younger demographic has helped her develop and manage material for older kids.
"It's been a two-way street. I've used Junior's success as a guide in developing content for both live action and animation for six- to 11-year-olds," she says.
"On the flip side, because we haven't developed much live action for Disney Junior in quite some time, being involved on the Disney Channel side has refreshed my live-action skills." As a result, the channel is looking more to live action to complement its lineup, rather than relying solely on toons, she says.
As for bolstering Disney's ability to attract, nurture and retain talent, Kanter credits Junior's commitment to collaboration as a big driver of success.
"The nature of collaboration between our executive team on the network side and the relationships they've built with our talent is strong," she says. "Our showrunners get the support they need through the development and production process, and then they're supported once the show goes to air. The thing that Disney does probably better than anyone else, is know how to bring an audience to a show."
Disney Junior's SVP of original programming, Joe D'Ambrosia, concurs, saying the brand's culture helps reel in fresh talent.
"We have longstanding relationships with a lot of our creators, but we're attracting new talent because they admire our approach to developing series. Yes, we're hands-on in terms of creative direction, but we're also extremely supportive," D'Ambrosia says.
Like Kanter, D'Ambrosia has been with Disney Junior since its inception, overseeing production and creative development of the channel's first original movie Lucky Duck, in addition to TV properties including
Emmy-winning Sofia, Peabody winner Doc, Mickey Mouse Clubhouse, Elena of Avalor, Mickey and the Roadster Racers and the book-based Vampirina, among others.
He says the brand's run of creative success has been rewarding, but that continuing to meet high expectations is a challenge. Still, he believes the pieces are in place for a bright future.
"Looking at our opportunities, we're excited to engage our audience beyond linear TV with the new DisneyNOW app, and we're in the midst of seeing a stronger presence of Junior characters in Disney's parks, and in our popular new Dance Party On Tour live concert experience."
Live and direct
While Disney is synonymous with theme parks and attractions, its parks and resorts division—the company's second largest—is poised to grow even bigger, with the announcement last summer of more than a dozen new experiences for its global entities, including Toy Story Land and Star Wars: Galaxy's Edge. Segment revenue rose by 6% to US$5.2 billion this past third quarter, and Disney Junior is taking advantage of live experiences in a number of new ways. Beyond its Junior-branded attractions at both Disney California Adventure and Walt Disney World, Dance Party On Tour kicked off in March with more than 60 shows planned across the US. With more than half of the concerts selling out, a second leg will launch this fall.
While Disney is well-known for its Stars on Ice-style events, the Dance Party On Tour is more akin to a concert, featuring songs from the popular Disney Junior franchises.
The insight for the shift comes from research the brand did into today's moms, who are more inclined to buy tickets to concerts than theatrical experiences, says Jennifer Rogers Doyle, SVP of brand development and integrated planning for Disney Channels Worldwide.
"Over the last two years, we've focused on extending our brand through music, so we did a lot of research to find out what moms want from our music," she says.
Aside from Dance On, the brand introduced Disney Junior Music, which lives as an Apple radio station and numerous Spotify playlists. The tunes are categorized in ways moms want to listen, like music for celebrating special occasions or riding in a car with the kids.
The brand also launched Disney Junior Music Nursery Rhymes, a collection of 49 animated online shorts (30 have aired to date). Since its September 2017 launch, the videos have amassed more than 180 million views via the Disney Junior YouTube page. Two new series in the collection were also recently greenlit.
As for other experiential events, Doc McStuffins: The Exhibit launched in August 2016 at the world's largest children's museum, The Children's Museum of Indianapolis, and will travel the US for the next five years. Disney's Lion Guard museum exhibit from the Miami Children's Museum will also tour over the same time period. More recently, Disney secured a partnership with American shopping mall operator Simon Malls to launch quarterly Disney Junior activations in 100 US locations.
Growing the family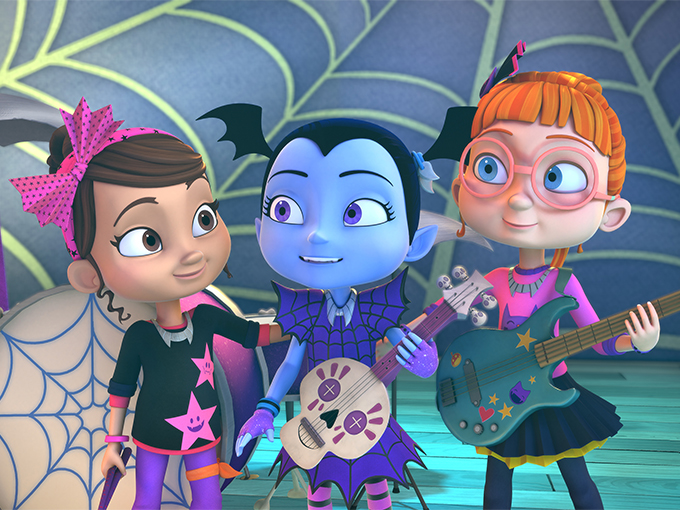 One of Disney Junior's most talked-about new series is Fancy Nancy, an adaptation of the New York Times bestselling book series of the same name by Jane O'Connor and Robin Preiss Glasser. To date, the franchise includes more than 60 titles, with 28 million books sold in 20 languages.
Disney was so confident in the property, it ordered a second season ahead of the show's July 13 premiere on Disney Junior, Disney Junior VOD and DisneyNOW.
The series stars six-year-old Nancy, who discovers the extraordinary in ordinary things and likes to be fancy in everything she does, from her creative attire to her advanced vocabulary.
VP of original programming Emily Hart says the Disney Junior team had to be very mindful of where the existing IP came from to fulfill the expectations of the book series' fervent fan base.
Disney tapped its internal talent pool to help shape the series with Jamie Mitchell (Sofia the First) executive producing and directing, and Krista Tucker (Sheriff Callie's Wild West) leading story development and editing.
"We spent many hours meeting with Jane and Robin until we got to the point where we knew the voice for the writing. Once we had Krista as head writer, we were on our way," says Hart, who also helped shepherd Jake and Vampirina.
So far, the collaboration has paid off. For its opening, Fancy Nancy was the top-ranked show in its 11:00 a.m. time slot among girls and kids two to five, eclipsing perennial hit PAW Patrol on Nickelodeon by 11%, according to Nielsen. Through its premiere weekend, the show also generated 1.1 million total views on Disney Junior's YouTube channel.
As a cross-category property, a Fancy Nancy consumer products line launched in the summer at Disney stores, shopDisney.com and US retailers, featuring role-play items, accessories, apparel and dolls. Additional extensions include a digital soundtrack from Walt Disney Records featuring 14 original songs, and multiple storybook and early reader book titles from Disney Press.
"It's possibly our biggest preschool launch since Sofia the First in terms of engagement at retail. Nancy will also be joining the fall leg of our Dance Party On Tour experience," says Rogers Doyle.
Disney Junior has also started production on The Rocketeer, a new animated show inspired by Dave Stevens' popular comic book series of the same name.
Slated to launch in 2019, the show is about a young girl who is next in line to become the Rocketeer—a superhero with a rocket-powered jet pack.
Kanter says Disney Junior will continue to champion strong female characters and move beyond gender stereotypes.
"We need to give our audience opportunities to see characters in roles that they perhaps hadn't seen before. With The Rocketeer, we're going to see a little girl with a real interest in aviation who gets to become a superhero," she says.
VP of original programming Alyssa Sapire notes that while Junior is rolling out several strong new female leads, the team is equally excited about its projects in development that have boy leads.
"We need to keep a balance as best we can, but we know that our girl leads appeal to our male audience as well," says Sapire, who also helped develop Muppet Babies.
Regarding gender balance, Disney Junior and its audience have come a long way since Jake and the Never Land Pirates. Hart says when the channel was testing Jake 10 years ago, boys gravitated towards the male characters, while girls leaned more towards Jake's second-in-command—and the group's only female pirate—Izzy.
"When we recently tested for The Rocketeer, we have an awesome lead girl character with a jet pack, and we didn't see that difference. Boys loved her as much as the girls did," she says.
Shifting landscape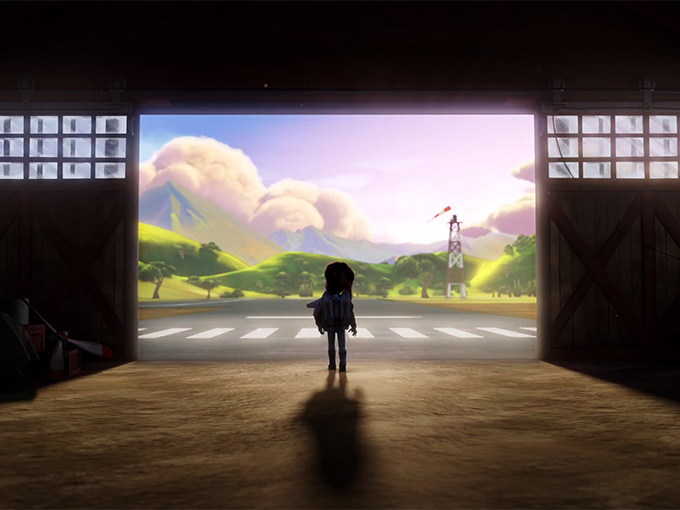 In today's crowded streaming space, currently led by Netflix, Amazon and Hulu, kids are able to access Disney Junior content whenever they want and on more platforms than ever, including linear television, video on demand, the DisneyNOW app, Disney Digital Network, YouTube, Instagram and Facebook. And Rogers Doyle says the company needs more content to drive engagement for its franchises and super-serve all of the platforms.
"It's a challenge, but it's something we saw coming, and we're very well-positioned to ride through it—especially with the upcoming launch of our own family-oriented, direct-to-consumer SVOD app," she says.
In his analyst call following Disney's Q3 results, CEO Bob Iger said the app—which he referred to as "Disney Play"—is "on track" to launch near the end of 2019. He also said the platform's launch will be "the biggest priority of the company next year."
While some of the content headed to the platform has already been announced—including a new live-action Star Wars series, a new season of animated series Star Wars: The Clone Wars, episodic spinoffs of Disney franchises High School Musical and Monsters Inc., plus Marvel-themed shows and new Disney original movies—Disney has remained largely mum on the service's upcoming content for its youngest users.
Still, Kanter says the needs of Junior's audience will likely be met with the new platform.
"The distribution and programming plans are very much up in the air, but our expectation is that the content we've released linearly will migrate to the service at some point," she says. "I don't know when or exactly how much, but it will surely have a presence."
A new divisional partnership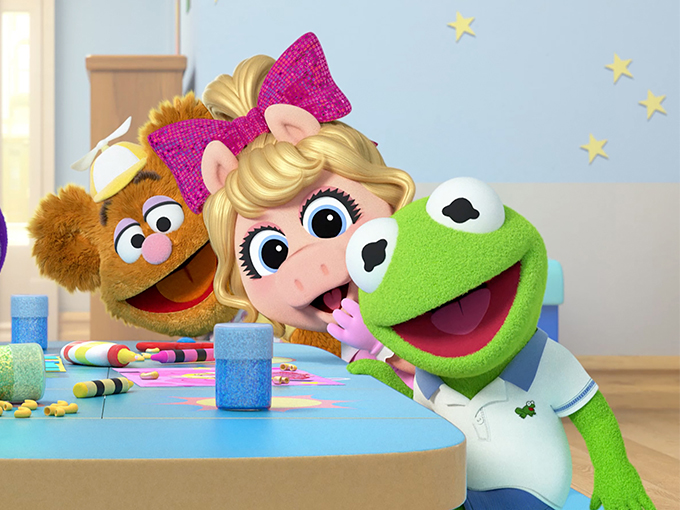 While partnering across divisions is not uncommon for Disney, the recent launch of the company's rebooted Muppet Babies series did mark a first-time collaboration. The co-production is the first between Disney Junior and Disney Consumer Products and Interactive Media's publishing and digital media group. (The Muppets Studio is also a producer on the series.)
"DCPI approached us and told us they has done an animation test on the new Muppet Babies," says D'Ambrosia. "It was a 50-second test that we fell in love with instantly."
Based on the original Muppet Babies series from The Jim Henson Company and Marvel Productions that ran from 1984 to 1991, the mixed-media reboot made its Disney Channel and DisneyNOW app premiere on March 23. After less than a month on air, the show delivered its most-watched telecast on April 13, racking up a 21% gain in total viewers (1.25 million versus 1.03 million) and 45% in the kids two-to-five demo (546,000 versus 377,000), compared to its launch date, according to Nielsen.
"We're currently in discussions with other divisions of the company about projects that will be coming up soon," D'Ambrosia says. "We're going to be working with Marvel on something new that I can't talk about yet."