Corus Entertainment's Nelvana is revamping its slate with three new preschool productions—live-action Miss Persona (pictured, left), comedy-action series P.U.R.S.T. Agent Binky (pictured, middle) and 2D-animated Mr. King (pictured, right). From shorter production cycles to digital-first rollout—all three shows have some special quality that marks new territory for Nelvana, and they'll hit the market at MIPCOM next month before debuting on Canadian preschool network Treehouse.
Kicking things off is Miss Persona, which will roll out September 21 on Treehouse's YouTube channel before joining its linear lineup. Funded in part by the Canada Media Fund (CMF), this 52 x three-minute series is a bit of a departure for Nelvana, which tends to focus on animation. The series is led by live host and creator Kimberly Persona (also co-creator of Princess Sparkly Butt & The Hot Dog Kid), who uses her big imagination to take care of several puppet creatures that inhabit her forest world. The show is set, fittingly, inside a treehouse.
Head of development Athena Georgaklis says the Nelvana team was looking for a digital-first series when Persona came to them with this idea. "She had done four episodes with a small team of people, and we loved the concept so much that we wanted to give it an opportunity to reach a broader audience with a bigger budget," says Georgaklis. "It was a short format and it seemed clear to us that digital was the right first home for it because the four pilots had already been resonating online."
Georgaklis doesn't see this live-action experiment as a total gear change for the prodco. With the right concept, they'd dive in again, but Nelvana is sticking to animation for 90% of its productions. The goal now is to find new ways to innovate in that go-to style. Enter Mr. King.
Nelvana president Scott Dyer challenged the team to plan a shorter pipeline than they'd ever done before, and Mr. King, which was just wrapping up development, seemed like the perfect test project. From beginning to end, the first episode of the new series will deliver in less than a year.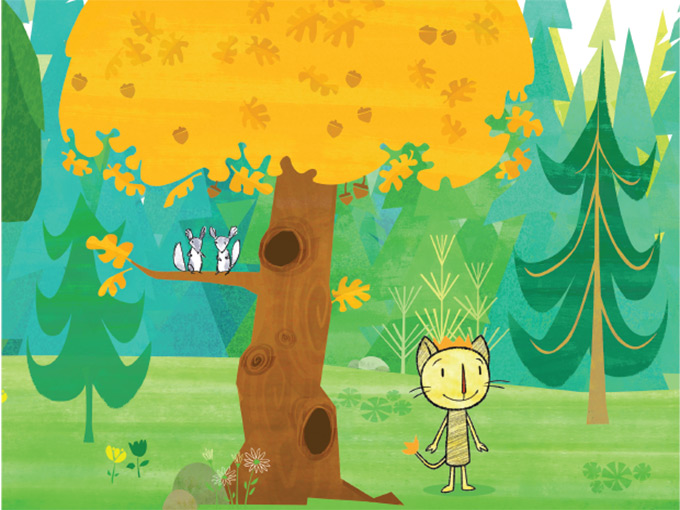 "What is perfect about Mr. King is there's a really small creative team at the core, including story editor Andrew Sabiston and showrunner/director Jeff Astolfo, who have taken this show on in a great way," says Georgaklis. "We also have production people that are so well versed in the Harmony pipeline that they were able to work together to make the right choices to keep it moving in a concise way."
She stresses that Nelvana is not cutting any corners on this production, but schedules needed to adjust to meet shifting expectations. Eighteen months from initial go-ahead to first episode just isn't going to work anymore, notes Georgaklis.
Based on a Kids Can Press book by Geneviève Côté, Mr. King (39 x seven minutes) centers around a well-meaning, short-sighted little lion trying his best to navigate through everyday life in the Kaleidoscope Woods. The series has a simpler art direction, which certainly made the faster pipeline possible, but Georgaklis says Nelvana is keen to try speeding things up on more series in the future. "The next one can have a different challenge, and we will be prepared for something that maybe has a higher volume of assets," she says.
Rounding out the greenlights is P.U.R.S.T. Agent Binky, which has a more complicated 3D-animation style, so wasn't a good fit for a shorter production cycle. But refining its process for rendering fur is the key innovation on this series.
Based on a Kids Can Press book series written and illustrated by Ashley Spires, this 52 x 11-minute action-comedy is about a house cat who thinks he's an astronaut on a mission to protect his human family from intergalactic danger. He and his pet pals make up the Pets of the Universe Ready for Space Travel, and they will be coming to a TV screen near you in spring 2019 on Treehouse.
The animation process for Binky evolved from work done on a theatrical short called The Most Magnificent Thing. "I think what we learned with that project was how to streamline the process, and that gave us a real opportunity to dive in and elevate the animation quality—particularly when it comes to fur, " says Georgaklis. "All of that learning fed into Binky in a great way."
Nelvana holds the global distribution and licensing rights to all three series, and will have full episodes ready to show to prospective buyers in Cannes next month. "We're really confident that we're going to make some headway there and find homes for these shows all over the world," says Georgaklis.