Right now, most industry players are fixated on the three digital platforms—Netflix, Amazon and YouTube—when it comes to learning about kids' video viewing habits. For some, the question is how to get their content carried there, but for many the more critical question is how to beat them. The challenge of competing is becoming increasingly difficult as more players enter the space, including Disney with its yet-to-be-named upcoming SVOD service and Apple's streaming service, which recently teamed up with Sesame Workshop for several kids shows. Not only are all of these financial behemoths, but their user habits are verging closer to traditional TV behaviors. Young people, for example, increasingly engage in appointment viewing even on the Big Three.
Lean into local
There's another way to compete though, and that's to be more local. Dubit research finds that media choices are often guided by family values, including parents' desire for their children to be familiar with cultural differences. These values can be difficult to represent in content designed to play everywhere and sometimes there's in-home conflict because global titles are perceived as more "exciting." Some parents are turning off YouTube (some briefly, others for longer) out of concern about what their children might see. Even in an on-demand world, we see more use of curated content channels.
Especially among younger children, we see strong potential for more local and culturally-sensitive content. While there are always video titles that trend big worldwide, some local or regional content makes it into the top titles almost everywhere. Chaves, Carrosel and Lottie Dottie Chicken (pictured) are big in Brazil while, in Malaysia, Upin & Ipin is a massive Asian hit series with underlying Muslim values. Bing is a favorite in the UK, the top five titles in Turkey are Turkish and, likewise, in Germany four out of the top five shows are German.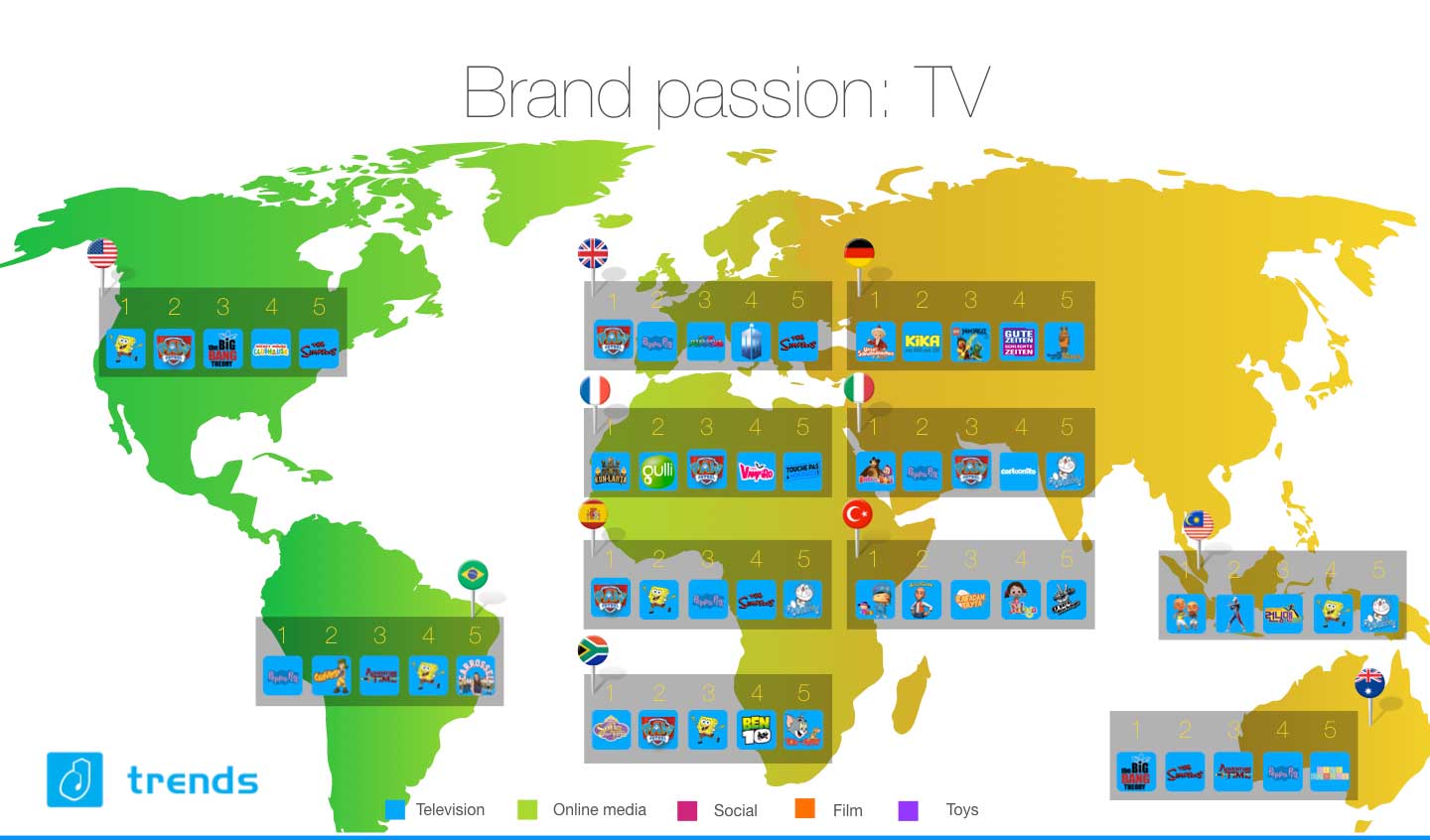 From neighborhood friends to global Fortnite allies
When I was a child (long ago), my friends were limited to those who lived nearby, with an expanding radius as I grew older. It didn't matter if I was into baseball and they wanted to play war, we were all we had. Today children's digital range is worldwide. They still play with neighborhood friends but may also play Fortnite, World of Warcraft or even violin duets with peers anywhere on the planet.
Still, children need to be rooted in their own cultures before they can truly be ready to comprehend the big, big world. The former head of children's programs for Danish public TV used to challenge his team, "when children wake up and turn on the TV, how do they know where they are?"
YouTube is global. It relies on content from all over, some made for a particular audience and some made for mass appeal. Young people can choose videos that match their particular need, interest or mood. As noted above, this reflects the world they live in. But local content discovery can be difficult on a platform where the English language dominates. In a Dubit study in Germany, kids kept having to type "Deutsch" as part of their searches to surface localized content.
Streamers don't do "local"
Because of the need for volume, though, "local" is something Netflix and Amazon don't do as well. It's a critical differentiating role for traditional broadcasters—public and commercial—to ensure that children have a place to discover where and who they are.
Recently, I had the opportunity to observe a fascinating regional children's program exchange that flies beneath the radar of any audience research. For 26 years the Asia-Pacific Broadcasting Union has held an "item exchange" where each member broadcaster produces several short videos on a range of themes from "how things are made" to "animals and nature" and "the world around us." All rights are cleared for any contributing broadcaster to use any or all of the items, and the result is a large collection of videos at very low production cost. (The European Broadcasting Union has held a similar exchange for even longer, and the two swap items across regions.)
It's easy to look at the children's media environment as an ocean dominated by whales. In fact, it's a rich and complex ecosystem with opportunities for both big brands and smaller stories, and children want and need that diversity. The challenge for broadcasters is to find their niche where the kids are exploring but the whales aren't feeding.