Preschool: Birdie 
(pictured above)
CO-PRODUCERS: Mutiny Group and elk.Studios (both Ireland)
STYLE: 2D animation
FORMAT: 52 x five minutes
BUDGET: US$5.5 million
STATUS: A bible, a 90-second trailer narrated by Richard E. Grant and four sample scripts will be presented at Cartoon Forum.
CONCEPT: Inspired by the book Dreamer by author Julie Farrell, Birdie tells the story of a little girl who discovers courage and solutions to life's challenges while journeying through her imagination, along with her faithful companions Motley Bear and Lightning the Unicorn. After returning to the real world, Birdie's stay-at-home dad is always close by while mom is at work. Gwen Forde and Paul Lynch of Mutiny Group are developing the series for TV, while Dublin-based child development specialists at The Children's Clinic and its co-founder Davida Hartman are the project's educational psychology advisors.
Preschool:  The Huggingtons
CO-PRODUCERS: Klipp & Lim (Norway), Muse Entertainment (Canada)
STYLE: 2D animation
FORMAT: 52 x three minutes
BUDGET: US$2.3 million
STATUS: In the final stage of development. A bible, trailer, one script and three episode outlines are finished. With a letter of interest from Norwegian pubcaster NRK in hand, the producers are eying distribution partners and funding.
CONCEPT: Inspired by Nordic mythology, this whimsical non-verbal series created by Lars Hegdal and Ole Kristian Øye is based on the assumption that Vikings had no other job than to go on adventures. The Huggingtons stars a curious half-valkyrie, half-troll girl in a Viking family. As the mixed offspring of her 2,000-year-old troll father (who would rather hug a tree than wrestle a wolfhound), and her fierce but civilized mother, Pip has a lot to offer the world, but she sometimes needs help figuring things out. The series aims to increase children's emotional intelligence and teaches that every success and failure can be celebrated equally with a big, warm family hug.
Preschool: Chad and Clark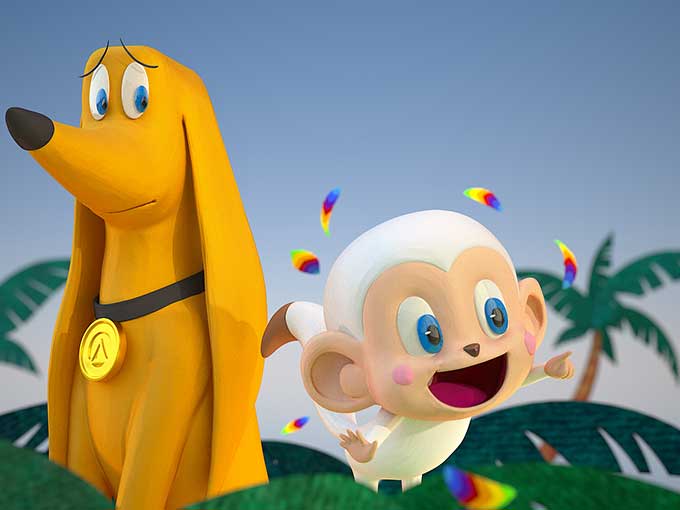 CO-PRODUCERS: Animalps Productions (France), Nippon Animation (Japan), MontBlanc Pictures (Japan)
STYLE: 3D CGI animation
FORMAT: 26 x seven minutes
BUDGET: US$2 million
STATUS: A bible in French, English and Japanese, an animated test and one script are complete. Nippon Animation will distribute the show worldwide.
CONCEPT: Based on the Japanese children's book series by authors Nanoya and Koji Fuchigami, this empathy-themed adaptation follows the story of a capable, independent monkey named Chad, and his kind but naïve canine friend, Clark. Written and directed by Hitoshi Takekiyo, the series kicks off with Chad's quest to get Clark home after he becomes stranded on a strange island. Forced out of their comfort zones and exposed to different characters, the friends learn to accept diversity as their worldview begins to widen.
6 to 10: V and the Anaon Ghosts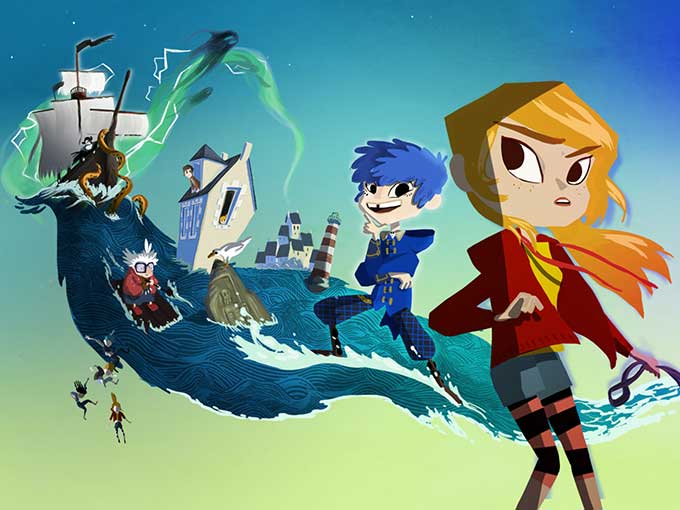 PRODUCER: Vivement Lundi (France)
STYLE: 2D animation
FORMAT: 52 x 11 minutes
BUDGET: US$8 million
STATUS: A bible is complete and a trailer is in the works. With Canal+ as a sponsor, the producers are looking for broadcast presales, distribution and investors.
CONCEPT: Based on an original concept by Matthieu Chevallier and Amandine Gallerand—creators of Vivement Lundi's 2011 short film Bric and Brac—V and the Anaon Ghosts follows the comedic paranormal adventures of V, a fearless 13-year-old, and her best friend Gus, a ghost from a parallel world. The story sees the unlikely heroes unraveling a mystery involving a suspicious mayor who may
or may not be the legendary pirate ghost of Anaon.
Family: Mustard & Ketchup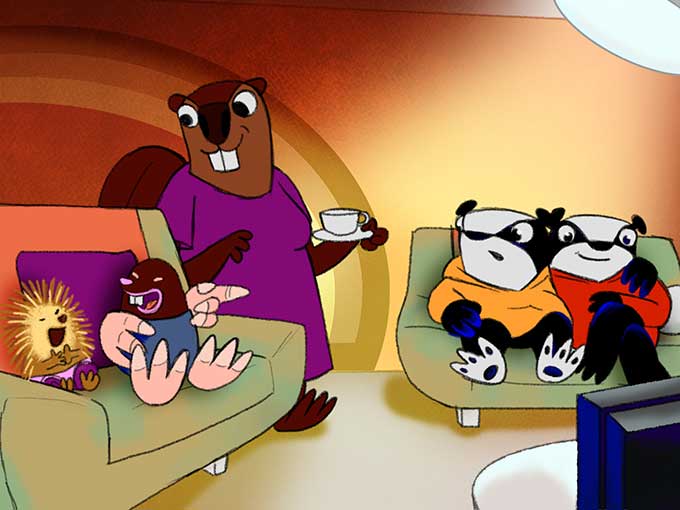 PRODUCER: Animation Garden (UK)
STYLE: 2D animation
FORMAT: 39 x seven minutes
BUDGET: US$3.4 million
STATUS: Readying a bible, teaser and scripts, with Red Kite Animation's Ken Anderson on board to executive produce. On the lookout for broadcast, co-production, distribution and brand partners.
CONCEPT: As the first "out" gay couple fronting a family animated TV series, married badger duo Mustard and Ketchup provide positive representation for the LGBT community and embody an attitude of tolerance and respect. The partners' sexuality, however, is incidental to their madcap adventures. In each episode, Mustard and Ketchup are recommended by their acting agent for a variety of entertainment opportunities. The character designs were initially conceived for show creator Iain Gardner (Ethel & Ernest) and his
partner Anthony's wedding invitation.
Preschool: Odo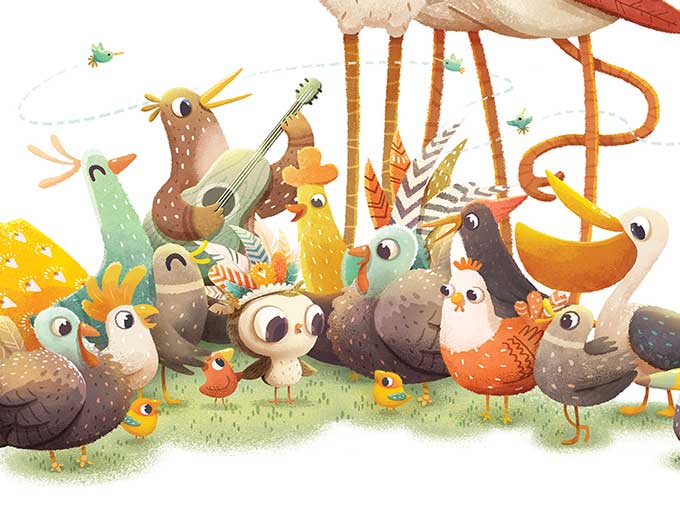 CO-PRODUCERS: Letko (Poland), Sixteen South (UK)
STYLE: 2D cut-out animation
FORMAT: 26 x seven minutes
BUDGET: US$2.5 million
STATUS: A pilot, trailer, bible and five scripts will be ready later this year. Sixteen South Rights is distributing, and the producers are seeking potential spinoff publishing opportunities, including a range of products for babies, toddlers and preschoolers.
CONCEPT: This project is based on a book of the same name by Ukranian author/illustrator team Oliver Austria and Alena Tkach. Optioned by Letko CEO Jakub Karwowski, the book is being developed for television by Sixteen South founder Colin Williams and freelance writer Sam Barlow (Lily's Driftwood Bay). Odo follows the learning adventures of a little owl who attends a summer day camp for birds because, unlike other owls, Odo is strangely not nocturnal. Each episode takes place during one day at camp and focuses on Odo's attempts to prove that owls can do anything that other birds can do.
Preschool: Big Lizard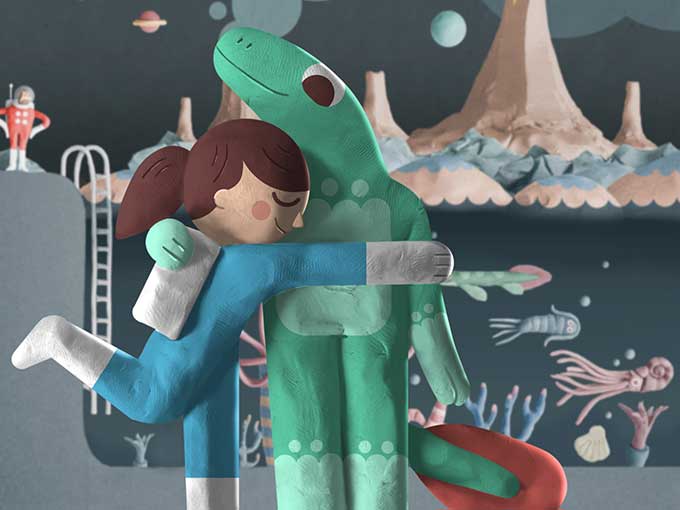 PRODUCER: Beakus (UK)
STYLE: 3D CGI animation
FORMAT: 52 x seven minutes
BUDGET: US$5 million
STATUS: One script and a pitch deck are complete, and a trailer is underway. Seeking co-pro partners and exploring licensing opportunities for books, toys and digital.
CONCEPT: Big Lizard is created by Beakus director Amaël Isnard and writer Tristan Dauly, and is being developed for television by Isnard along with Beakus founder Steve Smith and children's book author Will Mabbitt (Mabel Jones trilogy). Inspired by the everyday life lessons of the producers' own kids, the sitcom follows young astronaut Cosima and her dad as they explore a new but prehistoric planet and meet an array of interesting inhabitants. One such local is the titular Big Lizard, who's actually an amphibian and
the first animal to walk on land.