In Universal Pictures' 2015 hit Furious 7—the highest-grossing film in the Fast and Furious franchise—Vin Diesel's iconic street-racing protagonist Dominic Toretto famously says, "I don't have friends, I have family." For NBCUniversal-owned DreamWorks Animation Television (DWA TV), which now has a teen-skewing Fast and Furious animated series in the works for Netflix, the sentiment rings true.
According to Margie Cohn, DWA's head of television since the unit launched in 2013, building one of the world's most acclaimed animation studios from scratch wouldn't have been possible without the familial bond of its dedicated team of leaders, which includes EVP of development Peter Gal and head of preschool Teri Weiss.
"We started with a piece of paper with some show names on it, and had to build a studio from the ground up. Luckily, we were able to attract some of the best people in the business, many of whom—from production and executive assistants, to animators and studio partners—are like my brothers and sisters. We are all so aligned," says Cohn.
With the right pieces in place, the Glendale, California-based studio kicked off in historic fashion, signing an exclusive multi-year deal with Netflix in summer 2013 to develop more than 300 hours of original content inspired by characters from DWA's popular film franchises, including Shrek, Madagascar, Kung Fu Panda and How to Train Your Dragon, as well as DreamWorks' retro Classic Media hits like Where's Waldo? and Rudolph the Red-Nosed Reindeer. At the time, the deal was the largest original first-run content agreement in Netflix's history. Earlier that year, the streamer also chose DWA TV to produce its first-ever original children's series, Turbo FAST.
Three years later, the studio received another huge leg up when DreamWorks Animation was acquired by Comcast-NBCUniversal for US$3.8 billion, making DWA's feature film, TV, live entertainment and related consumer products businesses part of the Universal Filmed Entertainment Group. 2016 also marked the launch of Netflix's original series Trollhunters, a DWA TV co-production created by Oscar-winning filmmaker and longtime DWA collaborator Guillermo del Toro. The serialized show, which would go on to win multiple Daytime Emmy Awards, was later announced as the first part of a larger trilogy called Tales of Arcadia.
More recently, DWA TV announced that it's developing new toons based on the Rocky and Bullwinkle and Kung Fu Panda franchises for Amazon Prime Video, and it will develop original series based on the studio's franchises and upcoming features in a landmark deal with Hulu. The latter is the US streamer's largest kids and family licensing deal to date, and its first-ever multi-year pact with DreamWorks Animation.
Cohn spoke with Kidscreen on a range of topics, including the significance of DWA TV's upcoming fifth anniversary, its work across multiple major streaming platforms, and how the studio is championing women.
How would you sum up the first five years of DWA TV? What have been the biggest changes?
We feel like we've been on fire for the past five years; we're constantly changing and growing. For me, the big change was after the acquisition by NBCUniversal, when I became a business head as well as a creative head. But it's been really wonderful. The acquisition lets us partner better with our parent company; Plus, having a mature global media company behind us and access to its content library helps solidify our future. Being part of large franchises definitely helps you break through the clutter in this crazy golden age of television. And NBCUniversal has one of the best distribution, brand development and franchise management groups around, which gives us more stability as we grow.
How is DWA TV's long-term relationship with Netflix going?
Netflix has been an amazing partner. We made its first originals for kids, so there was a lot to discover, but we've shared our brain trusts and we've done everything we can to be successful. One of the biggest risks Netflix took was on Guillermo del Toro's Trollhunters. But is it a risk when it's so good? The truth is, nobody in kids television was doing anything like Trollhunters, where you had a serialized story with feature-quality animation and real stakes extended over multiple episodes.
But one of the things with streaming platforms is that the shows will live on. So you have to develop deeply and respect the audience because they can handle more sophisticated storytelling. You also want the production quality to be top-notch so your content will stand the test of time.
What's one of the studio's biggest strategic advantages?
We feel like our relationship with features distinguishes us from other animation studios. We are in constant discussions with DreamWorks about its slate and what properties, or characters, could potentially be expanded into television. Our new familial relationship with Universal Pictures has afforded us the same opportunity.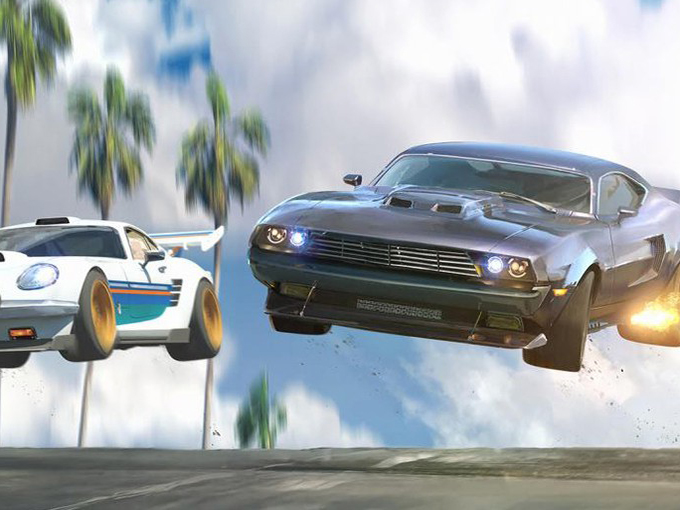 The first project in your newly expanded partnership with Netflix is a teen-skewing animated series based on the Fast and Furious franchise with Vin Diesel, Neal Moritz and Chris Morgan—all producers on the live-action films—executive producing. What's the current status of the series?
We're doing a lot of testing in pre-production on how the cars move and how to maximize all of the assets. It's so much fun having access to the brain trust of the movie franchise. It will be a show that looks unlike anything else.
What's the studio's biggest challenge?
We currently have 20 shows in production and many in development, so we have to balance the needs of more than 1,000 people globally, including those at our partner studios. But this is also an amazing opportunity. We have a house of creatives who are not jockeying for programming slots or competing for ratings, so they can actually be collegial. It makes for a very supportive environment where talent can intermingle and share expertise and ideas, and we can provide mentorships. And because we're not aligned with a single distributor or a specific style, it gives us an opportunity to have a wide-open agenda. We can stretch creatively and take risks with shows like Trollhunters.
How much of DWA TV's storyboarding, writing and designing is outsourced?
Each project has its own formula. For Voltron: Legendary Defender, we use a boutique animation studio in Seoul, South Korea—Studio Mir—for a lot of the storyboarding, but most boarding happens at our Glendale studio where we can be very hands-on. That said, we really embed our partner studios in the process. Otherwise, we mostly work like traditional television. Our level of outsourcing has generally stayed the same over five years.
From April 13 to May 2, DWA secured significant original content and library deals with Amazon, Netflix and Hulu. How are you managing more of your content across the SVOD services and linear platforms?
We have to recognize that, although it seems like Netflix is buying absolutely everything in the world, they are not. There are obviously more opportunities for our content to live in lots of places. We're very ambitious with the amount of content we want to produce, so we're always looking to expand our client base. We have struck relationships with linear and non-linear clients to position ourselves for long-term growth, and we basically created some parameters. For Netflix, for example, we are going to focus primarily on Universal IPs, while Hulu gets DreamWorks feature IPs, and Amazon ordered two series it was passionate about. Meanwhile, Universal Kids gets a second window to many of our Netflix series, including King Julien and Dragons. Then they will get some new original series like Where's Waldo? for 2019. We also have the DreamWorksTV YouTube channel, which is another great tool for having a conversation with our audience. It's not as complicated as it seems.
How are you championing women at DWA TV?
I have always thought that people in kids media are on the front lines of a person's first exposure to media. So we're very thoughtful about how we depict girls and women, and are focused on breaking stereotypical archetypes by presenting a variety of girls with personalities as wildly diverse as people are in real life. We have funny, goofy and impulsive girls like Tip in Home, and we have courageous adventurers who do the right thing like Lucky in Spirit Riding Free. We are also developing She-Ra, which will be a completely different take on a girl superhero.
Within the studio itself, we are aggressively looking to hire women in every position, but especially in the story roles like writing, boarding and directing, because those are the people who go on to create and run shows. Spirit and She-Ra are two of our shows where the majority of the staff is female.