By Alyssa Wright 
There's a voracious appetite for healthier eating in 2018, now that more US families than ever are on the prowl for better food and beverage options—both at home and when dining out. It's a movement defined by demands for transparency, higher-quality ingredients and cruelty-free, local sourcing—and kids are a driving force.
From french fries to flavorful fuel
Whether it's sourced from parents, a Netflix documentary or an influencer like Drake (who recently swore off meat), Gen Z kids are armed with a robust helping of health and nutrition information, and they aren't afraid to use it when it comes to making food choices.
According to a recent OnePoll survey, a large majority of parents say their children frequently opt for healthy snacks over unhealthy ones. Kids want to be sure the food they consume isn't just a belly-filler, but something wholesome and nourishing. At the same time, a growing number of kids are leaning into plant-based diets that support an "animals are friends, not food" mindset. As a result, major brands are taking notice.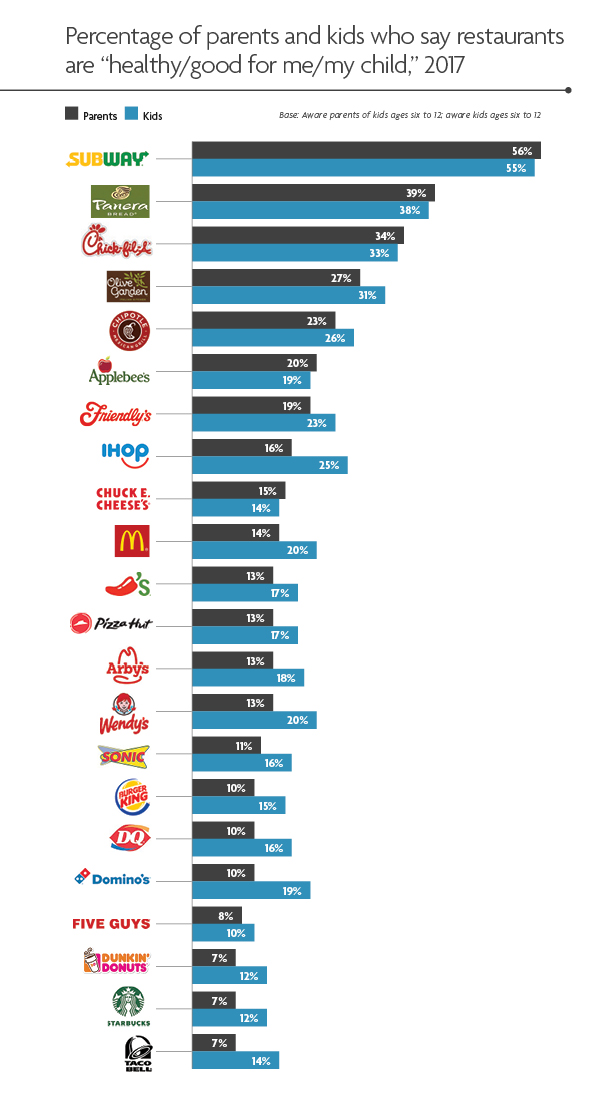 A healthy challenge
Last August, Panera Bread penned its Kids Meal Promise campaign, announcing the company's commitment to providing "real, clean options for kids." The initiative came with an overhaul of Panera's children's menu to offer smaller portions of all adult offerings, which were already free of artificial sweeteners, flavors and colors. Using social media, Panera challenged fellow quick-service restaurants to rethink their children's menus with the #KidsMenuChallenge. Now deemed the second-healthiest restaurant by parents and kids ages six to 12, according to Smarty Pants' 2017-2018 Hungry for More report, Panera Bread's focus on providing quality ingredients to all diners has been a well-received strategy.
Brands like Panera aren't the only ones stepping forward to provide Gen Z and their parents with more nutritious nosh. Others like Subway, Chick-fil-A and Olive Garden are starting to acknowledge that this health craze can be seriously healthy for business, too.
Nourishing noms
At home, children are becoming more likely to get caught with their hands in the fruit basket than the cookie jar. According to a Nielsen FreshFacts analysis, branded produce snacks experienced enormous growth, to the tune of US$44 million, between 2016 and 2017. This year's Hungry for More report also confirms families' growing affinity for fruit. For example, in Smarty Pants' ranking of the top 100 brands among kids, mandarin orange label Cuties leapt from number 38 in 2016 to 13 last year. Meanwhile, banana brand Chiquita debuted at number 14 with parents. Roughly four in five kids consume a branded fruit regularly, rivaling indulgent kid classics like Oreo, Doritos and Reese's.
Data confirms that the popularity of health-focused snack brands for kids is also picking up. Roughly one-third of aware kids say that names like Stonyfield Organic Kids, Honest Kids, Annie's, Apple & Eve Fruitables and CLIF Kid Zbar are becoming more popular. At the same time, brands such as Kid Cuisine and Big League Chew have seen their popularity drop.
As children become more invested in their food selections and less interested in colorful packaging, commercial tie-ins or promotional giveaways, brands that offer quality ingredients and natural options will continue to see wins in the youth market. For parents looking to raise healthy, health-conscious kids, this news comes as a real treat.
Alyssa Wright is Media Maven at Smarty Pants, a youth and family research and consulting firm. Study data is derived from Smarty Pants' 2017-2018 Hungry for More report. For more information, contact Meredith Franck at 914-939-1897 or visit asksmartypants.com.