It's not just your imagination, the economy really is becoming more complex and fragmented by the day—as are the spending habits of boys and girls in the UK, who continue to face a changing technological landscape, mind-boggling amounts of choice and cultural shifts that affect their minds and wallets. Despite the pressure on brands and manufacturers to develop gender-neutral products, today's kid economy reveals significant differences in the spending behaviors of boys and girls, as seen in our Kids Insights survey of nearly 5,000 UK children ages four to 18 over the last three months.
Girls' interests and hobbies tend to be more diverse than boys, and this is reflected in their spending habits. In fact, girls outspend boys in nearly every category—books, cinema, food and dining out, magazines, day trips, clothes and music—with the exception of gaming and new technology. As they get older, UK girls become significantly more entrepreneurial than boys when it comes to earning their own money. Two-thirds of older girls ages 16 to 18 report having part-time jobs, compared to only a third of boys of the same age.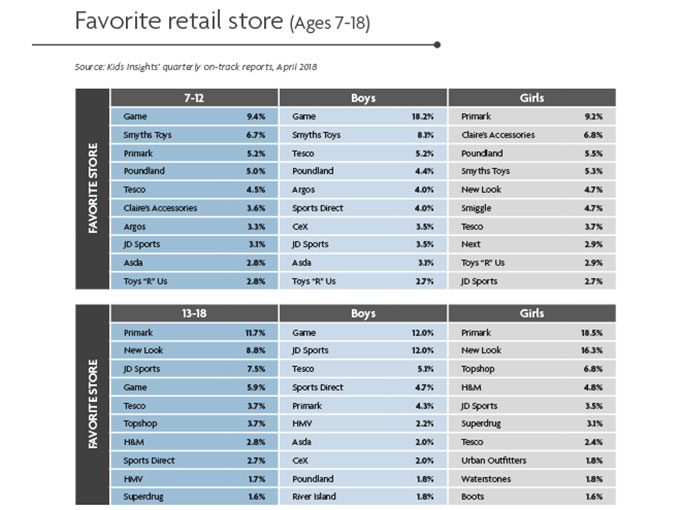 Not surprisingly, however, part-time jobs make up a very small piece of the pocket-money puzzle for most kids. Focusing specifically on four- to 15-year-olds, pocket money that comes from parents (38%) remains the top source of money for children. However, the trend of children receiving money on an ad-hoc basis (as opposed to a formal allowance) continues to increase (33%), which possibly explains why saving is what 41% of children do most with their cash.
This increasingly responsible behavior is reflected in the fact that a quarter of four- to 10-year-olds save their money in a bank account, while 3% use the goHenry prepaid allowance card and a further 3% use other cash cards. Only one in 10 children do not save any of their money at all, a figure that remains fairly steady across age and gender. Interestingly, younger boys are more likely to save their money in a bank, with girls preferring to save through their parents.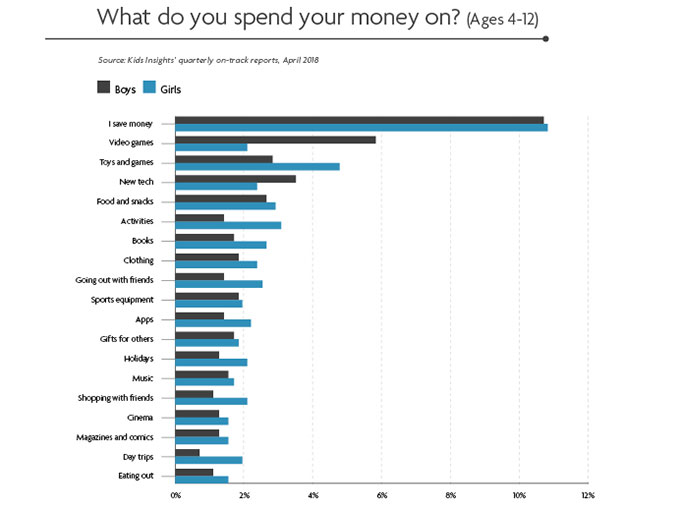 When it comes time to spend those savings, significant variations come back into play. Girls tend to purchase items in a more traditional way, favoring cash (81%) and debit (25%), while boys are increasingly turning to the next generation of payment providers, with 7% of teen boys using mobile payment methods like Apple Pay and 11% using PayPal.
As for shopping trends, Amazon continues to reign supreme, with 29% of all children considering it their online store of choice. Nearest rival eBay clocks in at 8%, and the remaining top eight brands equate to a combined value of just 11%, further underscoring Amazon's dominance. In fact, 10% of UK children own an Amazon Echo, and Amazon tablets are now the second most popular tablet behind Apple.
Offline, it's a very different picture. Brick-and-mortar retail shopping is still significantly more popular with the younger set, with 71% of under-16s spending more of their money at physical stores, while 53% of 16- to 18-year-olds spend more online.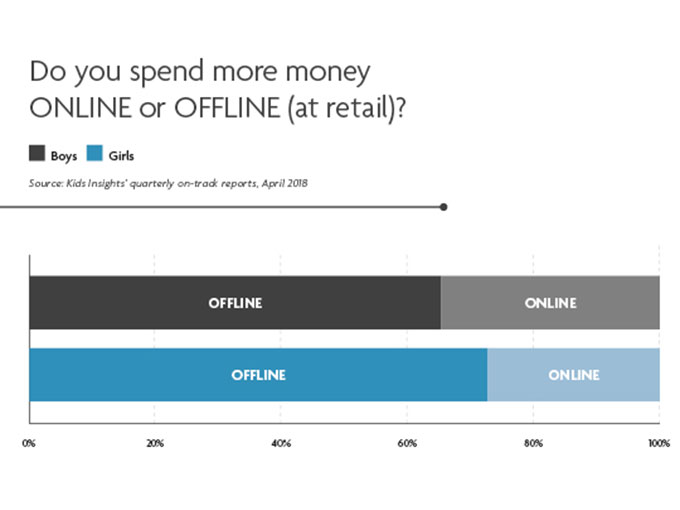 In terms of top toys, board games in the UK continue to be popular with the four-to-12 set, especially after a buoyant Christmas period. LEGO continues to be the most popular toy overall, especially for boys—nearly one in four list the plastic bricks as their favorite toy or game. Also among boys, Minecraft comes in a distant second (6%), though it has increased since Q3 2017. In fact, when asked to name their favorite personality, boys ages four to 12 chose British pro gamer and YouTube star DanTDM, ahead of the likes of Lionel Messi, David Beckham and Spider-Man.
Even as UK kids increasingly tune into YouTube, data shows they're most likely to buy licensed products related to TV (with 66% doing so), over film (57%) and their favorite sports team (47%). And with 72% of four-to-sixes saying they play with toys while watching TV, it goes to show that even with this tech-savvy generation, the Saturday morning toons-and-toys ritual still holds some sway.
Nick Richardson is CEO at Manchester, England-based market intelligence company, The Insights People. The Kids Insights and Parents Insights resources survey 400 kids ages four to 18 (more than 20,000 per year), as well as 250 different expecting and new parents (more than 10,000 per year) in the UK every week producing four insight-led reports per quarter. The company's first-ever US reports will be issued this September. For sample reports and a free trial to the company's fully interactive, real-time online portal visit kidsinsights.co.uk/kidscreen.