Something happened last Labor Day weekend, and it didn't exactly involve fireworks. According to BMO Capital Markets, the first weekend of September 2017 generated the weakest US box-office sales in nearly 20 years, solidifying a growing belief that the princesses, pirates and superheroes of children's entertainment are no longer guaranteed to sell out theaters—or stock toy shelves.
In fact, BMO Capital Markets anticipates that declining US box-office receipts will result in an underperformance of film-focused consumer products, and has therefore reduced its growth estimate for the US toy industry to 1.5% in 2018 (down from 2% in 2017). This downturn follows nearly a decade of growth, wherein sales of entertainment-based consumer products have increased from 15% to 38% of industry revenue in the past 10 years, according to The NPD Group. However, BMO Capital Markets warns in its most recent findings that movie fatigue is setting in, and kid-focused, toyetic franchises are now cannibalizing one another's toy sales.
"There's far more content being released, and there's definitely a greater propensity to license these properties," says Rob Corney, group MD at London-based Bulldog Licensing. "If you look at the release slate through this year, I think Disney practically has a film every month, all of which the company will be looking to merchandise."
Toy-friendly pics like Black Panther and A Wrinkle in Time have already kicked off the 2018 box office, with movies like Avengers: Infinity War, Jurassic World 2, Solo: A Star Wars Story, Ralph Breaks the Internet: Wreck-It Ralph 2 and The Incredibles 2 set to follow in the coming months. Piper Jaffray senior analyst Stan Meyers, who focuses on media and entertainment, agrees that this year's lineup of toyetic films points to oversaturation, arguing that consumers can't be expected to buy the same volume of toys when the catalyst—such as the premiere of a new film—is happening with greater frequency.
"There used to be a new Star Wars film every three to five years, and now we have one every year with various spinoffs," Meyers says. "It's still an immensely popular franchise, and The Last Jedi was the biggest film of 2017 by far. The brand certainly carries a lot of nostalgia and demand, but the fact is you still have decelerating trends happening."
Franchise-focused
Meyers warns that the emphasis on franchises—with sequels and spinoffs making up a significant chunk of this year's upcoming film slate—is also contributing to movie toy fatigue. According to BMO Capital Research, sequels have accounted for roughly half of all toyetic movies since 2001. These films feature a limited number of new characters, weapons and vehicles, and as a result, licensees and licensors can't lean on the appeal of something being fresh. As franchises pile up and the breathing room between them shrinks, so too does the window of success for tie-in toys.
"It's traditionally been understood that a movie has a certain window to do well," Corney says, pointing to the few weeks in which a brand can make its mark and prove itself to retailers as a top toy seller. "And of course, if you're overlaying movie window with movie window, you're cutting the head and tail off of other brands. It creates much greater competition within retail."
This cut-throat dynamic is intensified when toy shelf space also contracts. Toys "R" Us filed for bankruptcy protection in September 2017, with the retailer (along with some of its US and Canadian subsidiaries) voluntarily filing for relief under Chapter 11 of the Bankruptcy Code. As a result, hundreds of Toys "R" Us locations are closing in the US and UK, where the retailer more recently entered into insolvency administration (affecting more than 100 locations and an estimated 3,000 employees).
"Retail sales are in decline overall, so naturally toys would see a similar trend," Meyers says. "We feel like a lot of toy purchasing is more of an impulse buy. Clearly content like movies and TV shows drive sales, but it's still a passive buy when you're in the store." The split of impulse sales compared to active ones (where a consumer is seeking out a specific toy) is about 80/20, Meyers notes.
"Toys "R" Us shutting down will create incremental pressure on toy sales," he says. "Physical shopping is one of the main components that allows for more impulse buying, and having fewer physical stores reduces those opportunities. The more we move toward a digital economy where people are not passively walking through stores, you just have less exposure to toy products."
According to Corney, major media owners have responded by putting more content in the market, which exacerbates the issue of oversaturation and fails to take into account that kids' viewing habits, and the ways in which they react to content, have changed drastically in recent years.
Ch-ch-changes
"The industry is figuring out what the toy is before they've even finished the final draft of the script. It's a tremendous revenue stream, and the upfront guarantees are really important," says New York-based toy analyst and TTPM content director Chris Byrne. "But we work in a sector that survives on the whims of an eight-year-old. It's time to look at how the market has changed, how kids' interactions with movies have evolved, and how play patterns are different now, to a certain extent."
As an example, Byrne compares action figures—long considered to be the category king—to the growing popularity of role-play items. "As kids play, they're not simply replicating what a character did in the movie; they want to be brought into the story so they can expand on that with their own experience," he says. "Collectors are happy if they just copy what they see in the movie, because that's what collectors do. But kids want something richer in terms of how they're going to engage with a character."
According to Byrne, kids don't want to just play with a Black Panther figure. Instead, they want to feel like they are in the land of Wakanda, taking on bad guys and saving the day.
Corney agrees, arguing that the traditional approach of releasing a film that's followed by a story-related toy can no longer be counted on as gospel. "Increasingly, kids are creating their own storylines through user-generated content on platforms like YouTube. Kids are literally developing their own media, and the content is inexhaustible," Corney says. "I think it's creating a real challenge to traditional media. Now kids move from one thing to the next incredibly quickly, and the loyalty you might have seen a few years ago has dissipated to a large degree."
As a result, brands that aren't dependent on film franchises have an opportunity to flourish. Moose Toys juggernaut Shopkins, for example, has been a major driver of a global collectibles sales surge. In 2016, the collectibles category saw US sales increase by 33% to US$1.8 billion, representing 9% of total toy industry dollars. In 2017, the global collectibles market grew again by 14% to US$3.9 billion. In fact, collectibles made up roughly 8% of total industry dollar sales last year.
"When you look at the Shopkins universe, you've got collectible toys that drive huge reach very quickly. They're often overlapped with a doll, which has a very traditional play pattern built into it, and then you have webisodes that drive further personality," Corney says. "At every single level, whether kids are playing in their bedrooms or enjoying screen time, they are able to interact with the brand. You're no longer reliant on that window tied to a movie's release date, and this phenomenon has absolutely changed the market."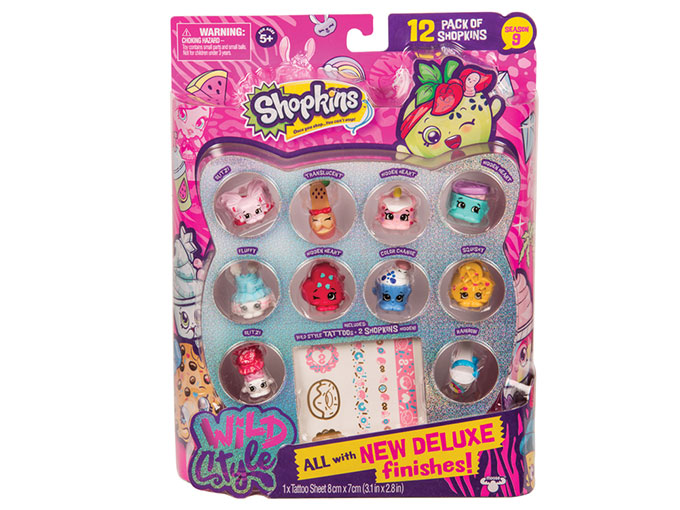 Product plateau
Byrne warns, though, that the toy industry as a whole will be slow to change because of the entrenched models that retailers have long preferred for licensing programs, even as those models are threatened by e-commerce and shuttering stores. In addition, the proliferation of apps and digital consumption has only increased pressure on the physical toy industry. "The old models don't work, and we really haven't figured out new ones yet," Byrne admits.
Moving forward, Corney believes the industry is approaching a plateau period during which licensors and licensees typically develop new strategies. Massive technological disruptions to the way kids interact with content—in the form of apps, Netflix and YouTube—have reached maximum penetration, he says. "When a new technology comes in, nobody really understands the currency, and it's a bit of a trial-and-error process," Corney notes. "I think the game has already been changed, and now we're starting to see the plateau effect."
Meyers agrees the time is right to reassess the system that has led to an oversaturation of content and movie toy fatigue. "Different films carry various toy tie-in conversion ratios," he says. "Just because it's some big franchise doesn't mean it will have massive retail sales."
Two major movie-related catalysts, Frozen and Star Wars: The Force Awakens, may have led to that misconception. Released in November 2013, Disney's Frozen grossed more than US$1 billion at the global box office, and the House of Mouse reported that its consumer products sales had increased by 7% in 2014, thanks largely to film-related toy sales. The Force Awakens, meanwhile, brought in more than US$2 billion globally in 2015, and data from The NPD Group found that Star Wars toys generated US sales of US$700 million that year.
"These were mega-events that drove billions of dollars in toy sales," Meyers says. "So when you have fatigue settle in, it exposes what's actually going on with overall consumer shopping trends." Instead of doubling down on more content, franchises, sequels and spinoffs, Byrne hopes IP owners, manufacturers and retailers will examine what needs to change in the industry.
"There's so much out there. Kids can go to the movies every weekend, but that doesn't necessarily mean they'll buy the toys," Byrne says. "It's not just about seeing a product and wanting it. There needs to be a compelling emotional and intellectual connection with a character. Because if kids are going to pick up a new toy, what are they going to put down in order to play with it? Manufacturers and property owners don't ask that question enough."