Original new series from creators Owen Dennis (Regular Show) and Diego Molano, 11 returning shows including We Bare Bears, Ben 10 and Steven Universe, as well as 30 new games and apps are among the many projects making up Cartoon Network's 2018/2019 upfront slate.
Featuring creators that bring more depth and interactivity to their storytelling, the network's largest slate ever introduces new series Infinity Train (pictured below) and Victor and Valentino from Dennis and Molano, respectively.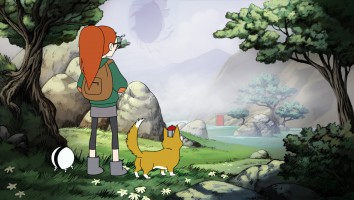 Infinity Train is based on an original short created through Cartoon Network's Artists Program that originally launched on the network's YouTube channel in 2016 and has generated more than three million views to date. Bowing in 2019, the mystery/adventure series follows a young girl who finds herself on a continuously running train bound for infinite worlds. Victor and Valentino, meanwhile, launches later this year and brings myths and legends of Latin American folklore to life when two half-brothers spend a summer with their grandmother in the mysterious town of Monte Macabre.
Both projects join previously announced new series Apple & Onion from George Gendi, Craig of the Creek by Matt Burnett and Ben Levin (both writers on Steven Universe), Julia Pott's Summer Camp Island, and Unikitty! After premiering in a limited run last month, new eps of buddy comedy Apple & Onion are airing back to back every Friday through to the end of March. Also hailing from The Artists Program, the series stars two lovable friends who leave their hometowns to experience big-city living.
For Craig of the Creek, a first episode is currently available on the CN App and VOD, with new linear episodes debuting on March 30. The wilderness adventure series features three best friends who journey to a kid utopia where tribes of children rule over tree forts and dirt bike ramps. As for Summer Camp Island, this series is based on a Cartoon Network short and will bow this summer, following a successful festival run that included Sundance. Rounding out the new series lineup is the recently premiered Unikitty!, a co-production with Warner Bros. Animation based on the popular character from The LEGO Movie.
Looking at returning hits, Adventure Time, OK K.O.! Let's Be Heroes (season two), Ben 10, Steven Universe, The Amazing World of Gumball (season six), The Powerpuff Girls, Teen Titans Go!, We Bare Bears, Mighty Magiswords and Clarence will all be back on the network.
BAFTA- and Annie Award-winning We Bare Bears from creator Daniel Chong has been greenlit for a fourth season. All-new episodes debuting later this year will include holiday specials and a half-hour Halloween episode. Ben 10, which is produced by Cartoon Network Studios and created and executive produced by Man of Action Entertainment, has also been renewed for a third season. As for long-running hit Adventure Time from creator Pendleton Ward and executive producer Adam Muto, an original Minecraft episode is expected to premiere this summer, produced in partnership with Mojang. Four additional new eps will also return back to back on March 18. This year will also see the return of Rebecca Sugar's three-time Emmy-nominated and two-time GLAAD-nominated show Steven Universe. The first of three new story arcs will bow in April. For Teen Titans Go!, season five of the Emmy-nominated superhero comedy is expected to launch in June, followed by the show's theatrical debut on July 27.
On the digital front, CN will add more than 30 new games and apps to its mobile and web portfolio, including free-to-play game Bloons Adventure Time TD from developer Ninja Kiwi, and augmented reality game Ben 10 Alien Experience. The latter is a free, ad-supported game that syncs with new Ben 10 action figures from Playmates Toys.
Finally, 10 new episodes of The Steven Universe Podcast will launch this July.