A year after taking over more than 1,500 hours of programming—including Disney XD's Counterfeit Cat—from now-defunct Tricon Films & Television, L.A.-based production and distribution company Sonar Entertainment continues to ramp up its kids and family offerings.
According to former Tricon founder Andrea Gorfolova, now Sonar's president of kids, family and factual, the company's move from scripted into the kids and family space begins with great creative partnerships.
"When Ashley Rite, my former Tricon head of development, came on board to head up Sonar's development, the initial strategy was to partner with great creators worldwide and develop series that way, and maybe focus on one or two in-house projects that we would develop from infancy," says Gorfolova.
As the company finalizes discussions on season two of Counterfeit Cat, its 52 x 11-minute animated toon Go Away, Unicorn! is currently in production and set to debut this summer on Disney Channel US and Corus-owned kids channel YTV in Canada.
Based on the popular children's book of the same name by author and illustrator Emily Mullock, the series follows an unlikely friendship between a unicorn and a little girl. ANT Farm's Dan Signer is showrunning and executive producing, with Corus's Nelvana handling animation. Disney also plans to air the series across its networks globally, reaching the UK, CEEMA, Italy, France, Latin America, Australia, Korea and Russia.
Sonar also recently purchased global rights to author Will McIntosh's new sci-fi adventure book Watchdog, and plans to adapt it into a new tween-skewing, CGI-animated series with showrunners Art Brown and Douglas Sloan—the duo behind DreamWorks Animation's Dragons: Race to The Edge. Watchdog follows the adventures of Vick, his autistic, tech-savvy sister and their robotic canine Watchdog as they find an artificial intelligence microchip that changes their lives.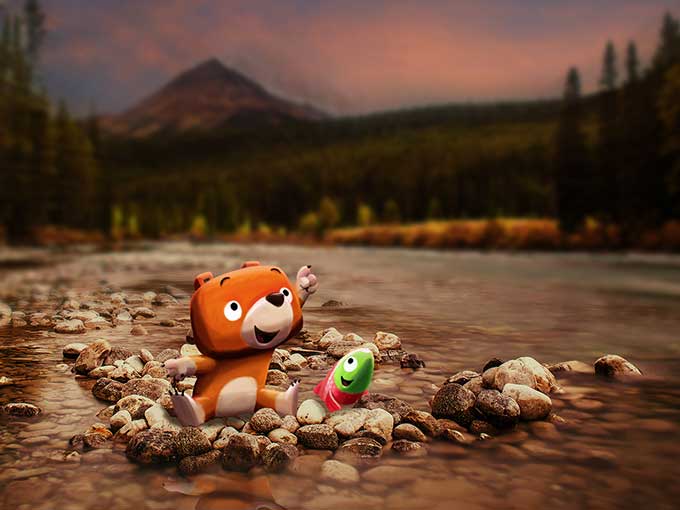 "Watchdog is a great example of the power of Sonar," Gorfolova says. "We were able to secure rights to the book prior to it being published in October 2017, and we've since financed two scripts, a bible and some designs. We took it out softly at MIPCOM and now we're pitching to all the networks."
Meanwhile, a live-action, teen sci-fi series is in the works with Corus, YTV and The Jim Henson Company, tentatively entitled In-Betweeners. And in more recent announcements, Sonar is teaming up with Australia's Like A Photon Creative to co-produce its mixed-media preschool series Bear & Salmon. Sonar will also handle international distribution and formatting rights to the 104 x three-minute series.
Answering life's big questions from the perspective of a young child, Bear & Salmon was runner-up for Best in Show at the 2017 Asian Animation Summit in Brisbane, Australia.
"Our focus is very much about trying to find the most interesting and timely properties that we can make into TV series or movies of the week that will resonate with different demographics," says Gorfolova. "Family viewing is very important to us." In terms of factual kids shows, she adds that despite sales challenges, the company is actively looking for opportunities. "The factual kids genre is one area that has been a little less popular on the network side than anything else, so it's been tougher to sell those shows. But yes, specifically, we're looking at building and acquiring formats for the kids factual space."