Slip into your spandex and grab your closest cape because Marvel is launching a new multiplatform animation franchise that lets fans see themselves as heroes. In a modern approach to character development, all-new Marvel Rising focuses on inclusivity by featuring multi-ethnic faces and strong female leads.
Marvel's program kicks off this year with six digital shorts spotlighting Spider-Gwen as she fights crime under her new moniker, Ghost-Spider. A feature-length animated film entitled Marvel Rising: Secret Warriors will follow later in 2018. The film is executive produced by Joe Quesada, Dan Buckley, Cort Lane and Eric Radomski, while Stan Lee, Marsha Griffin and Sana Amanat serve as co-executive producers.
Marvel Rising: Secret Warriors will bring together a number of characters, with names like Ms. Marvel, Squirrel Girl, Quake, Patriot, America Chaves and Inferno joining forces to fight an unexpected threat. And the franchise will continue to develop these characters' stories as it expands across a number of platforms.
"Some characters we've reimagined, and some are brand-new, but all have brought in new fans that have reinvigorated our audience," says Sana Amanat, director of content and character development at Marvel. "I think they're fantastic characters, apart from their gender or race or anything like that. They're successful because they've got great stories, and they've brought in a much more diverse audience for us. Not just people from all different kinds of backgrounds, but also those who like different kinds of content. And ultimately, we think it's incredibly important that we have really positive representations of minority and female characters."
Disney Consumer Products and Interactive Media will support the franchise with a consumer products program set to roll out with retailers later this year. The line will span a number of categories including toys, role play, fashion and accessories. Amanat says publishing will also play a significant role in the consumer products program, with digital comics and additional content to be announced soon.
"Our tentpole content programming is going to be the shorts and the feature, but we want to make sure there are other experiences," she says. "We believe in these characters and we want to make sure we showcase entertaining stories about them in different ways and across different platforms. Music is actually going to be a big part of this program, too."
According to Cort Lane, SVP of animation and family entertainment at Marvel, social media will serve as the perfect sidekick to Marvel Rising content. "There will be a lot of social media material, as well as a destination on the YouTube Kids app and YouTube main, in addition to the linear broadcast and other digital platforms," Lane says. "We've been discussing how frequently we can keep up that cadence, because we think it's important to engage our fans with something new every single week."
The emphasis on constant engagement comes partially from recent research conducted by Marvel, which surveyed the wants and needs of fans globally—especially girls. "Prior to the start of this project, we did a deep-dive into why girls have been drawn to the Marvel franchise in massive numbers over the last few years, and that was a global endeavor," Lane says. "Girls have told us they want an inclusive cast. With Marvel Rising, the characters are young and still figuring it out. They're going on this journey to become the best heroes they can be. Also, the relationships between heroes are growing, and from time to time, we'll bring new characters into the franchise to add complexity and new points of view."
Already, Amanat says, the response from fans has been incredible. "I've had so many people from all kinds of different backgrounds tell me how much it means to have a character like Ms. Marvel out there, or Squirrel Girl or America Chavez," she says. "The connection that these characters have with our fans is so meaningful. We want to bring this out to the rest of the world because we know what kind of impact it can have in an inspiring way. We know there are people out there who want this, and need it."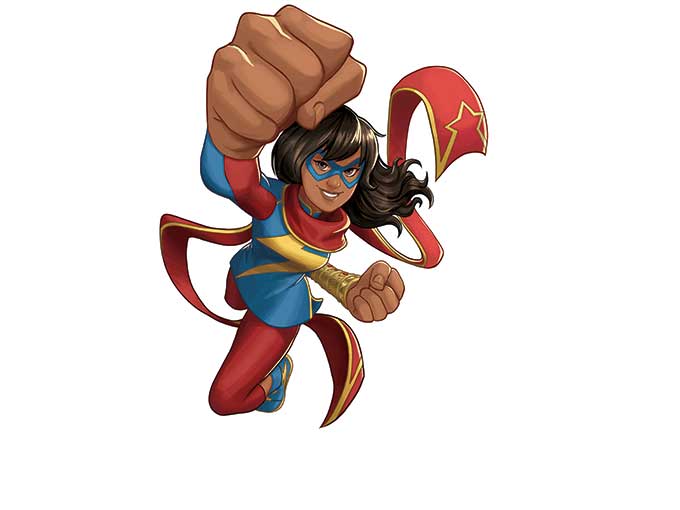 Raise your voice
Kathreen Khavari, the voice behind Marvel Rising's Ms. Marvel, is ready to speak up for comic fans worldwide. "Marvel's dedication to representation is something I'm really excited about," Khavari says. "All of these heroes look different. They come from varying backgrounds, and they really are a representation of what America is, and what the world is becoming. I love the idea that these very different people can come together with one goal in mind, to make the world a better place."
The Marvel Rising storyline sees Kamala Khan gain superhuman abilities before taking on the moniker of Ms. Marvel. And Khavari says Marvel Rising's take on a Muslim-American girl is just as powerful as Ms. Marvel's metamorphic abilities. "It means a lot to me to have such a positive Muslim female character out there," Khavari says. "She doesn't fall into the dangerous stereotype that you often see in the media. She's just a regular Muslim-American girl, and I think that having her out there is extremely important."
As the franchise continues to expand and new characters are introduced, Khavari says she can't wait for Marvel fans everywhere to see themselves in these young heroes. In particular, she is excited for what's next for Ms. Marvel's friendship with Squirrel Girl.
"The relationship between Squirrel Girl and Ms. Marvel and their bond together is so special," Khavari says. "It's nice to see that women aren't the exception here. We've seen, especially in the past year, how important it is for female characters to push for change in the landscape. I'm so excited to have these women lead the superhero team, and not be the exception to the rule."