With four inquiries into the state of the Australian film and television industry launched last year alone, 2018 could be a transformative year for the children's entertainment business down under. In February 2017, the government announced a new parliamentary inquiry into the growth and sustainability of the entire Australian film and television industry. Children's content came to the fore when the heads of Australia's commercial free-to-air (FTA) television networks—Seven, Nine and Ten—appealed for an end to each network's yearly requirement to produce 260 hours of programs aimed at under-14s and 130 hours of preschool programming (including an average 32 hours of drama).
Australia's culture wars
The appeal was timed with Screen Australia's annual drama report, which found that children's television drama production spend fell by 27% to US$38 million in 2016/17 from the previous five-year average of US$52 million. In total, 13 Australian children's dramas, comprising budgets of US$79 million, were made last year, including ABC/Netflix/TVNZ co-pro The New Legends of Monkey. The networks' main reasons for scrapping the children's content quota came from kids' continued shift away from linear television schedules to on-demand platforms like Netflix and YouTube, as well as the fact that Australia's public broadcaster has its own dedicated children's channel, ABC Me.
SLR Productions CEO Suzanne Ryan, who spoke at the inquiry on behalf of her Sydney-based prodco (Guess How Much I Love You, The Skinner Boys), says the commercial FTA networks believe the current quota system requirement is also stifling their business needs to monetize content—it's restrictive in the times they can program content, and in the advertising that surrounds it.
"If the networks had their way, they would put the money they spend on children's programs into drama series that appeal to a wider audience," Ryan says. "As cited by Network Ten's chief executive Paul Anderson at the Public Inquiry into Film and Television in July 2017, Masterchef and The Bachelor would be examples of the kinds of shows they would look at."
According to the Australian Children's Television Foundation (ACTF), which also opposes the commercial FTA networks' position, the situation has helped kickstart a raft of discussions on how to modernize the children's quota system. "When the commercial broadcasters came out saying they would like to see the children's quotas removed, it put an enormous focus on content," says ACTF CEO Jenny Buckland. "This is a great thing because what the broadcasters may not have suspected was getting quite a bit of pushback, not only from the industry, but also from a number of parliamentarians who were concerned that children's TV was vulnerable. It gave us and producers a great opportunity to outline insights around how difficult it is to finance distinctively Australian children's content."
In its written response to the inquiry, the ACTF proposed the creation of a new platform-agnostic regulatory framework that would include a children's content mandate for the ABC, which currently does not have one. After a number of public hearings tied to the ongoing inquiry, the Australian government's Department of Communications and the Arts published a consultation paper last August that reviewed Australian and children's screen content. The review presented three core policy objectives: securing quality content that promotes Australian identity and culture; securing quality Australian content for children; and driving more sustainable Australian content industries.
"Basically, the government recognizes that, with the shifting landscape, our original quota system that was introduced back in 1979 needs to be modernized," says Ryan.
In her written response to the review, Ryan agreed with both the review's policy objectives and design principles, which include being transparent, platform-agnostic and flexible enough to cope with changing environments. Key among a number of Ryan/SLR's proposals in relation to the commercial FTA networks are:
A yearly minimum of 32 hours of children's drama for each network to be retained
An increase of the upper age limit of children's drama from 14 to 16 to allow for more family-friendly content
New measures to ensure quality preschool programs are made by introducing a requirement for each network to produce 16 hours of preschool drama annually
Allow the preschool and children's drama quota to be tradeable across all of the wholly owned commercial FTA platforms that are free to the end user, such as digital, catch-up services, VOD services and apps
A minimum license fee on all commercial networks that guarantees a feasible level of finance to producers
Allow FTA networks the opportunity to monetize children's television by relaxing advertising restrictions around the broadcast of children's content.
For the ABC, SLR would like to see its charter amended to include an obligation to deliver original Australian children's content for both preschool and school-aged children on all of its dedicated platforms, with a requirement that at least 50% of all kids content is homegrown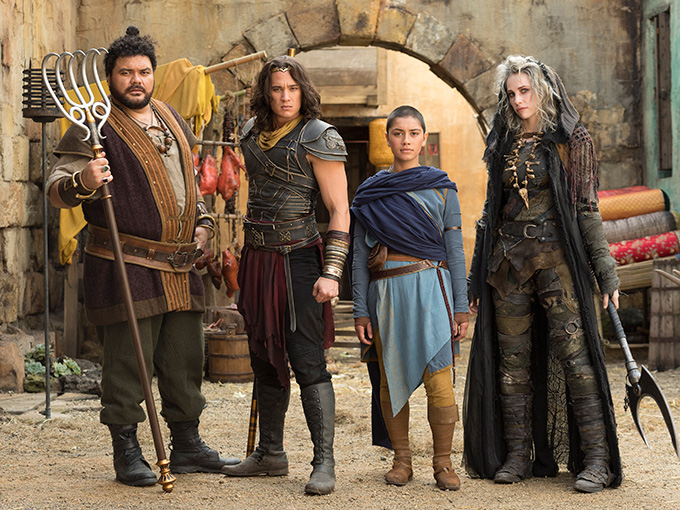 Additional proposals include: upping the producer tax rebate for live-action and animated drama children's TV content from 20% to 40% (on qualifying Australian spend) to match the offset currently in place for feature films; maintaining the current PDV offset (post, digital and visual effects) at 30% on qualifying Australian spend; and creating an Australian children's content fund and requiring all service providers and social media platforms to contribute an annual percentage of their budgets or revenue (reflective of their programming) to help foster local growth and production. The Australian government would also be expected to make a significant contribution to the fund.
"We have to future-proof in order to protect children's TV," says Ryan. "For the fund, producers could only access it if a program has a minimum license fee and is guaranteed to be broadcast on one of the platforms from the commercial FTAs, ABC, subscription television and content service providers like Netflix, Stan, Amazon and YouTube." She adds that quotas and minimum spends are essential to ensure that a commitment to commissioning children's content is maintained by the networks and other platforms.
"Without Australian market attachment, local producers compete against countries and regions such as Canada, the UK, Europe and some parts of Asia, which have their own local content requirements," Ryan notes. "Content needs to be commissioned by Australian networks in order for producers to secure funding from outside Australia, whether by securing an international broadcast presale, co-production partner or a distribution sales agent."
According to the review, five out of 13 programs broadcast in 2016 to meet the Australian children's drama quota were made under official co-production arrangements with France (one), Germany (one) and Canada (three). One further program was made in New Zealand.
Ryan admits finding ways to finance co-productions is one of SLR's biggest ongoing challenges. "It's harder to co-produce, given that other territories are squeezed with their own local funding. We are looking at developing new original in-house shows or bringing on new book properties, but we are sort of in a hiatus at the same time," she says. One of the prodco's more recent original co-productions is Lexie & Lottie, an animated detective comedy series made in partnership with Germany's Super RTL and ZDF Enterprises, with Network Ten on board as the show's local broadcaster. Development projects include a ZDFE- and Nine Network-backed adaptation of author Jacqueline Harvey's bestselling Penguin Random House children's book series Alice-Miranda, as well as Andy Roid, another Penguin adaptation and SLR's first development collaboration with ABC Me.
Despite industry uncertainty, and the pending results of the government's initial inquiry, Buckland points to the recent commissioning efforts of the ABC as a significant bright spot. "The ABC has really lifted its commissioning in the last year, and certainly since Michael Carrington took the helm as head of children's and education in 2016," she says. "We're quite excited for a number of projects that are coming through."
ABC did, however, experience its own upheaval in 2017, when it cut roughly 200 jobs as part of a major reorg to deliver a more audience-focused content structure amid shifting viewing trends. The good news was that the rejig introduced a sleeker divisional framework, 80 new regional jobs and a US$38-million internal contestable content fund. "The transformation provides content makers like the in-house children's team with the flexibility and resources we need to address audience and technological changes that are sweeping through the media sector," says Carrington. "Children are increasingly viewing our content via the ABC KIDS and ABC ME apps, as well as our video-on-demand and catch-up TV service, iView."
ABC Kids' recently unveiled 2018 programming slate includes the aforementioned New Legends of Monkey from See-Saw Films and Jump Film & TV, as well as ABC Kids and BBC Worldwide co-commission Bluey from Brisbane-based Ludo Studio. The final season of hit homegrown drama series Nowhere Boys is also on tap.
Meanwhile, another parliamentary inquiry into the sustainability of the film and television industry, chaired by Liberal backbencher Luke Howarth, released a new round of recommendations on December 8. One of the key changes is a proposed uniform subsidy—30% of expenditure—for film, television and streaming content. This would boost the current TV rebate by 10%, but cut the film rebate from 40%, likely resulting in fewer Australian feature films being made. These additional recommendations include:
A to-be-determined minimum number of hours of children's content for the ABC
A special children's content fund paid for by the broadcasters, including SVOD services
A 50% minimum of Aussie content on SBS, which, like the ABC, currently has no Australian content requirement
An increase in the subsidy for foreign productions from 16.5% to 30%, and a budget threshold decrease from US$12 million to US$4 million
A levy of 10% of revenue on SVOD players, to be spent on Australian content
The restoration of funding for digital games
"Even though the government doesn't have to respond to a backbench committee report, I think it will be influential," says Buckland. "I think the parliamentarians have been influenced not only by the industry submissions, but also by going into their electorates and talking to people in the community about children's TV and why it matters to them." Buckland adds that while details of the content report were vague, it represents a signal to the commercial broadcasters that change is in the air. "They're not going to get let completely off the hook," she says. "We'll have a better indication of what the government is thinking about in terms of the broader review in the first months of 2018."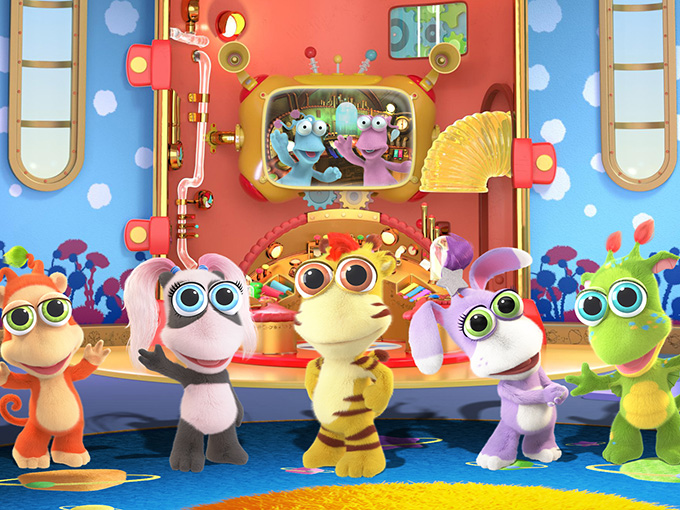 An online hub grows in New Zealand
For a small country with no national pubcaster (TVNZ is 100% commercially funded), the upcoming launch of NZ On Air's new online children's platform HeiHei—the Maori term for commotion or chicken—will mark a big step forward in preserving homegrown New Zealand content for kids. The independent broadcast funding agency is expected to launch the safe, ad-free platform in the first half of this year, with a wide range of mostly local content, and some overseas programming.
After NZ On Air launched a contestable process, TVNZ was selected to provide, manage and curate the service. To date, NZ On Air has invested more than US$9 million in children's content for the platform, in addition to US$1 million spent on HeiHei's development. The platform's flagship series is Fanimals, a multiplatform animated series about kids and their pets funded by NZ On Air and produced by Christchurch-based Whitebait Media. Fanimals will air weekdays on TVNZ 2, while HeiHei will provide extended and exclusive content. A dedicated app and games are also in the works for the series.
For Angela Littlejohn, head of production at Wellington-based Pukeko Pictures (The WotWots, Thunderbirds Are Go), the launch of HeiHei marks a long overdue change for kids fare in New Zealand. "Children's content from New Zealand has kind of been ignored over the last 10 to 15 years because we don't have quota or a public broadcaster," says Littlejohn. "And there are so few slots at the commercial stations. But now with HeiHei, there are some exciting conversations taking place that really look at the viewing habits of New Zealand kids. The last generation has grown up on American cartoons and hasn't heard their own voice."
Apart from the benefits of NZ On Air, Littlejohn says New Zealand producers rely heavily on the 40% New Zealand Screen Production Grant (NZSPG) for TV on qualifying spend within the country, as well as a 20% PDV Grant and a 20% NZSPG—International for big-budget TV and film productions, which Pukeko accessed to produce Thunderbirds Are Go, an unofficial co-pro with ITV in the UK. "For official co-productions and local productions that have significant cultural content, the 40% Screen Production Grant is really important for us," she says. "Because of our small population, and the fact that we don't have a public broadcaster for funding, we can't survive without it."
Littlejohn adds that Pukeko was able to access the NZSPG to help fund Kiddets, the company's new sister series to its popular toon The WotWots. Developed in tandem with China's Guangdong Huawen Century Animation Company, the series is also the first official television co-production between New Zealand and China. "The NZSPG has really helped New Zealand producers compete with the likes of Oz in terms of trying to raise the amount of money you need to get productions up and going," she says. "From a TV perspective, it's actually been really helpful to have that as a calling card."
"Interestingly, there have been more TV shows generated offshore that have accessed us, and I know other prodcos are slowly developing bigger-budget TV series that could access the grant," Littlejohn adds. "The issue we have is the lack of a broadcasting commitment here that could add a big chunk of money to help us co-produce with a pubcaster like the BBC. I think it will come, but it's just been a slower process since the Screen Production Grant was upped from 20% to 40% in 2014."
UK kids TV gets US$81 million, but what's next?
The UK government is moving forward with its 2016 proposal to inject up to US$81 million (£60 million) in production and distribution funding over three years to bolster locally produced original children's TV content. Announced on December 30 by Culture Secretary Karen Bradley, the fund will launch in 2019 and be available for broadcast content on commercial public service broadcasters (PSBs) including ITV, Channel 4 and Channel 5. It will also be accessible for other free-TV networks, on-demand services, and possibly online platforms.
For producers, funding will be available for creators to receive up to 50% of production and distribution costs on original TV shows. The cap was determined to ensure that the scheme does not require an individual state aid approval from the European Commission. Content from new, diverse backgrounds, and shows made across the nations and regions of the UK, will also be a particular focus.
The fund was originally proposed by the UK government in a May 2016 white paper entitled A BBC for the Future, leading to a consultation that closed in February 2017. Provisionally appointed fund administrator the British Film Institute (BFI) is currently working with the UK government to finalize details of the fund, which will be published in a policy paper within the next six months. The funding, according to the Department for Digital, Culture, Media and Sport (DDCMS), comes as the output of children's television from PSBs in the UK over the past decade has been in decline, with spending dropping by US$74 million (£55 million). The new pilot fund, which comprises unspent funds from the government's previous license fee settlement, is aimed to create more variety in the market, where in 2016 the BBC accounted for 87% of all first-run UK originated children's programming by PSBs.
Whether Viacom-owned Channel 5 will seek to bid for the fund remains to be seen, as the net's head of children's, Sarah Muller (who is leaving the post in March), says it will need to assess details of the upcoming policy paper. "We have read with interest the UK government's response to its consultation on a contestable fund, and in particular the decision to focus the fund on children's TV," Muller says. "We look forward to reviewing the government's paper that sets out how the fund will work when it is published later this year."
Channel 5 is currently committed to airing 600 hours of UK-originated kids programs. It also recently revamped its popular Milkshake! preschool block and launched its first-ever Milkshake! YouTube channel. As for ITV and its children's channel CITV, a spokesperson says the broadcaster welcomes the government's announcement, but ITV will not seek to bid for the fund.
"The contestable fund is intended to sustain investment in genres of TV content that the market finds increasingly hard to sustain," says the ITV spokesperson. "As we have said previously, while ITV would not seek any contributions itself, we believe that there is a case for the fund to be focused on children's content to maximize the fund's impact and effect, and we welcome the government's announcement regarding the next stage of the fund's development."
Looking at the fund's broader intentions, it is also aiming to bolster the 2014 introduction of a children's TV tax break for animation and to give new powers to Ofcom by the government via the Digital Economy Act 2017, which allows the UK media regulator to introduce children's content quotas on commercial public service broadcasters where it sees fit.
Ofcom released new programming quotas for first-run UK-originated children's shows on the BBC in March 2017, requiring CBBC to broadcast at least 400 hours and CBeebies to air at least 100 hours per year. Ofcom could also potentially regulate ITV, Channel 4 and Channel 5 to commission and carry more content for children, under new powers granted to the org in an amendment to the Digital Economy Act proposed by Baroness Benjamin in late 2017.
According to Greg Childs, editorial director of London-based nonprofit The Children's Media Foundation (CMF), the funding has been a longtime coming. "This is a vindication of all the hard work of CMF volunteers and supporters, campaigning and lobbying over 10 years to persuade politicians and policy makers first that there was a significant problem in the supply of UK content for UK kids," Childs says. "And it shows that there could be a practical and workable solution."
The CMF's ambitions for the fund are that it should focus on stimulating content set in Britain and target under-served audiences for young people, including the 10+ demographic. "The CMF is very keen that the content, as much as possible in a part-funded system, is essentially British in setting, in the characters and voices, in the topics addressed, and in tone. And there will need to be some form of cultural test for that," Childs adds. "We'd like to see it aimed, in part, at the underserved 10+ audience, which is where the point of delivery becomes interesting. It was CMF that suggested a broader approach to distribution than simply the existing commercial public service broadcasters. When the government considers how the fund should work, it should also explore how it could attract commissioners from other outlets, including the VOD platforms, to contribute funding. The big issue there is whether there can be universal access under those conditions. That's what needs to be worked out."
According to the DDCMS, the government remains open to the distribution of content on a range of platforms, including on-demand and online, should they have an appropriate reach and be free at the point of use. It states that further work will be needed to consider whether content broadcast only online will be eligible, given concerns raised by consultation respondents about discoverability and lack of regulatory standards. Another particular aspect of the fund the government has stated it will need to flesh out with the BFI concerns "additionality"—one of the consultation's six evaluation criteria—and whether indigenous regional language content could be considered eligible as part of the nations and regions criteria.
From a production perspective, John Rice, CEO of Irish/UK prodco JAM Media (Becca's Bunch, Little Roy), says the fund is good news for the industry. "There will be more details coming as the year progresses, but in terms of what we know so far, it's wonderful to see an injection that will help stimulate the whole sector," Rice says. "Coupled with the new excess funding from the BBC and, of course, the UK tax credit, the fund will create a rich and fertile landscape for UK children's producers."
"There will be more hours of quality children's content serving not only British audiences, but audiences the world over," Rice adds. "It will establish new players and aid in the growth of established ones. That said, I will want to know if the funding will be repayable, if there will be any kind of equity position, if it's a grant or a loan scenario, and if there will be a cultural point system for the UK regions."