In the lead-up to next week's Asian Animation Summit in Brisbane, Australia, BBC Worldwide director of children's content Henrietta Hurford-Jones says the arm is exploring co-pro projects that, for the first time, may or may not require the public service side of the BBC as a partner.
"We've established ourselves as a good in-house partner with hit shows like Go Jetters, Sarah & Duck and Hey Duggee, and we continue to support the mothership with brand-appropriate content. The change is that we can now act somewhat independently in terms of co-development projects," says Hurford-Jones (pictured).
BBCW announced its first-ever preschool project not supported by CBeebies UK—Bluey (pictured below)—this past summer. Currently in production with Aussie co-commissioning partner ABC Kids, the 2016 Asian Animation Summit Best in Show winner from Brisbane-based Ludo Studio follows the daily adventures of a lovable, six-year-old Australian Blue Heeler puppy that lives with her parents and four-year-old sister.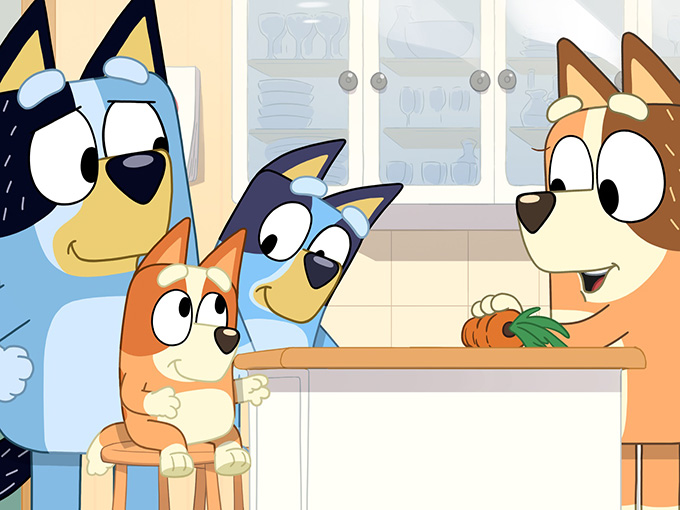 Created by showrunner Joe Brumm (Charlie and Lola), the 52 x seven-minute 2D-animated series is set to bow on ABC Kids and its iview platform in 2019, followed by broadcast on CBeebies Australia.
"CBeebies in the UK could buy the show, but it's our first type of co-pro without them," says Hurford-Jones.
With Bluey in production and the 2017 Asian Animation Summit set to launch on November 29, Hurford-Jones notes the importance of the Asia-Pacific market for BBC Worldwide.
"We have a strong business in China, and Asia is an increasingly important market for us overall," she says. "It's important to understand what's happening there, what new ideas are coming out of the region, and the kinds of IP that one might be able to take outside of Asia."
As for additional new animated preschool co-pros, BBCW is currently in development on Stanley the Can-Do Hamster with London, UK-based Komixx Entertainment, and Anna & Froga with Parisian company Superprod (Pat the Dog).
Based on the books by William Bee, the former is the first collaboration between Komixx and BBCW, which holds exclusive global rights to the IP. The show is expected to air on CBeebies channels worldwide, although CBeebies UK is not on board yet, according to Hurford-Jones.
Anna & Froga is a 65 x five-minute upper preschool comedy about a quirky, problem-solving girl and her blundering amphibian friend. Broadcasting deals are yet to be announced.
While Hurford-Jones remains focused on commissioning preschool content for international CBeebies channels, BBCW is also branching out with a few new co-productions in the six-to-12 demographic.
It is currently in development on Riona's Warriors, an animated Viking comedy for six- to nine-year-olds with Irish prodco Red Rey, and 2D-animated comedy Mystery Soup, which won CBBC's first animation pilot scheme, ANIM8, earlier this year.
Created by writer Victoria Manifold and director Hannah Jacobs, Mystery Soup follows the adventures of three 13-year-old girls who come together to unravel a series of strange occurrences at their new boarding school.