Today's robots come in different shapes and sizes—the more obscure the better, in most cases. But one thing is for sure; business is booming. Sales of robotic toys increased by 40% last year on Amazon, according to analytics firm One Click Retail, and the e-commerce giant's sales in the robotic toy category were in excess of US$25 million in 2016. Meanwhile, a flurry of robots has topped holiday toy lists from Walmart, Toys "R" Us and Target. The momentum has motivated toy companies both big and small to create the next best thing in the category, which has seemingly infinite room for wacky and whip-smart AI pals. With category fatigue still too futuristic to grasp, here's a look at the bots that are turning heads right now.
CogniToys Dino - 4 to 6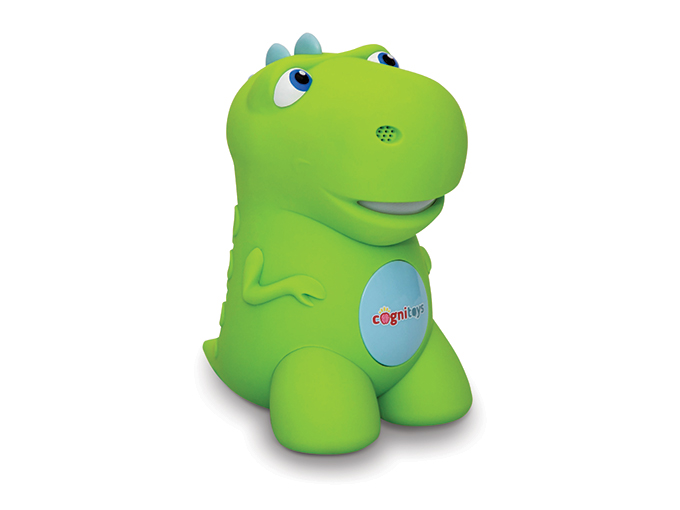 Company: Elemental Path
Bio: Dino is a small green dinosaur that uses AI to answer kids' questions, play games, tell jokes and have full conversations. The data is all anonymous, nothing is pre-programmed, and the experience is entirely screen-free. The robot has gained significant traction in Hong Kong, China and South Korea, where it is used to teach English to young kids. Globally, it sells for US$99.99 on Amazon and at CogniToys.com.
Perspective: A robot devoid of screens may seem counter-intuitive. But for Donald Coolidge, CEO and co-founder of New York-based Elemental Path, high-tech doesn't always mean high interest. "Kids know more about tech than I do. They learn so quickly, and I think that's one of the reasons that toys have the reputation of going into a bin or a closet and never being used again, because kids change," he says. "Robots are an awesome opportunity to layer in education—it shouldn't just be about having a 15 to 20 minute play experience that's about moving a few pieces around."
LEGO Boost – 7 to 12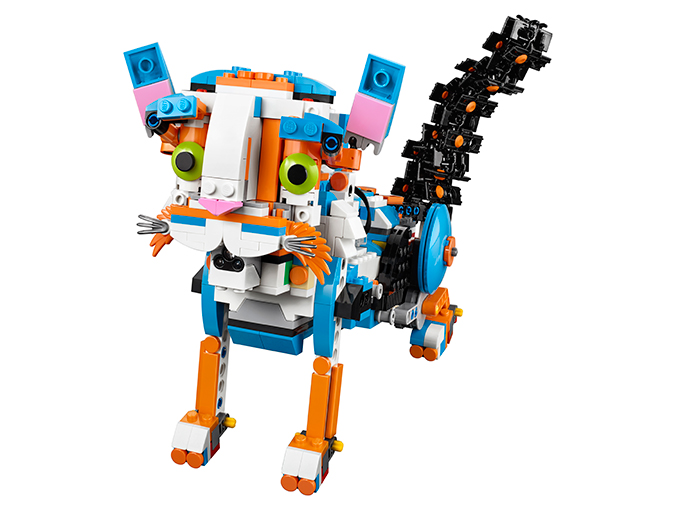 Company: LEGO
Bio: Combining building aspects of traditional LEGO with the current smart toy movement, BOOST includes 850 pieces that can turn it into a traditional-looking robot—or a rover, guitar, cat and more. Any regular LEGO pieces can be added on to create whatever kids want. The free tablet app gives kids instructions on how to build each version and then code it with movements and sounds that make a cat purr or change an instrument's pitch. Priced at US$159.99, BOOST launched in August at both specialty and mass-market retailers.
Merging play patterns: Michael McNally, senior director of brand relations at LEGO Systems, sees the robotics trend as a chance to blend the divide between digital and physical play. He points out that kids don't necessarily see a difference when they play, and so toys should be reflecting that. "Before, it used to be very easy to say, 'Here are our physical toys and here are our technology toys,'" says McNally. "Kids' expectations are much different, so you have to figure out how to leverage that in a way that is additive to your product portfolio."
Dash – 6 to 10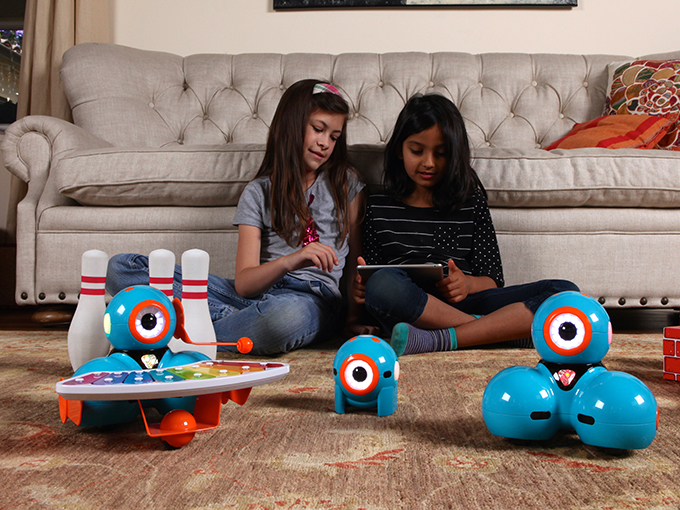 Company: Wonder Workshop
Bio: Dash is an orange and blue cyclops used for coding competitions across the US. It provides kids with hundreds of projects, challenges and puzzles across five free mobile apps available on iOS, Android and Kindle Fire. The apps let kids learn how to code, play a xylophone and run an obstacle course, to name a few things. Dash has been used in more than 12,000 elementary schools worldwide and in multiple robotics competitions. It is sold via the Wonder Workshop website, as well as on Amazon, in Apple stores, Barnes & Noble, Best Buy, Target and Toys "R" Us for US$149.99.
Breaking gender barriers: Wonder Workshop CEO Vikas Gupta says the main barrier for girls playing with a robot like Dash was its wheels, admitting that the feature made it look like a toy for boys. "When we asked girls why, we couldn't get a clear answer, and then we'd often hear from them that they'd call it a truck or a car," says Gupta. "So we tried hiding the wheels and then suddenly girls wanted to play with it. Dash became a character." Accommodating those needs has resulted in Dash selling well among both genders. In fact, an all-girls team from Michigan recently took home
a top coding competition prize using Dash.
Think & Learn Teach n' Tag Movi - preschool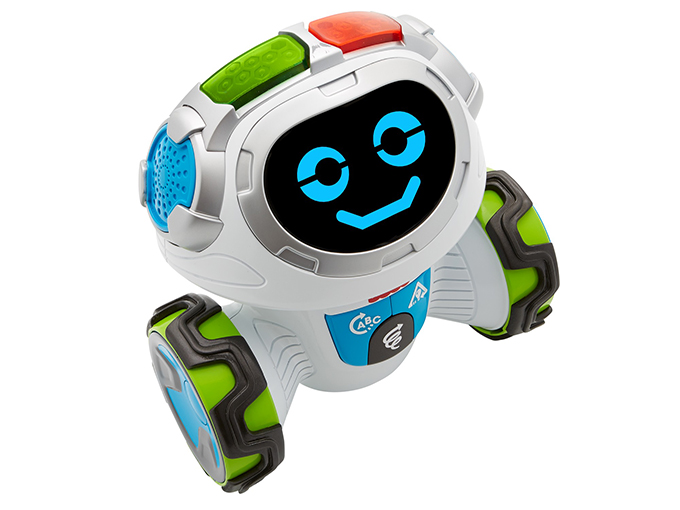 Company: Fisher-Price
Bio: The small roving bot has bright green and red buttons on top of its head, which is meant to maintain eye contact with kids. Movi's LED face will animate with 60+ expressions and ask kids to identify them for critical thinking, and it will initiate animal role-play and dance parties designed to keep kids moving. Released in August, Teach n' Tag Movi is sold at US retailers like Toys "R" Us, Amazon and Walmart for US$49.99.
Eye-catching features: Making a new offering interesting in the red-hot robot space can be difficult. But the key, says Fisher-Price product designer, Ian Grout, is to make a product literally come alive. "Robotics is this wonderful space where technology and kids' own imaginations come together because they see it as real," says Grout. But making a machine look alive requires a lot of thought and attention to detail. For example, not enough eye contact can make the bot seem cold. "With the face, we were very careful about the angle that this robot sits at relative to how tall a preschooler is," says Grout. "So it is not straight up and down; it's leaning just a little bit so that when a child is looking down or looking at it, they're naturally connecting."
Ozobot Evo – 8 to 14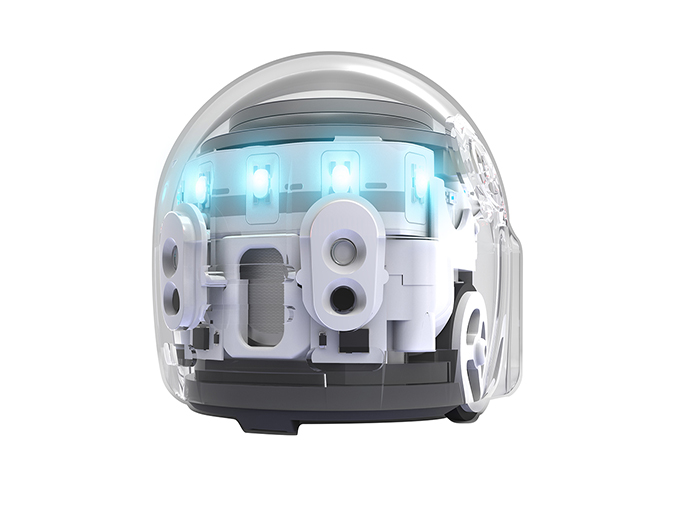 Company: Evollve
Bio: Kids are very much in the driver's seat with Ozobot. Users can physically draw commands and then code them onto a desktop computer using a color command language that the bot will absorb and retain using optical sensors. It can then spin, dance, zig-zag and more. Kids can also hack into the robot and reprogram it using OzoBlockly, or connect it to the Ozobot app for more games and an elevated level of play. Since launching last November, more than 500,000 units have been shipped, and the US$100 Ozobot is now available in more than 3,000 classrooms.
Drawing conclusions: For all the allure and staying power of robots, it's difficult for a company to convince parents that this kind of toy is more than just an expensive holiday gift. "The same as with the iPad, when you look at it you don't think of it as a classroom product or a family room product. It just lends itself to both places, and we're following that same concept," says Nader Hamda, founder and CEO of Evollve. "When we go into the classroom it's a much more focused, structured lesson plan around the use of the product. But there is some sort of magic that the kids see when they make a drawing on a piece of paper and put the robot down and watch it follow their creation."
14-in-1 Solar Robot – 10+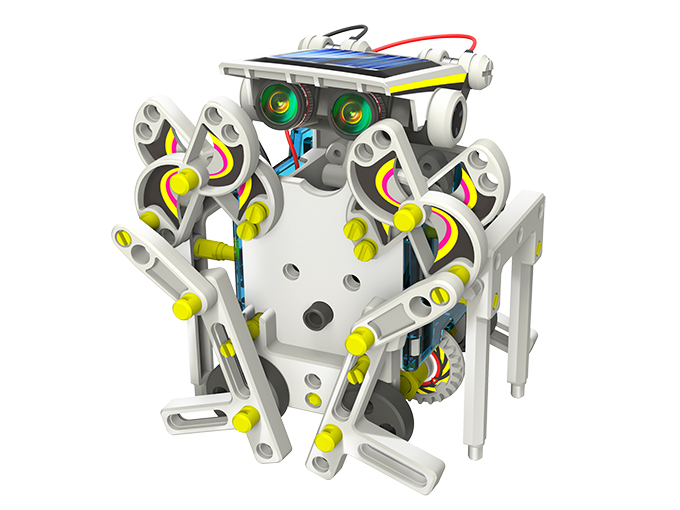 Company: OWI
Bio: Entirely powered by the sun, this robot has one central motor and the rest is up to kids' imaginations and abilities. It can go from being a level one turtle or boat up to a level two surfboard, zombie or crab with many options in between—and no batteries required. (It works both on land and in water.) At US$33.95, the 14-in-1 retails at specialty hobby shops and on Amazon, where it has been a number-one bestseller in the solar-powered kits category.
Getting enlightened: Antonio Paul Palangio, sales and marketing manager at OWI, says this type of toy needs to be able to deliver over a long period of time, not just a couple of months. "To me, a toy is going to lose its value quickly. Kids are smart and you need to keep their imagination active and keep them intrigued with it," says Palangio. "I think what robots give them is staying power." To that end, the product has varying levels of difficulties so that
under-10s can get in on the action, too.
Cozmo – 8+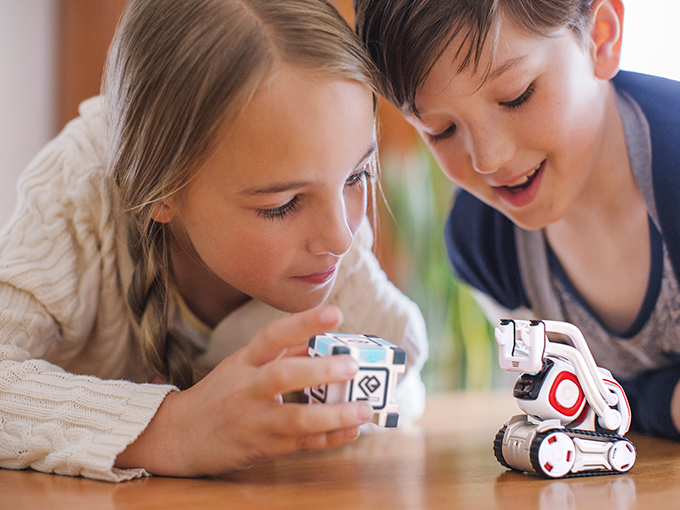 Company: Anki
Bio: Cozmo (US$179.99) is a small animated robot that uses artificial intelligence to get to know kids over time. It expresses emotions while learning a child's name and face by using a connected smart device enabled with iOS, Android or Kindle Fire and the free Cozmo app. It also includes Code Lab, a free programming language designed to teach kids how to code. Cozmo was deemed the bestselling US premium toy in the 2016 holiday season, according to market research firm The NPD Group, and has been on Amazon's hot holiday toy list two years in a row.
The coding message: "We figured out that we can use Cozmo as a platform to teach kids how to code, and then at some point, sooner than later, really contribute to robotics. I think we'll find people who are non-robotics experts making them," says Hans Tappeiner, co-founder and president of Anki. "If you look at the kids space, it's already starting to happen."