Ghosts and goblins and things that go bump in the night. Kids love everything scary and creepy—provided they're handled properly. Finding the perfect balance in storytelling and creative art can be difficult when it comes to the supernatural, but the rewards can be huge when done right. Just ask Scooby-Doo, or the members of the Midnight Society, who gather to tell tales in Are You Afraid of the Dark? Catch that lightning in a bottle, and you have a franchise that can be, well, undead. We turned to the creatives behind these creepy casts of characters to get their advice on building supernatural worlds for kids. What does it take to make it right?
Keep it funny
Costa Rica-based Rocket Cartoons' new special Terror in Doomsville began as a Halloween one-off for Cartoon Network Latin America, with international distribution handled by Monster Entertainment. It was developed with the help of British author Tommy Donbavand, the brains behind the 13-part Scream Street comedy/horror novels published by Walker Books in the UK. Telling the tale of Luke Watson's transformation into a werewolf, the books were turned into a successful 52 x 11-minute series by Coolabi Productions for CBBC.
For Rocket CEO Leo Trinidad, the key to success for the scary new special was in the writing. "One of the main things we've learned is the value of bringing in an experienced writer like Tommy Donbavand," says Trinidad. "I fell in love with his writing style. He's really good at creating scary and funny stories for kids, so I invited him to write a script for Terror in Doomsville."
When it comes to perfecting scary, Trinidad sees humor as the primary antidote to peril. "I have a two-year-old daughter and I see how scared she can be just watching the ice monster in Frozen," he notes. "Depending on their age, kids will be afraid of many different things you don't even consider scary. So I would say the trick is to keep it funny. In my opinion, as long as the scary is always on the comedy side, it should be fine." To keep the laughs alive, Rocket is looking for funding to turn Terror into a series, and is currently delivering another scary show to DreamWorks TV for YouTube—Kip Van Creepy.
Keep it on target
"Today's kids are more discerning towards most entertainment," notes Vishnu Athreya, VP of programming at Cartoon Network. "Their need for innovative storylines and real characters makes it more challenging to create hit shows—especially of a particular genre." Athreya also believes kids' ability to consume entertainment options across multiple mediums also offers content producers and programmers a unique challenge when it comes to tailoring specific content to platforms.
"The concept of a show itself may dictate whether we're creating platform-agnostic or platform-specific content," Athreya says. "Keeping it light and humorous helps repeats in classic linear format, and more serialized binge-viewing for an on-demand/OTT consumption, all while ensuring you have regular pulses of content to keep the franchise alive for fans."
CN's newly launched Boomerang SVOD service encourages family viewing with series like Scooby-Doo, Bunnicula and Courage The Cowardly Dog. Being on-demand, fans can watch when they want, but events like "Scoobtober" draw special attention with the world premiere of the brand-new Scooby movie—Scooby and Shaggy Showdown—a new season of Bunnicula and a Halloween special entitled Dorothy and the Wizard of Oz. "Younger kids enjoy a good thrill, too," says Athreya. "The show has to be age-appropriate , though—not too scary, with relatable characters and a good laugh, which is why shows like Scooby-Doo and Bunnicula appeal to this group."
Athreya says that while comedy is not essential to making a supernatural show popular, it helps it appeal to a broader audience. This year's Halloween lineup includes specials of Teen Titans Go!, We Bare Bears and the newly launched OK K .O.! Let's Be Heroes.
Then, of course, there's the eternal Scooby-Doo. "A long-standing franchise's success, like Scooby-Doo's, depends on evolving its comedy in a classic unmasking-whodunit formula," Athreya says. "Both Mystery Incorporated! and Be Cool, Scooby-Doo! pushed the envelope in terms of comedy, while Mystery, Inc. was a bit more like a sitcom."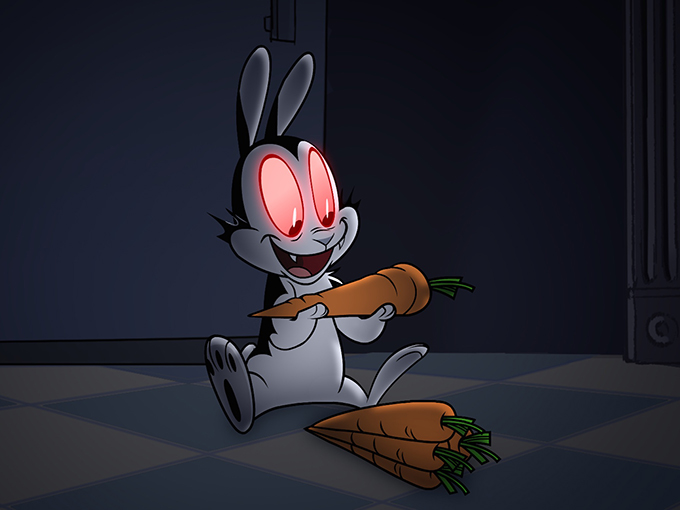 Keep it interesting
Humor isn't the only successful storytelling technique. Creeped Out is a 13-part anthology series written by UK scripters Bede Blake and Rob Butler, and produced by CBBC Productions and DHX Media. "The idea with Creeped Out was to go back to more of an Are You Afraid of the Dark? approach to storytelling," says DHX Media EVP of distribution and content Josh Sherba. "So in many ways, it's more psychological. It's not just spooky—it's tales of the strange and the weird. I would use Twilight Zone as a reference to what we're doing with it. And from a conceptual standpoint, we were interested right away."
Are You Afraid of the Dark? is already a hallmark of the DHX library, so Sherba is familiar with the potential. "We know the staying power of that kind of content," he says. "And we know that while there have been several attempts in the last few years [to replicate its success], it's something that's hard to get right. But if you can, it can really resonate, and the content can stay relevant for a really long time."
When it comes to Creeped Out, Sherba says the dark, psychological angle drew him in from the first script, as did the format. "We love the idea of really making an anthology—doing a series of mini-movies that are tied together with this theme," he says. Sherba agrees with Trinidad about the critical nature of scripting in this genre. "I think the biggest challenge, particularly when you are doing spooky, is finding the line—trying to get it where you can create that sense of discomfort in your audience, but realizing that the viewers are not adults," he says. "You have to be careful that you don't go too far."
Creeped Out combines sci-fi, horror, adventure, suspense, fantasy and mystery. The individual stories are linked together by The Curious, a mysterious story collector who appears at the beginning and end of each episode. Though hits like Netflix's Stranger Things help draw attention to the genre, Sherba doesn't think it's cyclical. "When we're talking about kids, there's a window of three, four or five years max," he notes. "So every year a kid is in a different place in terms of who they are as a person. There's always an interest in these areas, if it can be executed well. Maybe recent successes will spur on more things in the space for broadcasters and platforms."
While Creeped Out will debut in 2018, viewers may see an episode by Halloween. DHX is also currently looking for financing on another project called Dark Haven High. Produced with Toronto's Fresh TV for Family Channel, it's a buddy comedy about two high-school girls who find themselves faced with unexpected paranormal events. They have to play detectives to solve the mystery. "It's light sci-fi with buddy comedy at its core," says Sherba. "Buffy-light is a good way to describe it."
Don't compromise
Like Creeped Out, Tales From the Web began as an anthology. However, the series—produced by London's Larkshead Media—soon evolved to be based around a regular cast of characters, with one-off stories and an arc that ties everything together.
Larkshead is the new home of former Nick UK VP and director of programming Tim Patterson. (The company has also tapped Clare Piggott as director of licensing and merchandising, and Rob Doherty as director of programming and distribution.) Patterson and Bournemouth-based Treehouse Digital had been talking about the project for a while when Doherty first saw it. He was immediately sold. "It was all about the technology and the dark side of the web," says Doherty. "It was Goosebumps updated for the digital generation."
Originally an anthology hosted by an animated character, Doherty says the series was younger-skewing at first. But the more they dug into the concept, the more it aged up, and the need for less animation and a host made sense. "It wouldn't work half as well in animation because you wouldn't have that immediacy," he says. "You wouldn't relate to the characters in the instant way you do to a well-cast live-action show."
Tales From the Web's stories revolve around the internet, phones and gadgets, and how they're all insidiously linked with our lives. For example, a girl who's overly fond of trolling people online begins to turn into an actual troll. Doherty says the tales are believable—but then they're all given a slight twist. "Every bit of common sense in me tells me there's no monster under the bed," he says. "But how can I be 100% sure? If I click on a website that someone has told me not to because something bad will happen, how do I know until I do it?"
The lead character is relatable to tween and teen viewers—she's a bit of a loner and not that comfortable in her skin; a teenager trying to fit in—with strong family co-viewing elements thrown into the mix. And co-viewing is critical to Larkshead. "Children, especially girls, are leaving kids TV behind quite early to go straight to shiny-floor reality shows for adults, and boys are leaving at the same age to go gaming," notes Doherty. "I think this show will bring them into the telly—it will be a destination show, one your family will be happy for you to watch because they'll want to watch it, too."
As with comedy, every broadcaster and region has its own approach and appetite for the supernatural and creepy. Doherty strongly recommends creators stay true to their show and not lose focus. He points to Peppa Pig as an example. A show about an animal that's anathema to many regions of the world, it became a huge hit because of the storytelling and the characters.
"There is no magic formula," he says. "Be true to the show first, and then look to where you think it will play. You can get distracted, and you can lose something by trying to tick boxes. You end up losing the essence of the show. When it comes to Tales, it's a show I feel has got some integrity, and if it has, then hopefully that starts to translate." Larkshead hopes to have financing for Tales in place by end of year, and be in full production soon after that.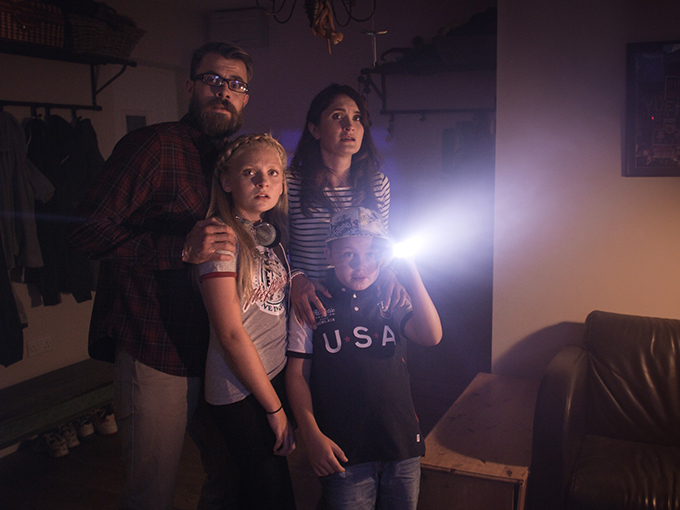 Tell big tales
While Larkshead is facing the challenges of launching a new property, The Jim Henson Company has taken on a job of its own—returning to one of the most beloved spooky fantasy properties of all time with The Dark Crystal: Age of Resistance, a prequel to the original classic that should arrive in 2019.
Age of Resistance has been in development for about 14 years, beginning as an animated kids project and evolving into a one-hour, live-action drama for families. Halle Stanford, EVP of children's entertainment at Henson, says it took a broadcaster with complete faith in the project—Cindy
Holland, VP of original content at Netflix—to finally make it happen.
Stanford says Holland challenged the Henson team to create the show as ambitiously as the movie had been done. Once given the nod, it took about a year for Henson to develop the live-action series—putting together the creative team, sorting the budget and figuring out how to approach it.
There were plenty of questions to answer: "What's the official style of the world? How do we make this work so you have not only the written canon, but the visual canon, too?" asks Stanford. "On the movie, it was like nothing that had been done before—they were all creatures and puppets, there were no human beings—and yet we have to create a world that is believable and possible."
While building the world and the characters was a challenge, the storyline presented the biggest hurdle, and much of that has to do with the way stories are told in the digital age. "We have to take a look at the 10 episodes and ask, 'What if the audience binge-watches? Is it as compelling? Are there places to breathe? Is there a flow to the hero's quest, to the overall mythology?'" Stanford notes. "So we look at it from that perspective."
"Personally," she admits, "I would treat it like dessert and watch once a week. But we have to serve all viewers. Every single episode has to be different. It's got to keep moving, and there's more action, characters and input that will be coming the audience's way from this world."
When asked what some of the most important aspects to storytelling are, Stanford can quickly boil them down. First, fully understand the rules of magic in your world—have them locked down and solidified so that even if the audience doesn't know how it works, you do. ("Your entire realm will fall apart if you don't figure it out," she asserts.) Second, find the balance between character stories, character growth and the action. It's too easy for fantasy to get caught up in the fantastic. Lastly, make sure you're telling an exciting and inspiring story that's relevant to what teen and tween viewers are going through. Give them a voice and show how they can make a difference. Inspire as much as you inform.
For good examples, she points to Harry Potter, which is as much about prejudice as it is magic, and Game of Thrones, which is a property of incredible depth. "You just know it's a bigger world full of history," she says. "You get the sense of the richness of a great fantasy world, but there's a bigger story going on—pay attention to the world, pay attention to the weather. You've got to have all of that, or it just feels like a video game."
Henson is laying the groundwork for a much bigger franchise with Age of Resistance, including merch and new novels that will introduce the world to young viewers, drawing them into the series and the classic movie. Stanford says the timing for the refresh is especially fortuitous, as family viewing with a touch of retro is doing so well. (Consider Star Wars: The Force Awakens, for example.)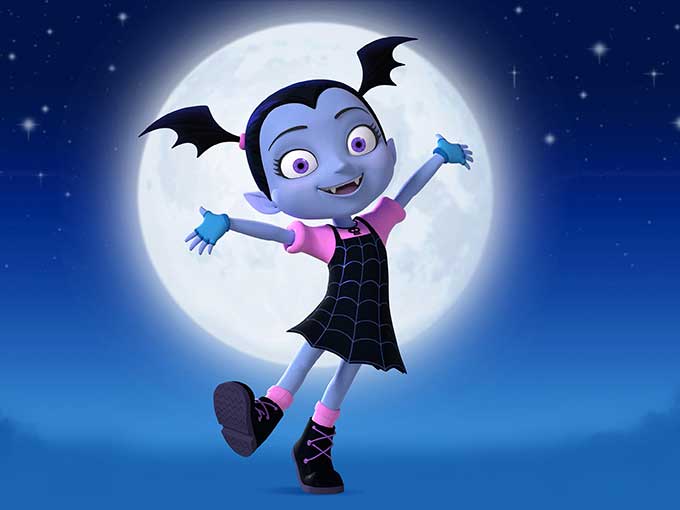 And don't be afraid to take chances
Vampires have been making their mark on entertainment since Bram Stoker's Dracula. But Disney managed to find a whole new audience for blood-suckers: preschoolers.
Vampirina is a series based on Anne Marie Pace's Vampirina Ballerina books, which tell the tale of a young girl who moves from Transylvania to Pennsylvania. "It's a blend of silly, spooky fun with the sort of heartfelt storytelling that Disney Junior is all about," describes Joe D'Ambrosia, SVP of original programming at Disney Junior. It premiered this month on Disney Channel, Disney Junior and the Disney NOW app, and merch and publishing lines are set to follow. The show takes advantage of CG from Brown Bag Films and has already attracted the voice talents of James Van Der Beek (Dawson's Creek) and Lauren Graham (Gilmore Girls).
Disney took a humorous, aspirational approach with the series, telling tales that will be familiar to its target demo—Vampirina is a girl learning about her place in the human world, with life lessons that echo viewer experiences. "Honestly, I think the timing couldn't have been better," says D'Ambrosia. "This is truly a show about inclusiveness and finding out that what makes you different makes you unique. It explores an area that we hadn't looked at deeply but wanted to."
Although some might think Disney went out on a limb with a vampire story for the preschool set, the House of Mouse checked in early to make sure it was on the right track. "We have a very interesting development process," notes D'Ambrosia. "We work with writers to develop the first draft of the story and then we take that story and go into preschools. We read it to kids like a storybook, and we get their feedback immediately.
"So I can tell you with 100% certainty that there's not one thing in the show that's going to scare kids, because if it did we would have learned that in our testing," D'Ambrosia says. "It's fascinating to put your work in front of a four-year-old and have them judge it, because kids will tell you exactly what they think, and they will tell you which characters they like and which they don't."
It might be a tough room to play in, but it's what's required to get it right the first time. "We really look for a character that we know kids will fall in love with, that kids will want to aspire to be," D'Ambrosia adds. "And honestly, she's a character in a world we know that we can tell hundreds and hundreds of stories about."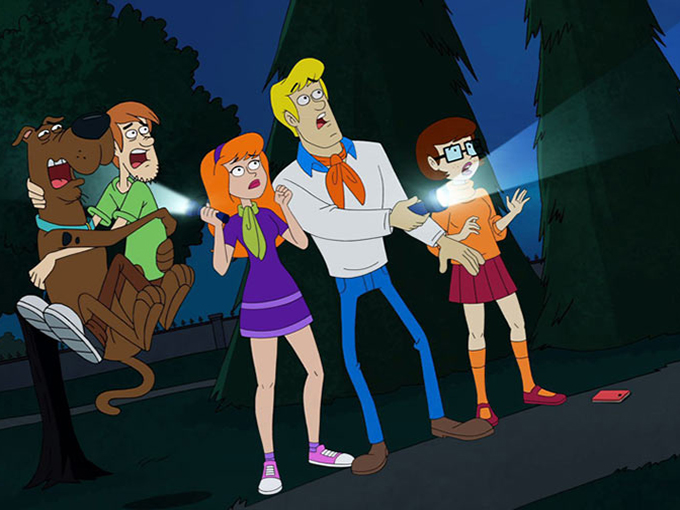 How has Scooby-Doo managed to stay relevant for so long?
Vishnu Athreya, Cartoon Network: The trinity of comedy, mystery and action in its storyline, plus a relatable group of characters, make Scooby-Doo a hit. Add the fact that it has never gone dark in its production, and you have an evergreen franchise. When you have a bunch of meddling kids, a funny, hungry dog and a jump-straight-into-it relationship with scary, the result is bound to be magical for kids.
Can thumbnails help get your spooky show noticed?
Josh Sherba, DHX Media: In a fragmented world, genre becomes more important. Think about kids who have an interest in spooky shows. If they are flipping through a thumbnail on Netflix, or wading through 100 channels, or are on the iPad watching something on YouTube, it's increasingly harder to get their attention. But a kid who's into something spooky can look at an image from a series and know exactly what it is. 'That looks interesting because it looks kind of scary.' There's going to be a bigger likelihood of them tuning in, as opposed to maybe a broader-based genre like, say, live-action comedy. You can get across a look and feel
in a thumbnail image in two seconds. I think this genre is actually an interesting place to be in a crowded market.