Mythfits – 4 to 7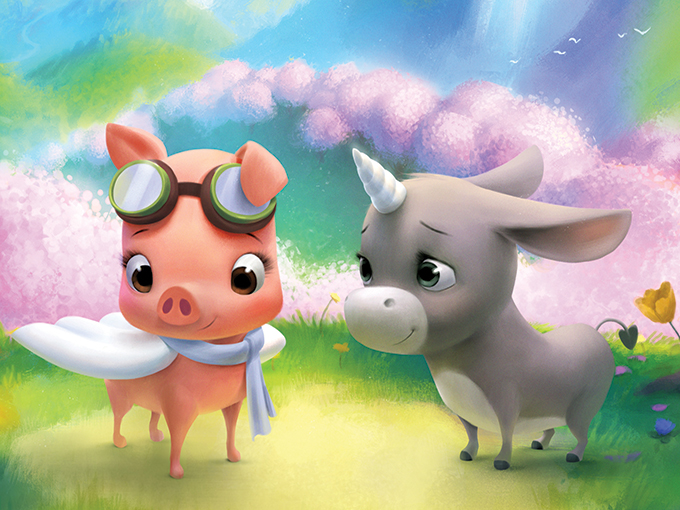 Producer: Technicolor (US, France)
Style: CGI animation
Format: 52 x 11 minutes
Budget: TBD, but should be between US$6 million and US$7 million
Status: In development
Delivery: Late 2019
Concept:  This long-simmering idea from the mind of Obie Scott Wade (SheZow) imagines a world inhabited by the extraordinary hybrid offspring of famous mythological creatures and other animals. They live on Mythfit Island, where diversity equals magic, and the story follows the comedic adventures of best friends—and total opposites—Pigasus and Donkeycorn.
Droners – 6 to 10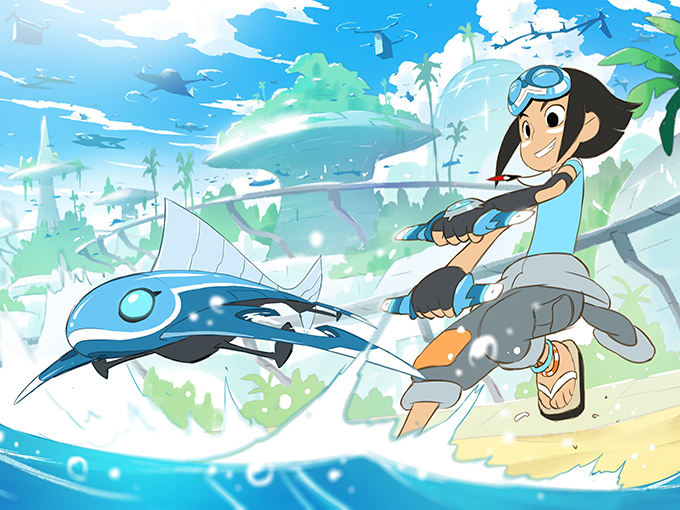 Co-producers: Cyber Group Studios, Supamonks Studios and La Chouette Compagnie, with the participation of TF1 (all France)
Style: CGI/2D animation
Format: 26 x 22 minutes
Budget: US$8 million
Status: In development
Delivery: 2019
Concept: Based on an original idea from Pierre de Cabissole and Sylvain dos Santos, Droners is a journey into the never-before-seen world of Terraqua, a land that's 95% covered by water. The action centers around Corto, Arthus, Enki and Mouse, whose goal is to win the Whale Cup, the craziest drone race of all time. Cabissole and dos Santos were largely inspired by sagas like The Legend of Korra and anime One Piece in structuring this journey of self-discovery for the quartet of protagonists, who will learn a lot about themselves and each other over the course of the series.
Hettie Makebelieve - preschool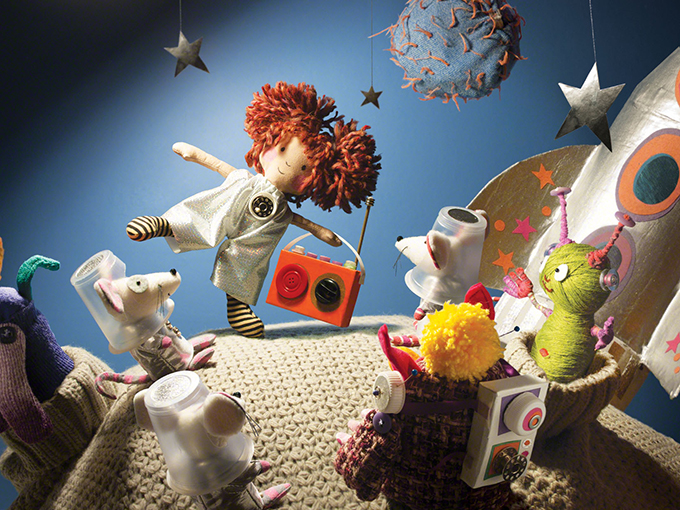 Producer: Mattel Creations (US)
Style: Stop-motion animation
Format: 52 x seven minutes
Budget: TBD, but within the industry standard of US$350,000/half hour
Status: Animation tests with UK stop-motion specialists Mackinnon and Saunders are underway, and Mattel has a bible and three scripts ready to go.
Delivery: 2019
Concept: BAFTA-winning UK producer Tim Goodchild's passion project is all about bringing the maker movement to life for preschoolers, according to Mattel Creations SVP Christopher Keenan. In this unique, textured universe, Hettie and her fellow toys are inspired to make things from the objects found around them. Keenan says this is not a "secret life of toys" in which characters come alive when the humans leave the room, but rather a world wholly inhabited by toys. He adds that in every episode, Hettie is inspired to make something—sometimes to address a particular issue, and sometimes to bring her imagination to life, but always to help show kids how they can learn through play.
Osmond - 5 to 8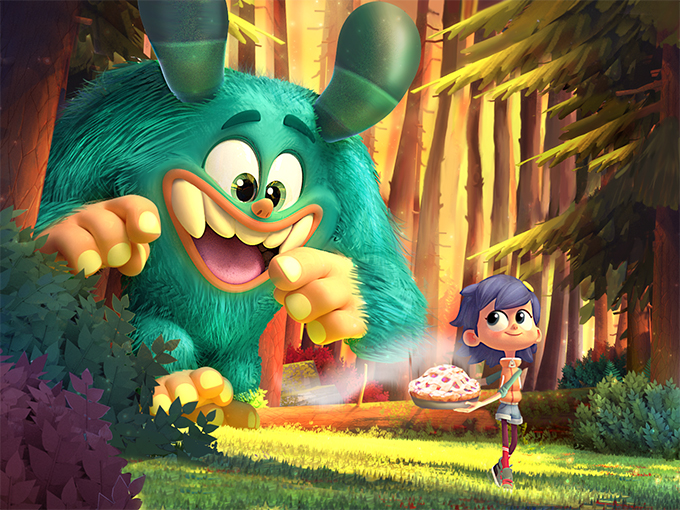 Producer: Superprod (France)
Format: 52 x 13 minutes
Style: CGI animation
Budget: US$7.8 million
Status: In development with France Télévisons on-board as co-developer.
Delivery: Summer 2019
Concept: This original fish-out-of-water premise from Charles Vaucelles (director of The Daltons and Pat the Dog) has been translated into a character-driven comedy that focuses on the extraordinary friendship between eight-year-old girl Scout and friendly giant Osmond. (He just happens to be a magical monster in tune with the natural world.) With a nod to ecological themes, Scout has just relocated from the big city to the countryside, and her furry friend—with his ability to talk to animals and cure sick plants—is a big help. There is just one problem; no one can know he exists.
Dream Street - preschool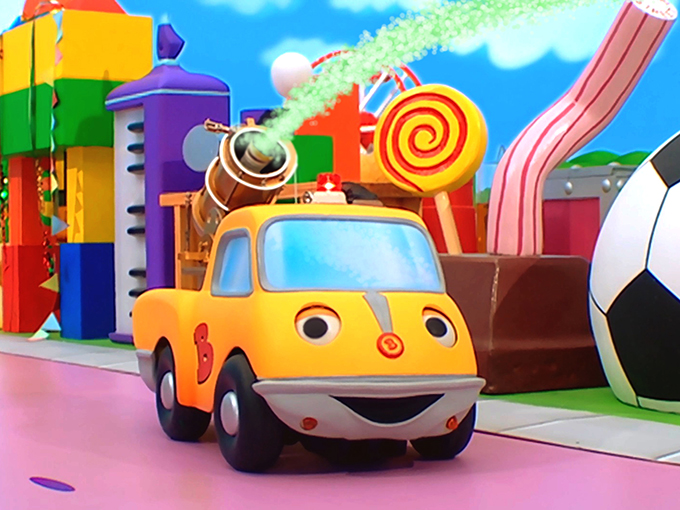 Producer: Platinum Films (UK)
Format: 65 x 10 minutes
Style: Stop-motion/CGI animation
Budget: In line with industry standard US$350,000/half hour
Status: In production. MarVista Entertainment has snapped up global distribution rights.
Delivery: Q1 2018
Concept: In this update of the Platinum Films series that first launched in 1999, Oscar-winning FX specialist Brian Johnson (The Empire Strikes Back, Alien) is on board as director, employing motion-controlled cameras and various animatronic techniques for filming. The reboot maintains the property's core focus on helping preschoolers navigate friendship, problem-solving and citizenship, which encourages independence, social interaction, respect and empowerment. British comedian Russ Abbot, meanwhile, will be narrating the adventures of Buddy the magical truck, Daisy the police car and their various toy box friends.
Wishfart - 6 to 11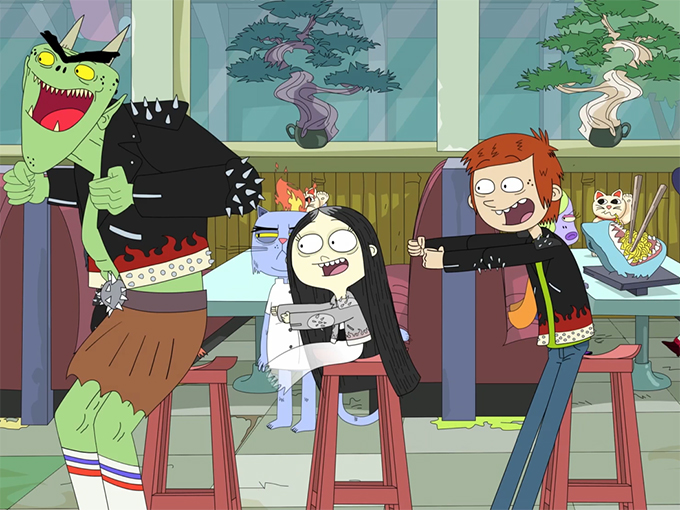 Producer: Wishfart Productions (Canada)
Format: 40 x 11 minutes
Style: 2D animation
Budget: US$7.4 million
Status: In production, with Canada's Teletoon serving as commissioning broadcaster and Bejuba! Entertainment distributing.
Delivery: Fall 2017
Concept: This writer-driven comedy series penned by Canadian scribes John Hazlett, Lienne Sawatsky and Daniel Williams draws its name from the notion of a "brainfart" (as in a lapse in memory/brief brain malfunction), but in this case it's applied to wishes. At its core is Dez, a teenage leprechaun  who can grant wishes, no problem. But he can't guarantee what the outcome of a successful wish will be. So, for example, when Dez's friend wishes he could eat forever…well, you get the picture. Hilarious hijinks with a whiff of the surreal ensue.