For the second year in a row, YouTube is the most-loved brand among kids ages six to 12 in the US, according to the latest annual Brand Love study from youth and family research firm Smarty Pants.
The Google-owned video platform also continues to climb the brand affinity rankings for parents, landing in the 10th spot in 2017, up from 13th last year and 24th in 2015.
Despite YouTube's dominance, streaming giant Netflix is making a rapid ascent up the Kidfinity and Parentfinity rankings. (Kidfinity and Parentfinity are Smarty Pants' proprietary measures for kids' and parents' brand awareness, popularity and love for a brand.)
After placing 11th last year among kids, Netflix rose to fifth in 2017. For parents, the SVOD service moved to the third spot after placing fifth two years ago.
The most-loved brand for parents this year, however, goes to Amazon with a Parentfinity score of 923. YouTube Kids, meanwhile, failed to crack the top 50 list for parents, and just snuck into the kids list at 48.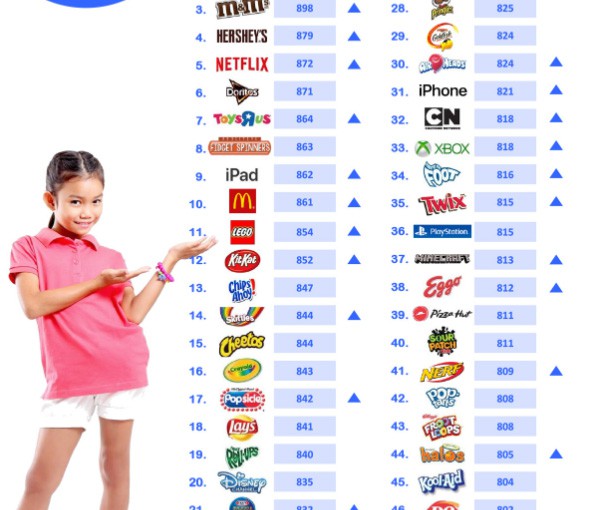 Among the 8,292 children surveyed this year, classic cookie brand Oreo and Mars-owned candy M&M's placed second and third, respectively, for the second year in a row.
While Toys "R" Us remained in seventh place, Disney Channel fell 11 spots to 20th among kids, perhaps reflecting the ongoing impact of cord-cutting.
Nickelodeon also dropped to 27th place in the Kidfinity rankings from 23rd last year. Cartoon Network, meanwhile, was the lone bright spot for linear broadcasters, placing 32nd among kids after failing to crack the top 50 in 2016.
The Apple iPad is also experiencing a resurgence in popularity, rising to 9th place from 16th a year ago. The ranking increase follows Apple's first year-on-year increase in iPad sales since 2014.
LEGO was also another big mover among kids, climbing 10 places to the 11th spot.
Among the survey's other key findings, Snapchat is kids' preferred social media platform, a result in line with a recent study from market researcher Childwise that found Snapchat is the most popular website/app among UK children ages seven to 16.
Looking at brand preferences by gender, the study reveals that boys show more love for "girl brands" like Disney Princesses, Wonder Woman, DC Super Hero Girls, and American Girl. Despite this finding, a recent report from Common Sense Media finds that kids TV and movies, as a whole, continue to reinforce existing gender stereotypes.