With files from Ricardo Maldonado
In late 2016, an "out of control" 13-year-old girl and her exacerbated mom appeared on the Dr. Phil show. When she felt audience members were mocking her, the teen challenged them to "catch me outside, how about that?" in a faux, from-the-streets accent. Her mom had to explain to Dr. Phil that she was daring them to meet her outside for a fight. But teens and tweens knew exactly what she meant, and they thought her garbled words and young teen bravado were hilarious.
The footage went viral, the girl became early 2017′s hottest meme, and the soundbite was remixed across social media and turned into music videos. The phrase even became an Urban Dictionary entry, a ringtone, and before long, the inspiration for a host of free iOS and Android game apps with phonetic titles like Cash Me Outside.
Today you can hear "cash me ousside, howbow dah" over and over again in the back of minivans across the country, as little ones play running-and-jumping games that were inspired by the viral catchphrase. Most of them have no idea what it means or where it began, but they find it entertaining and that's really all that matters.
This story of transmedia language dispersion demonstrates how, in a matter of days, new kid language can emerge under the radar of adults. It also reminds us that it's more important than ever for content developers and distributors to stay plugged in.
TV shows and viral videos aren't the only sources of kid-speak. The origin of words and phrases spoken by three to 12s ranges from preschooler misunderstanding, to older sibling slang, to school teacher jargon.
This month, we share a sampling of the language preschoolers, kids and tweens use. We include six primary sources of the vernacular, the kid meaning, and a sentence you might overhear on the playground or in homes. How many of these do you already know?
Mix-ups & misnomers
Misnomers are a natural part of childhood language development, and they pervade the toddler and preschool years. They stem from a limited vocabulary and little ones trying to piece together an ever-expanding world with words they already know—often assigning the wrong words to the objects and experiences around them.
Words and phrases in this category vary from household to household, and nearly every parent can share the adorable misappropriations of language of their own children. Classic shows like Kids Say the Darndest Things were based on misnomers, and we still see these types of linguistic foibles throughout children's programming and family films.
#SocialMediaLingo
On the other end of the age continuum, there is language that makes its way into kid discourse via the growing salience of social media—particularly platforms like Instagram and Snapchat. These are phrases that tweens (and teens) create or share first, and are most common among kids ages eight and up.
Much of social media-derived language is an acronym or shorthand borne out of messaging character restrictions or the desire to create adult-elusive content. Other words and phrases are co-opted language unique to the social media platform or its functionality. The result has been the dawn of a coded (and abbreviated) language that leaves many adults feeling like they need a cypher to understand it.
Trickle-down slang
Social media is the hotbed for distribution of teen and urban slang. These are words/phrases that trickle down or morph out of pop culture and are often used by tweens, teens and young adults as social currency. The sources can be anything from music and television, to politics and current events.
This might be one of the easiest language modifications to understand since many terms are simply new takes on old slang. What was "dope" in the '90s, or "on fleek" in 2016, is now "lit." But user beware: Slang can become off-trend as quickly as is comes onto the scene.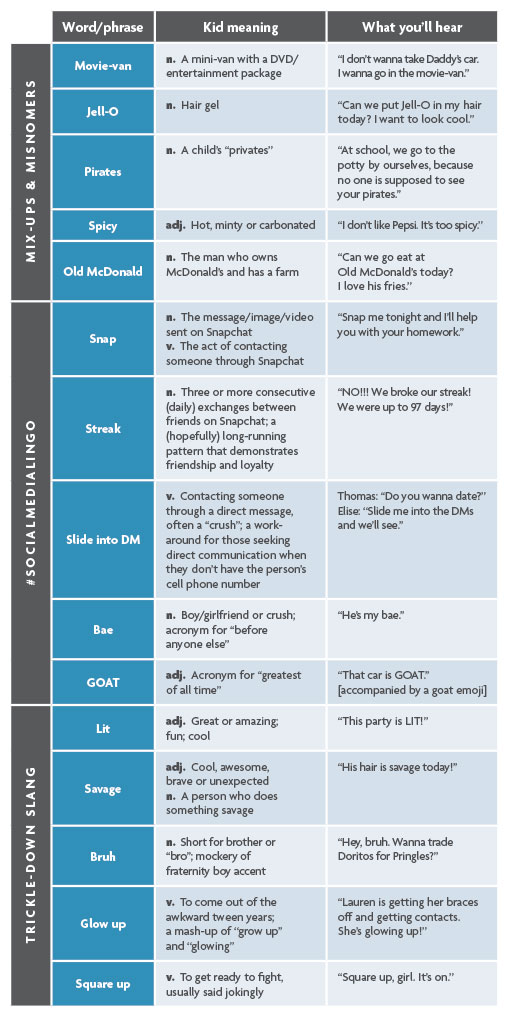 Athletic aspirations
As pro-sports aspiration and player adulation are at an all-time high, language used to describe football, basketball, soccer and baseball moves have become a powerful new addition to kids' and tweens' vocabularies. Today, kids don't use phrases like "slam dunk" or "homer"—they say "posterized" or "meg." Note that soccer is an interesting sport to watch. As it has grown in popularity, so has the now-mainstream language kids have borrowed from it.
Many of these words and phrases are used outside of a sporting context. Tweens (and boys, in particular) often apply them to everyday interactions in their social world as they jockey for social status, play-fight with friends and challenge one another.
Gamers paradise
The increasingly social nature of video games has meant that more of kids' vernacular is derived from the gaming world. Not only do kids talk to other players across the country or around the globe, they also watch YouTubers play and comment on the experience. These gaming-based interactions have given rise to a variety of creative catchphrases and kiddy misappropriations.
S is for schools
Kids spend more time at school than with their own families—awake, that is. And the influence of this social system is indelible. From kindergarten on, it's where kids make friends, navigate the rules to play and live by, learn from adults who aren't family members and measure themselves against others (for better and for worse).
There are a plethora of terms that stem from school/education—some of it is official lingo institutionalized by teachers, others from contemporary school yard activities and lunchroom chatter. Here are a few examples you might overhear on a trip to a local elementary or middle school.
As marketers, developers and distributors, understanding kid language is paramount. It impacts everything we do, and it helps ensure the kid connection. Getting the language wrong can make your content or offering feel dated, inauthentic or, worse, irrelevant. So keep your ear to the (play)ground and your own dictionary up-to-date—these things change quickly, and you don't want to be posterized!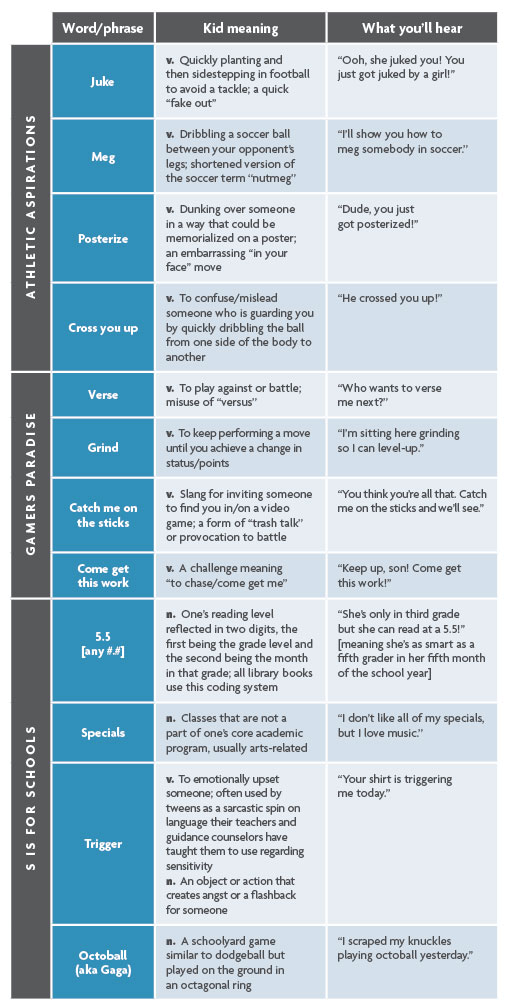 Wynne Tyree is president of Smarty Pants, a youth and family research and consulting firm. Ricardo Maldonado serves as the company's Syndicated Sage. This research is derived from the company's daily in-person and digital immersion into kids' and families' lives, as well as proprietary quantitative research.