Nickelodeon has launched Entertainment Lab, a Burbank-based research and development facility led by the former creative director of Nickelodeon Animation Lab, Chris Young (pictured below).
The lab will focus on identifying and experimenting with emerging technologies, including real-time rendering, virtual cinema, virtual reality, augmented and mixed reality, and artificial intelligence, all of which could shape new entertainment content for the Viacom-owned kidsnet.
Using a long-range strategy, the Entertainment Lab will build prototypes to test new concepts, partner on innovation with creators and evolve Nick's production capabilities with new tech discoveries.
Young reports to Matthew Evans, Nick's EVP of digital and new business, as well as James Stephenson, SVP of original animation.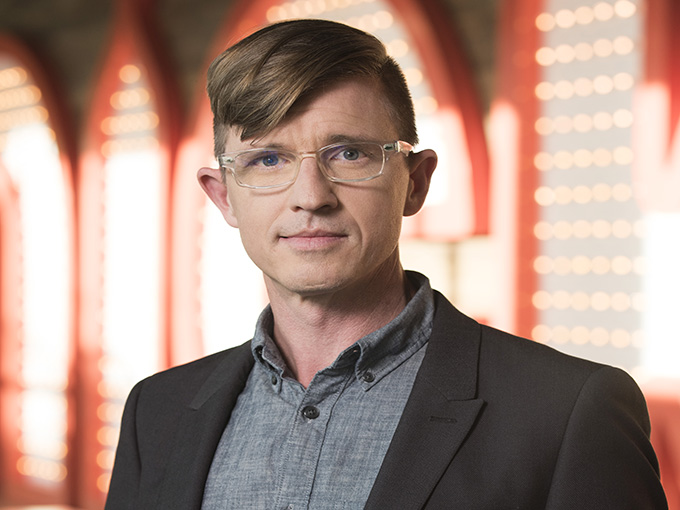 In his previous role, Young concentrated on analyzing and engineering alternative animation pipelines. Prior to his lab work, he served as a Nickelodeon Animation Studio producer in Burbank.
"We've rebranded Animation Lab as the Entertainment Lab so we can look across all lines of business and try to connect some of the things we're doing not just in animation, but in live-action, theme parks and games, too," says Young.
"We're seeing this new wave emerge around VR and mixed reality being driven by the notion of real-time rendered content. We've been investing a lot of time and energy in looking at game engine technology and how we can use it to leverage what has typically been a very traditional CG pipeline."
To this end, the Lab has been working closely with Chris Sevino, creator of Nick's hit animated series The Loud House, to develop a real-time puppet version of the show's star, Lincoln Loud.
Using its existing relationship with Adobe, the Lab helped the computer software company build a character animator tool. "We've been using that to create topical, real-time conversations on social media using Lincoln as a real-time puppet character," says Young.
In addition, the Lab recently created a robust tech demo called Slime Zone (pictured). It's a social VR experience that puts kids and their families inside a giant Nick play space where they can watch cartoons, compete in multiplayer games, create art and run around with slime blasters.
"We shared it at scale during the opening party in Burbank for the 2017 Kids' Choice Awards. We put groups of six people in at a time and got a tremendous response. We'll be sharing it at conferences and in a couple of select places over the next few months. But we're taking a thoughtful approach for how and what we want to bring to market," says Young.
The Slime Zone arrives on the heels of Nick's new partnership with Cra-Z-Art to market and distribute branded DIY slime kits across the US.
As it looks for other potentially sticky tech concepts, the Lab is also sharing insights with Viacom's New York-based digital research and development hub, Viacom Lab, which opened last year.
"One of the greatest things about working with the Viacom family under Bob Bakish's leadership is that he's brought all these groups together and broken down the silos. We talk a lot with the Viacom Next group, and everyone is sharing information across divisions," says Young.
Bakish became Viacom CEO and president in November 2016 and reestablished its Kids and Family Group as Nickelodeon Group. The division is currently putting more focus on its Nickelodeon kids cable channel and leveraging additional growth opportunities around its kids business, including recreation and hospitality.
As part of a new five-point turnaround plan announced earlier this year, Viacom plans to deepen its partnerships to drive digital revenue, bolster Viacom's live experiences and consumer products business, and create the company's first-ever short-form content unit, which will feature new original IP and existing programming.