The Treasure Trekkers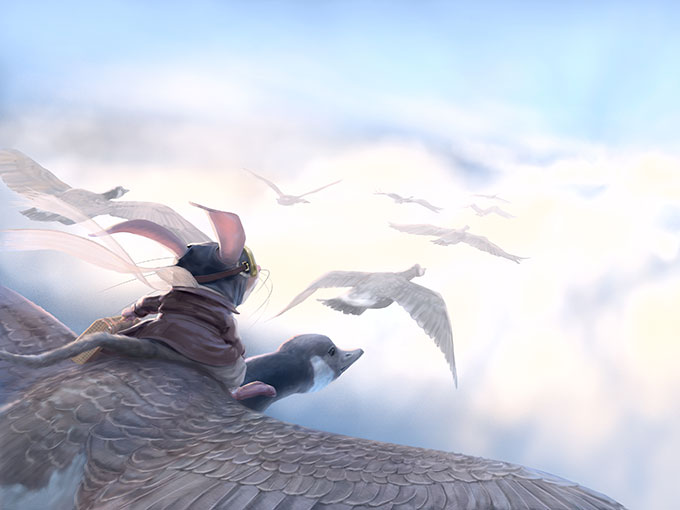 PRODUCER: Mouse Prints Press (Holland)
STYLE: CGI animation Format: 52 x 11 minutes
BUDGETt: US$150,000 per episode
STATUS: A trailer, bible and scripts are in development, as well as an interactive treasure-hunting augmented reality digital platform that's also VR-compatible.
DELIVERY: 2018
CONCEPT: This comedic action/adventure series is based on the beloved children's book series Maurice's Valises by acclaimed photographer and author J.S. Friedman. The books, and accompanying app, follow a heroic young mouse adventurer named Mo who searches the world for lost treasures and gains wisdom along the way. The TV version follows junior secret agents Mo and Mac as they use the Book of Lost Treasures, and their holograph imaging wristexes, to embark on worldwide adventures while learning about empathy and compassion along the way. LazyTown's Mark Valenti is head writer/producer, with former LazyTown Entertainment exec Agust Ingason executive producing with ex-Disney Channel VP Fonda Snyder. Industry vet Alice Cahn is consulting, while Harvard's Dr. Richard Weissbourd is the project's education content advisor.
44 Cats
PRODUCER: Rainbow (Italy)
STYLE: CGI animation Format: 52 x 13 minutes
BUDGET: US$9 million
STATUS: Early development with a bible, pilot script and test animation completed.
DELIVERY: Second half of 2018
CONCEPT: Peppered with funny physical comedy, this gender-neutral preschool concept is based on one of the most popular Italian songs ever for children, "Quarantaquattro Gatti". The series examines how cats see the world and how they become more like people when not in front of humans. Like young children, cats see the human world as confusing and full of strange rules, but through teamwork, the 44 cats' adventures are driven by the joy and rewards that come from helping others. The series promotes tolerance, diversity and helps preschoolers develop social skills.
The Secret Diaries of Tara Tremendous
PRODUCER: Wonkybot Studios (US)
STYLE: 2D animation Format: 52 x half hours
BUDGET: Approximately US$300,000 per episode
STATUS: A series bible, pilot script and several episode scripts are complete. Character designs are in progress. Currently seeking broadcast pre-sales and consumer products and distribution partners. A live stage musical will debut this spring in New York, and a book series will also launch later this year.
DELIVERY: 2018
CONCEPT: Based on two seasons of Stewart St. John's top-rated superhero musical podcast of the same name (which currently attracts 50,000 downloads per day on iTunes) this character-driven kids and family series follows the life of 11-year-old Tara Callahan, who accidently inherits the powers of every superhero in the world. After being recruited to attend the secretive Power University, Tara and her new friends embark on a series of missions to battle the self-proclaimed "evil genius" Dr. Epic, his beleaguered sidekick 1102, and their army of supervillains. Comedic situations are drawn from Tara's haphazard attempts to control her different powers, as well as from the over-the-top schemes of Dr. Epic. The series' score and original songs are composed by St. John with musical partner Michael Plahuta. St. John is also head writer and produces with partner Todd Fisher.
Spooklies
PRODUCER: Mooshku (Ireland)
STYLE: 2D animation Format: 52 x three minutes
BUDGET: US$1.1 million
STATUS: A short pilot episode and two scripts are complete, and numerous story outlines are in the works. The Irish Film Board has provided development funding.
DELIVERY: Late 2017/early 2018
CONCEPT: Offering a quirky twist on classic monsters, this new series follows the silly adventures of some not-so-terrifying smaller ghouls and ghosts. Guided by a mysterious narrator (Tom Baker from Dr. Who) who follows along in real time and has a habit of addressing the young monsters directly, Spooklies brings together a large ensemble cast of creatures starring fun-loving vampire Valerie. Despite their monster ways, Spooklies are often easily frightened themselves and soon learn that life is a lot more fun than it is scary. Other characters include were-puppy Wendy W. Worthington, Gerald the totally invisible man (Wonder Quest's Adam Clarke), Emilia  the not-so-spooky ghost, and Kenny the giddy zombie. So much of the show's fun, says Mooshku's Jason Tammemagi, comes from a little promise of danger and disarming kids fears.
Flix
CO-PRODUCERS: Eye Present (UK), Piktor (Ireland)
STYLE: CGI animation Format: 52 x 11 minutes
BUDGET: US$7 million
STATUS: With funding from the Irish Film Board, and in collaboration with author Tomi Ungerer, a bible is complete and two scripts have been written by BAFTA-winners Alan Keane and Shane Perez of Irish prodco Hot Drop Films. Piktor is pre-producing, writing and storyboarding, with Eye Present handling animation.
DELIVERY: Fall 2018
CONCEPT: Based on the semi-autobiographical book by bestselling children's author Tomi Ungerer, Flix is his first title to be adapted into a television series. Flix follows the tale of a 10-year-old boy who happens to be a dog, and what happens to him after he's adopted by a couple of progressive, forward-thinking cats in Miaow Town. Though cats and dogs interact in this world, Flix is the first canine to ever actually inhabit it. He explores his identity as a dog and learns valuable lessons about acceptance and fitting in. Knowing that he must stay in touch with his roots, Flix spends every Saturday in Bow Town learning essential dog skills like swimming, digging and howling, under the tutelage of grandfatherly basset hound Mr. Klops.