Disney and Lucasfilm have announced Star Wars Forces of Destiny, a new offshoot brand of original animated shorts and toys that celebrate Star Wars heroines including Rey, Jyn Erso (pictured), Sabine Wren and Princess Leia.
Developed by Lucasfilm Animation, the new two- to three-minute shorts will premiere on Disney's YouTube channel in July. A two-part TV special featuring eight additional shorts will then follow on Disney Channel this fall. Actors Daisy Ridley (Rey), Felicity Jones (Jyn), Tiya Sircar (Sabine), Ashley Eckstein (Ahsoka Tano) and Lupita Nyong'o (Maz Kanata as narrator) will all reprise their roles in the shorts.
To complement the series, Hasbro is launching a Star Wars Forces of Destiny global consumer products program this summer featuring toys, books, bedding and apparel.
The line will include new 11-inch adventure figures that incorporate traditional doll designs. Along with Star Wars' iconic female characters, the figures will depict popular sidekicks and villains including BB-8, Chewbacca and Kylo Ren.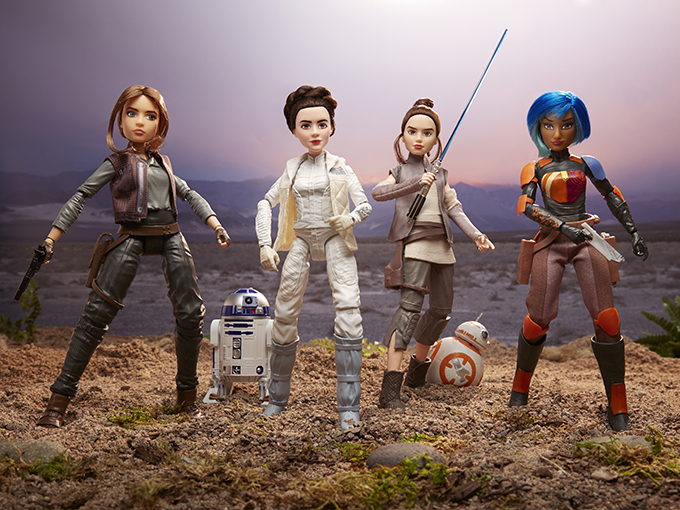 Additional products launching as part of the Star Wars Bladebuilders system will feature role play and accessories, including Rey's extendable staff and an electronic Jedi lightsaber toy.
The playthings are arriving in anticipation of December's big-screen debut of Star Wars: The Last Jedi—and in the wake of the #WheresRey controversy that arose following The Force Awaken's 2015 debut. At that time, both Disney and Hasbro came under fire for the lack of merchandise portraying the film's female lead. 
A sneak peek of the new series and toys will be shown during the "Heroines of Star Wars" panel at Star Wars Celebration tomorrow in Orlando, Florida.
Here's a first look of the new brand: