Last night, the annual New York Toy Fair wound down. Vendors dismantled their booths. Attendees headed for the airport. And the toys began their oftentimes uncertain road to retail.
This year's event was full of trends: Batman licensing is a brisk business, adult walk-about costumes of The Power Rangers and Teletubbies were everywhere, drones were in no short supply, and dolls seems to be approaching ubiquity. And, of course, there were lots of robots.
While there were many new tech toys at this year's show, there were five in particular that rose to the top for me. Let's take a look.
Mattel Hello Barbie Hologram toy and app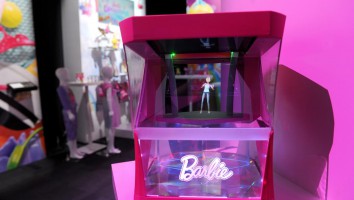 Every year, Mattel seems to one-up itself when it comes to new Barbie tech. Mattel new idea with Barbie play is a virtual doll that can be your best non-tangible friend. She appears as a hologram, meaning kids can't hold her, or place her into her Malibu Dreamhouse. She appears projected onto clear plastic material inside a small red plastic holding box. Barbie moves and responds to spoken words, making small talk about the weather,  or telling a joke. She can even change her appearance, body type and skin tone with the help of an app. Much more is promised when the final product ships this fall for under US$300.
Sensible Object Beasts of Balance toy and app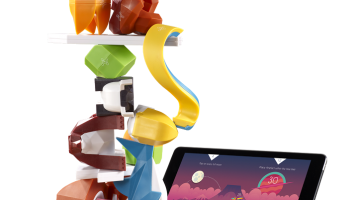 This is an interesting twist to the Jenga-like stacking toy. Players stack plastic "beast" figures and other play pieces on top of each other, creating a tower. Each piece is embedded with near-field electronics so as the structure grows it triggers beautiful art and animations of the creatures through the accompanying app. This Kickstarter-funded product will be available later this year for US$99.
KD Interactive Aura glove and drone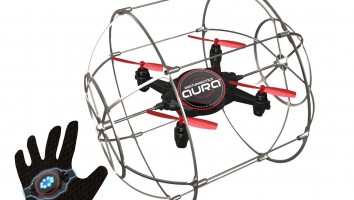 What's cool about this drone has nothing to do with flying. It's all about its glove-like controller. Users wearing the Velcro glove can  make hand gestures to direct the drone up or down, or left and right. Electronics enthusiasts will surely pay the suggested US$19.95 to hack this glove and control all kinds of other devices.
Woobo
Woobo is the newest family member to join its older tech toy relatives like Ubooly and Wiki Bear. It's joining the ranks of a new trend in voice-controlled products like Amazon's Echo and Mattel's Aristotle, which broke ground at CES earlier this year. Woobo claims to have a stronger social-emotional side to it. It is a cloud-connected "smart companion for kids" that talks with and listen to children. Woobo displays about 20 different digital facial expressions when talking, telling a story or a joke. Available in the fall, Woobo targets five- to nine-year-olds with a price tag floating somewhere between US$139 and US$179.
Seedling Design Your Own Marble Maze VR game and toy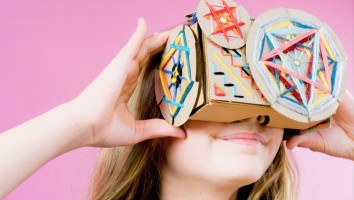 Toy company Seedling offers a suite of products around this maze creation play pack. At its heart you have a creator board, an app and a cardboard VR box. The user begins by creating a custom maze by placing small magnetic walls on a balance board. The free app lets the user take a photo of the maze, and insert his or her smartphone into the VR holder. Then the magic begins as you take a trip through your virtual maze creation. Very cool. The maze creation board costs US$59.95. The cardboard VR headset, which can be decorated and customized, costs US$29.99.
Scott Traylor is a long-time advisor and consultant to many children's interactive businesses (none of which are referenced in this article). He's a former computer science teacher and currently lives in Silicon Valley, searching for the next disruption in the kidtech industry. Scott can be reached at Scott@360KID.com.