There's a scene in Disney's recent blockbuster Moana where the titular character is encouraged to find her own path by following a sequence of stars. There's not a router in sight in the Polynesian-themed film, yet that very idea of sequencing is a central component to computer science—and a recurring theme in Moana: Wayfinding with Code. Disney's free online tutorial launched in collaboration with Code.org in December. Available in more than 180 countries, the game was part of the fourth-annual global Hour of Code initiative that's designed to familiarize kids as young as five with coding basics. Combined with its two previous Hour of Code tutorials, which featured Frozen and Star Wars characters, Disney has reached more than 40 million young coding enthusiasts.
And there are millions more who are downloading throngs of apps, using online platforms and fiddling with physical toys that teach once-foreign concepts like loops and conditionals. In fact, a recent Gallop survey found 90% of kids want to learn computer science. The rise in popularity has given way to discussions about the actual necessity of coding's learning aspect—and whether or not its presence is appropriate among kindergarteners. Is it a digital trend or a valued skill set? Binary beliefs aside, it's hard to argue that coding is not as much about screens and programming as it is about logical thinking and conceptualization.
"The digital world is so vast, and coding gives kids free expression. These are building blocks to creating their own app or programming a robot," says Alison Maruca, director of mobile products at Disney Consumer Products and Interactive Media, whose team developed Moana: Wayfinding with Code. "It is quickly becoming a language that kids need to learn, just like Spanish or French. It is something kids can use to express themselves."
In order to meet the needs of an increasingly eager crop of children, Wayfinding with Code's 19 lessons introduced more advanced gamification and artificial intelligence components than its predecessors. Kids didn't walk away from the hour-long tutorial (which is also offered year-round) knowing how to program, but they did become more familiar with the basics of computer-based storytelling, contends Maruca. "We want to give children tools and confidence. But we aren't experts in coding."
"When you look at what the world will look like in 20 years, having an understanding of robotics and artificial intelligence is the future."

- Randi Zuckerberg, Zuckerberg Media
That's where the people at Code.org come in. Disney turned to the global organization to ensure the game's curriculum was on par with the other 200 Hour of Code self-guided activities, apps and websites designed for different age groups. (In addition to its Hour of Code event, Code.org offers free weekly courses for elementary students and full-year ones for high-schoolers.)
"We are breaking stereotypes that coding is too difficult, especially for girls or minorities who don't think they can do it," says Alice Steinglass, chief product officer at Code.org. "We have classes for kindergarteners who can't read yet. Courses are designed to be taught by clubs or by teachers as part of the classroom." Kids at this age learn how computers work, how to debug algorithms and block-based sequences—a far cry from childhood games like Duck Duck Goose.
Advanced as they may seem, it's imperative for today's children to understand these concepts, contends MIT professor Mitchel Resnick, who heads up the Lifelong Kindergarten at the institute's Media Lab.
"Kids are spending more and more time in front of new technologies. But I'm concerned that their only interaction is seeing things on screens," Resnick says. "The best learning experiences happen when kids can design, create and express. In the physical world, that happens with toys like Lego, which I've done a lot of work with. Coding is a way for kids to create things, and that's why it is valuable."
Resnick, who holds a PhD in computer science, says there are varying approaches to coding. One is embodied in Scratch, an online programming environment developed by Lifelong Kindergarten. The platform lets kids (usually ages eight and up) make their own stories, games and animations, which come to life through coding and are shared with other kids on the website. There are currently more than 15 million registered Scratch members globally, with 20,000 new ones joining every day.
Among Scratch's users, more than 40% are girls, which is a better ratio than any college-level coding course. According to 2012 research from the US National Science Board, women comprise 26% of computer science and mathematical science professionals. And a 2014 Google study concluded that a young girl's interest in math and problem-solving heavily influences her desire to get a computer science degree.
"To be honest, our main goal isn't about getting jobs—although some who start with Scratch will go into that. It's a way to organize, express and share," says Resnick.
It doesn't hurt that Scratch uses familiar characters to spark kids' interest. For example, the platform has collaborated with Cartoon Network to use brands like We Bare Bears and The Powerpuff Girls. "We are not trying to trick kids into learning, but they are willing to work hard on something if they care about it. They want to make stories, and now they are able to use the computer to do that. Coding helps manifest systematic reasoning. And children need to see themselves as imaginative creators and not just consumers," says Resnick, who recently joined Cartoon Network's new STEAM (Science, Technology, Engineering, Arts and Math) advisory board.
But coding critics like psychologist and parenting expert Dr. Jim Taylor believe a child's creativity is best put to use offline, and that coding platforms are more of a fad than functional learning tools.
"Coding is the thing these days because parents are afraid that if they don't get their kids on the tech train early, they will be left at the station," says Taylor, a University of San Francisco adjunct professor and the author of Raising Generation Tech: Preparing your Children for a Media-Fueled World. "There are coding camps, classes, apps, programs and so on, and the fact is that teaching kids to code at five years old is unnecessary and unhealthy. Why? Because it is just more screen time for kids who already have way too much."
Taylor admits there may be long-term educational benefits to coding programs, but there is still a lack of concrete evidence. The abstract thinking that it takes to understand coding, however, is what matters most in a child's development, he says.
"Coding is just a box. Marissa Mayer, Bill Gates and Mark Zuckerberg didn't become successful because they knew how to code. They have been successful because they knew how to think. And the way kids learn to think is through play," he says.
That mindset has led to the introduction of entirely non-digital coding toys, like Cubetto. The wooden robot game for kids ages three to six hails from London-based edtech company Primo Toys. It introduces non-readers to programming through Montessori learning principles.
"It's hands-on. We replaced screen-based programming with a block-based language that promotes kinesthetic learning," says Primo Toys co-founder and CEO Filippo Yacob.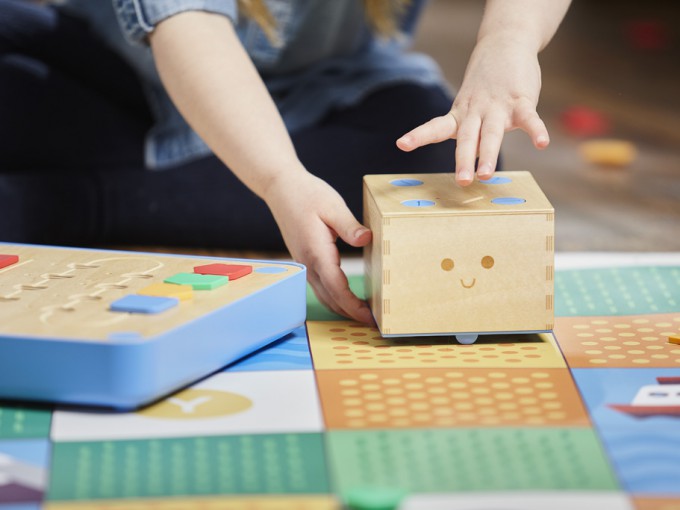 Retailing for US$250, Cubetto lets kids create a sequence of instructions that result in a robot moving from one spot to another. And de-bugging concepts come into play when kids have to rearrange blocks.
"It is an empowering moment when they realize a screen-less wooden toy moves because of their instructions on the board. Kids this age can't abstract. With a screen, they aren't engaging with programming in the same way," says Yacob, who collaborated with 300 schools in 46 countries on Cubetto's development. The concept raised US$1.6 million on Kickstarter—the best-funded educational tech toy in the platform's history.
"For something that started as a trend, our sales have grown 20% month over month, which proves more people want to learn this. Right now, .001% of people know how to code," he says. "And everyone thought we were crazy to make coding toys without tablets and screens." Currently, close to 2,000 Cubetto units are being made and shipped per week, and Primo Toys' goal is to reach brick-and-mortar stores this year.
A Cubetto is already a fixture in the home of Randi Zuckerberg, author of Dot. and CEO of New York-based Zuckerberg Media. The former Facebook marketing executive has made a conscious effort to surround her two young sons with technology designed to hone their creative skills, and coding is part of that plan.
"When you look at what the world will look like in 20 years, having an understanding of robotics and artificial intelligence is the future," says Zuckerberg. "I don't think kids need to learn specific coding language and tools. It's just important for them to understand the basics."
Zuckerberg says this especially rings true for young girls, who she is aiming to reach in special episodes of Dot., The Jim Henson Company/Industrial Brothers animated series based on her book that airs on CBC Kids (Canada) and Sprout (US). The show features storylines where Dot builds robots, works with drones and employs basic coding concepts, all without using screens.
"When adults think of coding, they picture a child glued to a computer screen. The Dot. objective is to show there are so many more fun ways to introduce kids to this," Zuckerberg says.
"We are tech nerds, and we love it. Our kids get very little screen time, but have robots that can be coded to perform a light show. Fisher-Price's Code-a-Pillar toy shows basic building blocks for young ones, and Minecraft is an awesome way for kids to teach themselves how to code without even knowing it."
Even if coding basics can be learned offline, things do eventually come back to the screen. And funding is flowing that way, too. California-based codeSpark, for one, has raised US$4.2 million for its gaming-based coding platform for kids ages four to nine.
The company's first app-based product, The Foos Coding, launched in 2014 and was followed last year by subscription-based platform codeSpark Academy with the Foos. codeSpark co-founder and CEO Grant Hosford says it attracts 450,000 monthly users and is based on US and UK K-12 computer science curriculum. The platform has been used by five million kids in 200 countries to complete puzzles and then head into a studio to design their own games—and 30,000 new ones are created daily.
"Our dedication to the no-words coding approach means pre-readers, non-English-speakers and kids with disabilities can play," says Hosford. "We noticed girls were participating at a lower rate than boys, so we did things to improve that. One tactic was introducing the idea of a story with characters." By adding a bit of narrative through comics, he says completion rates went up meaningfully and the gender gap closed. "Girls are very interested in helping someone follow a real problem, rather than solve a random puzzle," he notes.
Gender discrepancies aside, Hosford says coding can and should appeal to boys and girls equally, and its ubiquity is only going to grow in the years ahead. "Not everyone is going to be a programmer, just like not everyone will be a poet," he admits. "But you still have to be able to communicate clearly. Coders are often portrayed as solo people who are hackers, but the reality is that programming is team-based problem solving, and it uses tech to do things efficiently—and all kids should understand that."