Maybe it's all that cold weather, but there's an undeniable freshness in the air in early January. And for those in the kids digital space, the Consumer Electronic Show (CES), which wrapped up yesterday in Las Vegas, is pretty much the barometer of the biggest trends to come. In fact, CES was all about four things this year: TVs, cars, augmented reality and virtual assistants. In terms of how kids fit into the equation, we've broken down the five biggest items that have caught our attention this year:
1. Mattel's Aristotle
Easily one of the most buzzed-about announcements at this year's CES was Mattel's new virtual assistant for kids. Falling in line with other devices looking to capitalize on this year's trend of virtual assistants for kids (such as the CogniToys Dino and the C-way Memoo), Artistotle is developed by Microsoft, Qualcomm Technologies and Silk Labs. The AI-driven, COPPA-compliant connected home platform begins as an advanced baby monitor and grows with kids, as it is able to understand young voices that are often confusing to other AI systems. As Aristotle Baby, it's a high-tech baby monitor that tracks kids' development and functions as an e-commerce platform. Then it grows to Aristotle Toddler, which is built for teaching, using audio, visual and tactile learning. The next step is Aristotle Kid, which helps with homework, lets children watch and listen to music, and has two-player voice games. Finally, it transitions to Aristotle Tween, which can teach foreign languages and has more age-appropriate entertainment options. The release of the Aristotle follows Mattel's recent announcement that it would be searching for its next hit toy through a new ABC primetime show.
2.Fisher-Price's The Smart Cycle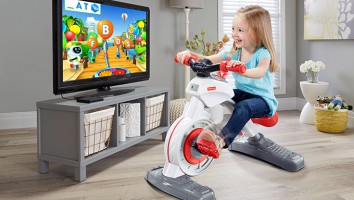 Continuing on the theme of adapting adult trends for the kids space, Fisher-Price launched its new bike that allows kids to pedal in order to earn tablet time. There are certainly critics of the new toy, but it capitalizes on the adult fitness fad of spin classes and allows kids to exercise. The bike features Bluetooth connectivity for four learning apps focused on literacy, STEM exposure, math skills and social studies. The apps are synced to the speed of pedaling and parents are able to track their child's progress. For Fisher-Price, this is a renewed focus on physical activity after it's been capitalizing on the ride-on battery powered car boom.
3. Lego Boost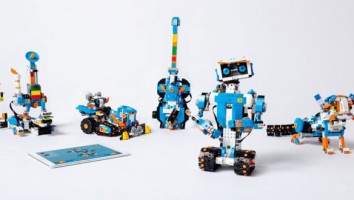 Adding to the myriad apps and programs focused on teaching children how to code, these new robots out of Lego give kids a chance to program with a hands-on toy. Boost is a set of programmable Lego blocks and motors that can work on its own or with existing Lego sets, turning them into motorized and motion-sensitive playthings that can also record voice effects. An Android or iOS app is needed for programming, which is designed to use and nurture basic coding skills. Think a cat that purrs or a car that drives around. Lego isn't the only company focusing on coding: Mattel, HMH, Collab+Sesame and Shea Ventures just poured US$24 million into AR company Oslo that's focused on coding, while Cartoon Network also recently launched a coding initiative with Scratch featuring The Powerpuff Girls.
4. Honda DreamDrive Virtual Reality 
After a slow start in 2016, the kids virtual reality space is revving up—and Honda wants a piece of the action. The auto company has teamed up with DreamWorks to release a new VR experience for kids. The entertainment system and VR headset will be synced to the movement of a car in real time, letting kids see other places (real or imagined) while their parents drive around the neighborhood. This could potentially be the biggest change to cars for kids since the TV was introduced to the back seat. VR and AR seem to be the topics on everyone's lips, with Playing Forward launching a kid-centric AR & VR platform at CES, and kids content creators finding a new medium to tell their stories.
5. The SpinTales Jungle Rug and SpinTales Enchanted Duvet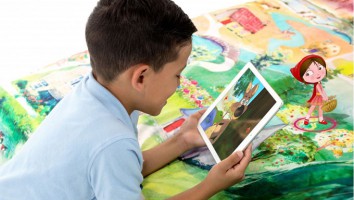 This new tech from TILT combines a classic children's rug (or duvet) with the newest augmented reality technology that was equally popular with adult gadgets at this year's CES. When kids point their smartphone or tablet at the rug, the devices come alive with characters dancing in the jungle, jumping in a river or climbing up trees. The duvet, meanwhile, brings a modern twist to old classic stories involving magic beans, three little pigs and little red riding hood. It's not entirely surprising that AR was a focus of this year's CES for kids after the summer of Pokemon GO and a competitive kids AR business kicking into high gear.