True story: There is a worldwide day devoted to being kind. With November 13 just days away, talk of selfishness and compassion are likely to be heightened, but there may be other forces driving the conversation, too.
That's because amid tales of cyberbullying and self-entitlement, today's kids have empirically shown to be more empathetic and tolerant than ever before—and a recent string of long-term charitable campaigns from children's companies are showing that the effectiveness of kindness can go beyond a day's work.
Beginning late last month, UK-based Coolabi Group launched its largest-ever creative marketing campaign based on the popular Clangers preschool brand.
As its moniker suggests, the company's #ClangersForKindness, developed in collaboration with charitable organization Kindness UK, is a month-long effort designed to encourage kids and their parents to undergo and promote simple acts of kindness. And helping to spread the love are TV ads, radio promotions, two YouTube unboxing videos, sponsorship opportunities and social media efforts.
The creative TV ads, which are also being shared on YouTube and Clangers' social channels, set the tone for the full campaign and are based on the CBeebies series' core themes of kindness. The radio campaign, which hits 80 UK stations this month, features Clangers for Kindness listener stories, supported with retail vouchers and Clangers prize bundles.
According to Michael Dee, director of content at Coolabi, themes surrounding kindness are part of the 50-year-old Clangers brand's composition.
"When we were looking at Clangers as a new show for CBeebies, we started reflecting on its core values and storylines," Dee says. "The characters are always helping each other out. There's so much bad stuff going on in the world, and we looked at how kindness is being taught in schools at a young age. We wanted to get under the skin of it all and make a real push. It's something that is driving through our community. We aren't asking people to go raise money, but just to stop and reflect on being nice."
While the campaign's overall goal is to spread the message of how easy it is to be selfless, there are, of course, commercial goals.
"In the end, we are a business and want to sell Clangers products, but from a brand perspective you have to market that in a different way where intrinsic values are involved. And we are actively increasing engagement with our fans through organic views on Facebook, reactions and shares," he says. "On a ratings basis, we already do well on CBeebies, so increasing linear numbers is always a given but not the main focus. It's really asking, 'How do you measure buzz?'"
To answer Dee's question, so far the campaign's ads and videos have garnered more than 700,000 views across Facebook and YouTube. The latter's two unboxing videos—Clangers are kind to Soup Dragon (pictured) and Talent Show—were created by London-based Wildbrain and have scored a combined 117,000 views on the video-sharing platform. Meanwhile, online visits to clangers.com have increased five-fold since the campaign launched on October 21.
It was less than a week later that US toymaker Hasbro announced Be Fearless Be Kind, its largest philanthropic initiative ever that is designed to inspire kids to have the empathy, compassion and the courage to stand up for others. Building on the work that Hasbro has undergone with youth nonprofit generationOn, the campaign equips parents, educators and kids with the resources to be inclusive and take action in problematic situations.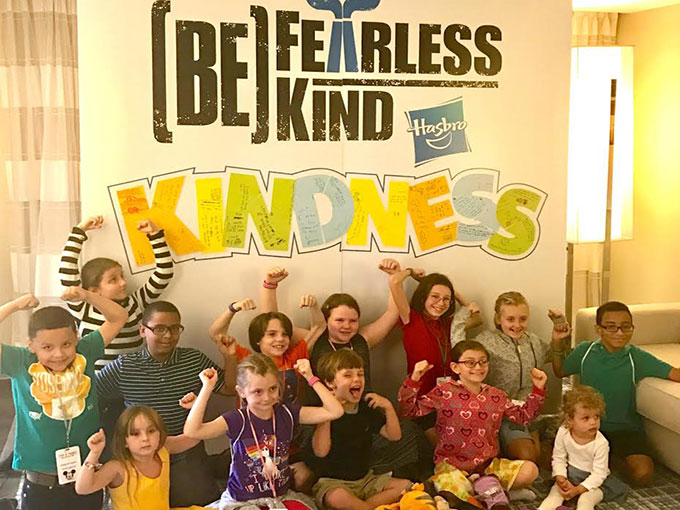 It includes a website that features a curated toolkit with materials developed by social innovation network Ashoka; a custom series of mindfulness videos that teach meditation focused on inspiring kindness; and third-party resources that include book recommendations and articles on nurturing empathy.
In terms of putting these tools into action, Hasbro recently launched the Rules of Kindness campaign, together with generationON, that inspired 110,000 youth from eight countries to share their rules and action plans. And starting this month, Hasbro and generationOn will host the seventh annual Joy Maker Challenge, which encourages kids to spread joy to people in need during the holidays. (For every child engaged in service throughout the Joy Maker Challenge between November 21 and December 23, Hasbro will donate a toy or game to Toys for Tots up to US$1 million).
New partnerships for the 2016 include the Special Olympics Unified Schools program, which facilitates sports and education initiatives in schools to foster respect and dignity for people with intellectual disabilities, and Creative Vision's Rock Your World, designed to inspire middle and high school students to globally to change their world through the use of media.
"If you can put empathy into action, it can be transformative for kids. And we've been ready to take that next step," says Karen Davis, Hasbro's SVP of global philanthropy and social impact, who is also president of the Hasbro Children's Fund. "If you look at current research, 60% of Americans think kids are less kind. We thought about it, and believe this is the place to be. And we wanted to use our voice and assets."
To that end, Hasbro brands like My Little Pony are being tapped to promote the initiative through their own channels. And Davis says the efforts are just the beginning of a long-term effort  to get the word out on being empathetic.
"It's a universal issue that impacts us all," she says.