There are few things stronger than a superhero. By nature, they've been designed to overcome the biggest of hurdles, and thanks to a wealth of superhero-based consumer product programs, an unpredictable toy market is currently one of them. While the demand for superhero films at the box office shows few signs of waning (there are 14 of them launching this year alone), retail shelf space is a different story—especially when it comes to toys based on those proliferating film franchises. So overexposure is arguably something that even the iron-clad superhero category may not be able to avoid. With this in mind, industry analysts weigh in on whether or not a superhero fatigue is looming in the not-so-distant future, and how the genre is adapting to a changing toy industry.
According to Lutz Muller, CEO of Vermont-based market research group Klosters Trading, there are at least 26 superhero-themed movies slated for 2017 and 2018 combined, and 10 so far in the pipeline for 2019—a number that is sure to rise as more release dates are announced.
"It's an incredible onslaught of action figure films," Muller says. And for good reason. According to the latest numbers from New York-based market research firm The NPD Group, the US toy industry grew by 6% in the first quarter of 2016 to US$206 million, with action figures experiencing one of the highest dollar gains. Klosters Trading's retail panel also shows that movie-driven toy sales grew by 11%, with the action figure category leading the charge.
Chris Byrne, a New York-based toy industry analyst and content director at toy review source TTPM, expects merchandising sales to rise in tandem with the number of superhero (i.e. action figure-driven) movies on the horizon. But he does think a change in structure and competitive frame is inevitable.
Byrne says that with characters like Iron Man, Hulk and Thor, Marvel is much more effective than its rival DC at creating superheroes that kids will want to emulate through merchandise. Additionally, he notes that all of the superheroes being trotted out are very well-established brands, leaving no room for any new, untested characters in the market.
"What we're seeing is a very, very segmented market. Kids are loyal to the superheroes they're playing with," Byrne says. "It's kind of like physics. The force it would take to get them to move off of one and onto another is pretty overwhelming. So the strategy has been to deepen existing character lines and go as far as you can within them, rather than introduce new ones."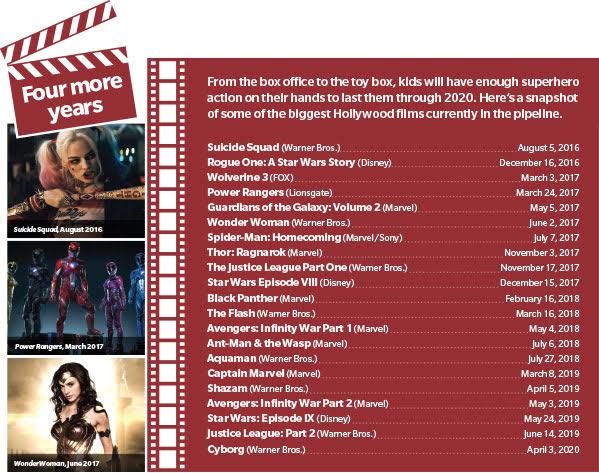 Commenting on the topic of market segmentation, Marty Brochstein, SVP of industry relations at trade licensing association LIMA, says that retailers and licensees don't have the luxury of looking at superheroes as a defined category unto itself. Instead, their decisions are related to buying or manufacturing individual quantities of a set item tailored to each film.
"It's not good enough to say, 'Well, there are going to be six superhero movies out there, so I'm going to make X amount of superhero product.' So figuring out your inventory for a specific film—what's right for you to manufacture or for a buyer to buy and support a specific film—becomes that much more dicey," he says. "You can't look at this in aggregate. First of all, you might not have all of the licenses. Secondly, you have to look at each of the projects separately. That's where the rubber meets the road."
On top of inventory management, another issue with which licensees must contend is not only shrinking shelf space, but also a limited shelf life for their superhero products. The anomaly of Star Wars merchandise aside, all three experts agree that with so many superhero properties on the market, the window of opportunity for consumer products programs is narrowing.
"Much of your merchandising business is done before the movie ever opens, and once the film debuts, people are onto something else within the next two or three weeks," says Brochstein. "I think in general, not just for superheroes but with all film properties, that shelf life has diminished."
Byrne adds that L&M programs for superhero movies have dwindled, with the height of sales typically occurring between the first six weeks prior to a film's debut to about eight weeks after. The film itself is now more of an event within the life of a license, as opposed to 10 to 15 years ago, when a theatrical film release was the kick-off for a brand.
For example, sequels The Amazing Spider-Man (2012) and The Amazing Spider-Man 2 (2014), both of which stayed in theaters roughly 3.5 months and generated a combined US$464 million at the domestic box office, each had significant shelf space just before they premiered. But associated toy sales plummeted as soon as the films left the theater. Most importantly, box-office sales were down 30% for The Amazing Spider-Man 2 from its predecessor, which was reflected in sell-through sales for Spider-Man merch the second time around, according to Muller.
"Sales go up for a short time and then plateau again," Byrne adds. "You get another bump when things come out on video, and can probably get another one with more elaborate toys within the franchise, and in Q4 when the playsets and high-margin stuff comes up."
For Muller, there are two main predictors for how well CP programs will perform for a superhero/action figure property. The first is the amount of time between the original film and its sequel, with a larger gap more likely to produce better retail results. The 10-year gap between the 2005 release of Star Wars: Episode III: Revenge of the Sith and Star Wars Episode VII: The Force Awakens this past December was a key factor in generating excitement and higher demand for merchandise. (Not to mention the masterful marketing campaign that was last September's Force Friday, which officially unleashed Star Wars toys to the marketplace.)
"I would bet my bottom dollar that Rogue One: A Star Wars Story, which hits theaters this December, is not even going to be a shadow at retail to what The Force Awakens was because it is too close," Muller contends.
Muller's second criterion for determining how well superhero movies will fare at retail has to do with the theatrical release dates of competing films. The closer they are, the more likely they are to cannibalize one another. For example, with nine of this year's 14 action figure movies scheduled for release between May and July, there's little chance that kids will be going to see all of them, which will naturally have a negative impact on related merchandise.
"When you put the two factors together, it's a double-whammy on toy sales," says Muller. "There is pretty much a finite amount of action figure shelf space available—typically two aisles at Toys "R" Us and Target, and three-quarters of an aisle at Walmart."
While toycos have to compete for shelf space and withstand a shorter lifespan once in stores, additional obstacles loom. With most superhero movies heading into development two years or more before they premiere, trying to determine hot and in-demand toy categories is proving to be increasingly daunting.
"A trend we've seen in the past five or six years is the emergence of role play as a very important sector within these superhero movies. Kids don't want to just pick up the action figures, smack them together and go, 'I win.' They want to become the action figures, whether it's through a shield that fires darts or any of the cool masks," says Byrne. "For example, Mattel's new Batman voice-changer mask from the Batman v Superman film is really compelling for kids because it allows them to become the character."
According to Muller, another key challenge is the toys-to-life gaming category, which propels branded figures into video game experiences like Nintendo Amiibo, Lego Dimensions and Disney Infinity. (The latter has recently been discontinued by the House of Mouse.) These interactive toy figures are having a negative impact on action figure sales, even though they're not necessarily found in the same aisle.
"They are typically in the electronics section, but they are taking market share away, particularly in the case of Disney Infinity with their own Star Wars figures from Hasbro," he says. "That makes the action figures growth as a sales category slower than the mass of movies would warrant."
The pieces of the toy pie may be getting smaller in some respects, but new opportunities continue to emerge elsewhere, such as on the digital side of the consumer products equation.
"Everybody is enthusiastic about the whole app area. There are some very solid revenue opportunities if you make a good app and get into that fan base. That's something that really didn't exist a couple of years ago. If you go back five years, it was all about console gaming," Brochstein says. "Now, it's more about casual gaming and apps with in-app purchases to buy new capabilities, powers or levels. So I think that's an area that is definitely expanding."
Action-led properties are also setting their sights on girls—like Lego Friends did not too long ago in the construction category. The new DC Super Hero Girls IP includes a six-month-old toy line that features iconic female DC Comics characters in their teenage incarnations and serves as a prime example of this trend.
"Until the end of last year, action figures were probably 95% boy-oriented," says Muller. "But now, Mattel's DC Super Hero Girls action figures—which are currently only available at Target but will be rolled out worldwide in July—are not only number one in the doll aisle, they are also sold out. They're doing incredibly well even though there is no movie."
Muller says that both Hasbro and Disney have also recognized the opportunities that abound for girls action figures, and despite the misstep of not releasing any Rey figures during the first wave of Star Wars toys last year, the companies will be launching action figures for female characters in Captain America: Civil War, X-Men Apocalypse and Rogue One: A Star Wars Story.
"It's not clear in which aisle these female action figures will sit, but Target has so far put DC Super Hero Girls in the doll aisle, and as I understand, Hasbro is going to put them in the action figure aisle," Muller says.
So are superhero films and their corresponding merch really destined to meet their match?
"I don't think so, because it is such an evergreen play pattern for children starting at around four years old—that ability to take on a superhero persona and be more powerful," says Byrne. "If your whole life is about eating your peas, getting in the minivan and doing your homework and then suddenly you have superpowers—that makes a four-year-old feel very strong."
And like Muller, Byrne sees the emergence of the DC Super Hero Girls action figures as a potential game-changer for the category going forward in this "highly competitive field that's all in the hands of six- and eight-year-olds."
For his part, Brochstein believes it's inevitable that things will become overdone at some point. He notes that the resurgence of superheroes got rolling because of the success of Spider-Man in 2002, which cleared more than US$820 million at the global box office. "I often wonder where we would be today if that first Spider-Man movie had been a bad movie that people hated," Brochstein muses.