Entertainment properties developed for the six- to 12-year-old set have historically been gender-specific, or at least gender-skewing. Think Barbie vs. G.I. Joe, Hello Kitty vs. Transformers, or more recently, LEGO Friends vs. LEGO Ninjago. A look online or in stores would lead to the safe conclusion that gender-specific properties win in the end, right?
Maybe not. According to our new study Creating a Cross-Category Juggernaut, one of the keys to developing winning IPs today is, in fact, the opposite. A modern hallmark of successful cross-platform and cross-category entertainment properties is their appeal to both genders. Having central male and female characters, tapping gender-neutral play patterns, leveraging humor that resonates with boys and girls, and using gender-neutral colors like yellow and green are key to success in 2016 and beyond.
Minions is a great example of how to win with kids—and families—today. The IP took the top spot among 40 entertainment properties assessed in the 2015 study with a Kidfinity score of 823. (This proprietary metric factors in kids' awareness of and love for a brand/IP, and its popularity, and scores it from zero to 1,000.) Much like SpongeBob SquarePants has done for years, these endearing yellow characters filled with slapstick humor and playful adventures have stolen the hearts of American kids—boys and girls alike.
Among the remaining dozen most powerful IPs of 2015 are other gender-neutral properties like LEGO, Mario, Minecraft, Angry Birds, Looney Tunes and Scooby-Doo!—proof that connecting with boys and girls means winning with kids and families today.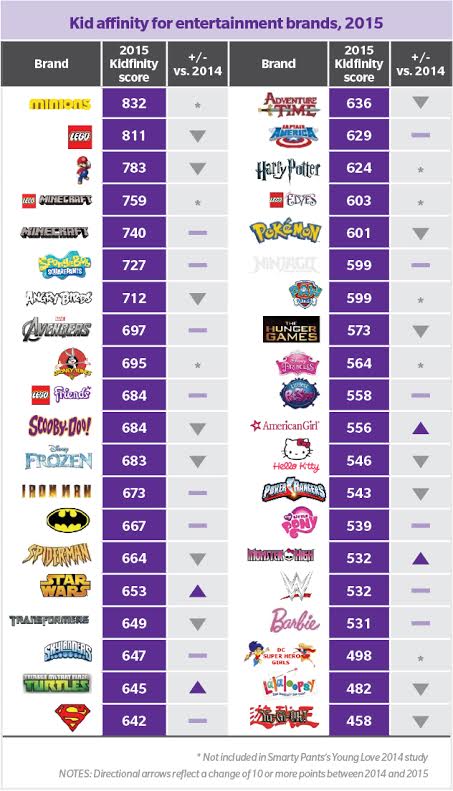 The positive boost gender-inclusive brands receive isn't merely because they appeal to a larger market—it's also because they are in line with current cultural values. Today's millennial parents are an open-minded, accepting generation steeped in togetherness, and they are instilling these same values in their children. They are teaching their kids that no one should be excluded from the fun based on gender, which has fueled a desire for toys, games and entertainment options that both boys and girls can enjoy equally and play with together.
In response, not only are toy aisles losing their gendered markers, so are many brands being developed for kids—from clothing brands like Under Armour to candy brands like Ring Pop and digital games like Minecraft. An increasing number of children's brands are no longer choosing to define themselves based on gender parameters, but instead are more closely following the model set by adult brands that define themselves by lifestyle and interests.
For example, LEGO is for kids who love imaginative building while The Avengers is for kids who love superheroes and action-based storylines—gender has become less relevant than kids' interests and passions. Also of note, Scooby-Doo!, Hunger Games, SpongeBob SquarePants and Harry Potter have very little difference in Girlfinity and Boyfinity. These properties connect with kids based on their storylines and humor preferences, not their gender.
That said, many IPs do display gender skews, some of which are quite extreme. WWE—full of fighting, trash talk and hyper-masculine "characters"—tops the list of most pronounced "boy brands" with a 214-point Kidfinity gap between boys and girls. Conversely, American Girl is the most girl-skewing brand in the study, with record low affinity among boys.
A closer look at these differences shows that boy-skewing brands have been more successful at luring female fans than girl-skewing brands have been at bringing on male fans. Every girl-skewing brand has a Boyfinity deficit of 200 to 500 points, while most boy-skewing brands have less than a 200-point shortfall among girls.
Overall, boy-skewing brands are becoming more girl-friendly, and as a result they're seeing a significant rise in overall Kidfinity.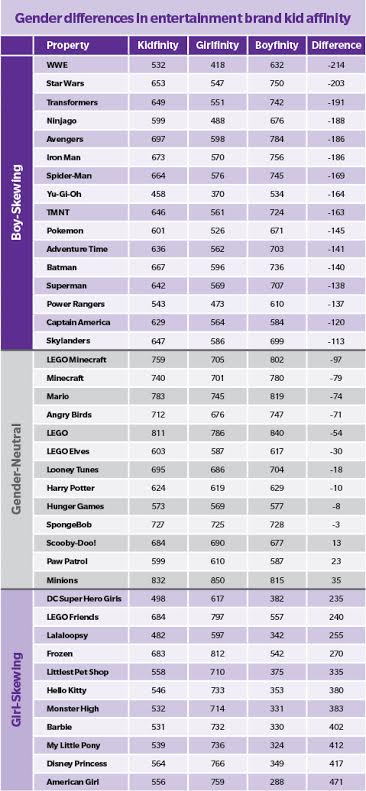 Interestingly, the study finds that boy-skewing properties are growing faster with girls than they are with boys. Overall, most brands are on the decline with their intended audience, while a majority are on the rise with girls. This may mean that they won't be boy-skewing for long. With girls' increasingly embracing these brands, they may soon become gender-neutral IPs.
The vast improvement of "boy brands" among girls is likely because they have become more girl-friendly, featuring strong female characters alongside male leads, such as Black Widow in The Avengers and Pepper Potts in Iron Man. In addition, they are benefitting from a "girl power" culture that empowers girls to step out of stereotypical roles to embrace traditionally boyish ones and properties, from sports to fashion to entertainment brands. This movement shows no signs of slowing down, as girls become increasingly comfortable with historically boy-leaning brands like Nerf, Under Armour, Star Wars and LEGO. This changing tide could signal a significant shift in the landscape of children's IPs.
While girls are embracing boy-centric brands, the same can't be said for boys' interest in most girl-centric IPs. The gap between boys' and girls' Kidfinity scores for girl-skewing brands is more than double that of boy-skewing brands. A primary reason for this is that girl-skewing brands generally aren't making an effort to include boys. The same excessive sparkles and frills that distance tween girls from such brands also turn off boys of all ages.
Frozen and LEGO Friends have relatively healthy scores among boys. Frozen gave boys Olaf and Kristoff and an engaging storyline and soundtrack, and with LEGO Friends boys can easily interact with their sisters and female friends and play seamlessly with other LEGO sets.
All other girl-skewing properties post abysmal Boyfinity scores. The IPs are hyper-feminine and miss the trend of migration toward gender neutrality and gender fluidity. Many are saturated in pinks and purples, dressed in high heels or thigh-high boots, and dusted with glitter—literally and figuratively. Their play pattern is anchored simply in "friendship" and, in some cases, storylines and character development are weak. There is very little for most boys coming of age to connect with.
As Cross-Category Juggernaut notes, "Kids typically reject things that they perceive to be exclusively for the opposite gender, but boys are particularly likely to do so. They are more likely to avoid markers of femininity as they create their gender identity. Many of the girl-skewing IPs in the study create that gender discomfort for boys."
The most successful IPs are those that have cultivated a gender-neutral or gender-inclusive experience. Boys and girls have as high, if not a higher affinity for these properties, when compared to IPs conceived for their specific genders. An added bonus is that these IPs tend to win with parents as well. Moms and dads are hungry for content they can enjoy with their kids—moms want to be entertained alongside their daughters and sons, and dads want to connect with their sons and daughters. They appreciate properties like Minions, Looney Tunes and Star Wars that facilitate co-entertainment.
Parents also appreciate the ability to delight more than one child at a time. Simply put, a shared SpongeBob DVD in the back of the minivan makes for a more enjoyable road trip than battles over whether it's time for the My Little Pony or the Teenage Mutant Ninja Turtles video. When the whole family feels like a property is "for me," everyone wins.
Wynne Tyree is the president of Smarty Pants, a youth and family research and consulting firm. For more information on Smarty Pants or the Cross-Category Juggernaut report, contact Meredith Franck at 914-939-1897 or mfranck@asksmartypants.com.