With more than 200 million books sold worldwide over the past 40 years, the Little Critter character from venerable children's author Mercer Mayer is being developed into a global multiplatform entertainment property.
Driven by Little Critter's recent success in the Asian market, producer, writer and director John Sansevere is now spearheading the development of the evergreen property, whose books have been translated into eight languages.
In China, for example, 12 titles were published in 2013, and thanks to their success, another 108 will be released in that country this year. In South Korea, meanwhile, 16 titles were licensed to Eplis book company for an audio book package, and the publisher has since licensed another 40 to be released as part of an eBook program.
"Little Critter's relationship to the world is very special. You really become a kid when you read the books and go through all those different emotions," Sansevere says. "There is a real demand for the kind of storytelling and family values that Little Critter represents."
Those core themes are also behind a new 52 x 11-minute series in the works based on Little Critter that features a diverse cast of animal characters who live in Critterworld. The series focuses on neighborhood adventures and the challenges of growing up, underpinned by a narrative that promotes social-emotional learning. Targeting kids four to seven, the series is set to employ CGI animation in an effort to unite the many different watercolor styles that Mayer has used over the past four decades.
"Mercer first started with pen, ink and watercolor, then it was pen, ink and computer painting, and then he went to drawing and coloring on the computer," Sansevere says, adding he hopes the series will be ready for end of 2017. "It might be a bit ambitious, but that's what we're shooting for."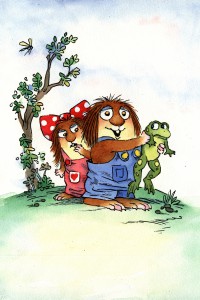 Wrapped around the TV series will be a full-scale licensing and merchandising program. Anchored by categories like publishing, toys and apparel, in addition to its existing slate of 45 apps, products would most likely hit US retail shortly after the show launches, then roll out globally, says Sansevere.
To make it happen, Sansevere established Little Critter LLC with boutique merchant bank Sword, Rowe & Company, production experts DisruptiveLA and real estate developer Richard Dreher, each of whom will provide an advisory role to the company. And to provide guidance, support and help to set the IP up as a global brand, Little Critter LLC tapped Stuart Snyder, the former president and COO of Turner Broadcasting System's Animation, Young Adults and Kids Media division.
"He's going to really help with strategic thinking and evaluating different companies to see what the best fit is for us," Sansevere says.
Finding the right fit is another reason Little Critter's world wasn't expanded into a multiplatform property earlier, despite the fact several attempts have been tabled. Nonetheless, author Mayer is thrilled that his lovable little character is finally getting his due on the world stage.
"Kids like him very much. And his world. They identify with him," Mayer says. "There's the thing I call the cute factor. It has to do with his expressions—they are very human-like, but yet he's a little animal thing."
In fact, the legendary American author of more than 300 titles still vividly remembers scribbling around one day when the anthropomorphic character suddenly appeared on the page.
When he first started writing "way back when there were dinosaurs running around," Mayer drew inspiration from his own childhood memories. For Little Critter, he envisioned a story about a little boy, like himself, who always tried hard to help his mom, but his efforts would always end in disaster. "For some reason, I didn't feel like using a little boy or girl as the main character, and out of nowhere came this fuzzy little thing that was shaped like a gourd," he laughs.
While the 72-year-old author continues to churn out a handful of Little Critter books every year, Sansevere says going forward Little Critter LLC will also be looking to develop some of Mercer's other titles as well as original non-Mercer IPs.
"Getting Little Critter going is a big project, and once we establish it then we'll be introducing new opportunities and new IPs, as well as looking at other titles Mercer has," Sansevere says.