Who Rhode Island native, Eagle Scout and accomplished martial artist Sean Fay Wolfe was just 16 when he wrote his first book, Quest For Justice, part one of a fan-fiction adventure trilogy set in the world of Wolfe's favorite game, Minecraft.
The story follows new players Stan, Kat and Charlie on a perilous journey to bring down the villainous king of Elementia, a Minecraft server where resources are in short supply and more experienced players exploit the weaknesses of newbies.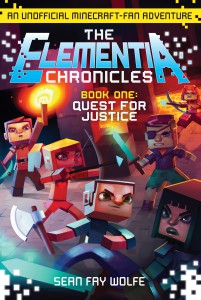 After self-publishing the book on Amazon.com in January 2014 with editing, PR and back-end help from his parents, Wolfe's life as a young writer hit the fast track. Word about the unofficial Minecraft trilogy spread quickly among fans and middle-grade readers whose teachers were soon inviting Wolfe to speak at their schools.
In April, HarperCollins Children's Books acquired the English-language rights to The Elementia Chronicles and is now set to publish Quest for Justice on July 28 in the US.
With the second title, The New Order, earmarked for release on October 27, and the third, Herobrine's Message, for January 26, 2016, Wolfe has his work cut out for him as he transitions to college life. But he wouldn't have it any other way.
He spoke with Kidscreen about the ins and outs of being a teen author, and his ambitious plans for the future.
How did you come up with the idea for the trilogy?
I've been playing Minecraft since late 2011, when I was 14 years old. Not long after I started playing on multiplayer servers, I got an idea for a story that would take place on a fictional server called Elementia. As a kid, I loved action-adventure books like Harry Potter and The Hunger Games, as well as the animated TV series Avatar: The Last Airbender, so I wanted to create an adventure like that, but in the Minecraft setting. I hadn't done any creative writing since elementary school, but I decided to try writing my story. Quest for Justice was originally planned to be a stand-alone title, but as I wrote, I realized I could do more with the story, and that a trilogy would be the best format.
Have you been surprised by people's reactions to the books?
I'm amazed by just how positive the reception for Quest for Justice has been. I expected a lot of kids to like it (after all, it is about Minecraft), but the reaction of older people has been the surprising part. Many teachers tell me it's incredible how invested the kids are in my presentation. I use that attention to talk to them about how reading and writing can make their interests come to life, like I did with my story. The reaction of parents who read the book to their young children has also been awesome. Many have told me that they're just as interested in the story as their kids.
Has anyone from Minecraft creator Mojang ever talked to you about your writing?
No. But I was fortunate enough to get invited to sit on a panel at this year's MineCon—Mojang's annual Minecraft conference and fan gathering—where I discussed Minecraft education.
What's the best thing about being a young writer?
There are two main draws to being a young writer. First, because I'm so young, I have a chance to get a head start at building a career. Second, because I'm going to be in college for the next few years, I won't have to worry about all the stresses of leading an adult life, like getting a house and buying food and such.
Aside from writing, you're also into original game development. What's next for you?
I'm currently planning a sequel series to The Elementia Chronicles, which I will write if enough people want me to. I also have another idea for a children's series about twins who fight monsters that can travel between their dreams and the real world. Beyond writing, I would like to expand Diamond Axe Studios (my current production house) to encompass more than just my published books and games. I would like to use the excess funds I have right now to assemble a team of creative people (many of whom I will surely meet in college) to create a multi-faceted media company.