Once upon a time, everything submitted to the biennial international children's television festival Prix Jeunesse – which will take place in Munich from May 20 to 25 - went to the final competition. Hundreds of children's TV experts would gather in Munich and watch outstanding shows for kids (as well as some real clinkers). I clearly recall flopping heads during an interminable traditional dance program screened right after lunch, which for many had included a biergarten liter.
The move to pre-selection had little to do with cringe-inducing moments, though. Professionals could no longer justify spending 10 days in Munich. (Way back, this included an "excursion," when the screenings paused for a day-long trip to a mountain or lake.) To be fair, rapidly-expanding entries from emerging channels and independent production companies would soon have forced the issue.
What makes Prix Jeunesse unique is the wide range of content on display. But, interest in the prestigious prize continues to expand, making the choices even harder. In 2016, there were more than 400 entries, and we could only accept about 80. Obviously, some great works get left behind. At the festival, each juror will recommend a few entries, whether for overall quality, unique content, style, or innovation. After all, every entry is someone's baby. A team sweated over its creation, and a channel or producer felt it was worthy of nomination as "world's best." Our challenge was to give each piece – first seen to last – the respect it deserves, while also finishing in time to go home. Needless to say, it's impossible to watch each entry start to finish, but every program in the final competition was seen in full.
The 2016 jury included myself from the US, Pat Ellingson (Canada), Alvaro Ceppi (Chile), Alison Stewart (UK), Sandra LeBlanc (Germany), Jan Willem Bult (Netherlands), Frederik Hansen (Denmark), Nils Stokke (Norway), Metka Dedakovic (Slovenia), Glynis Beukes-Kapa (Namibia), Roziah Naam (Malaysia) and Bernadette O'Mahony (Australia).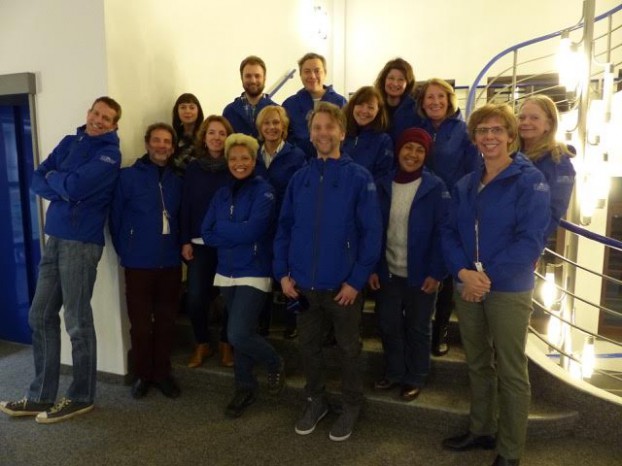 Day 1
We gathered in the early afternoon, bright-eyed and alert. Well, myself not so much: I missed a flight connection, arrived late and my luggage was lost. Still, the group – especially first-timers – had that eager and excited look I've seen at the start of a marathon, adrenaline rushing and blissfully oblivious to how you'll feel toward the finish.
"The Wall," as its called, will come sometime Tuesday, after multiple 12-hour screening days with only a quick lunch break. You'd better be a good note-taker or show details (heck, basic plots) will blur. Wait…I remember that title, but was it from Bolivia or Belgium?
We start with the 11 to 15 Fiction entries. For many years, teen Fiction and Non-Fiction were merged. Now they're separated again, and Fiction is medium-sized while Non-Fiction has a massive 90 entries. All 12 of us watch the Fiction. The mass discussions help us gel as a group and learn each others' perspectives and preferences. Later, we'll divide into three juries: Fiction (Up to six and seven to 10) and Non-Fiction (same) and 11-15 Non-Fiction.
As noted, we can't watch all of each entry, but it's some time before any juror gets the courage to call a halt. No one wants to be first to challenge someone's baby. Somehow, the banana becomes the official challenge flag – a raised banana from the fruit tray is a call to pause and vote whether to continue (it has to be unanimous – easier with four jurors than 12).
Just five shows in, I'm thinking we need to invent Prix Jeunesse Bingo, with squares for spotting cultural icons in entries. Already, we've seen a drone and a selfie stick. I'm always attuned to out-of-context brands, bands and teams: It's odd to see a drama in the Iranian countryside in which every child sports a different football (soccer) kit. "New York" is all over hats and shirts. My heart, if not my vote, went to the Latin American show that began with out-of-time reference to the Ramones' Blitzkrieg Bop.
Some of my favorite shows over the years at Prix Jeunesse use the land itself as a character. The Scandinavians are especially good at this – incorporating dramatic landscapes naturally (pun intended) into their stories. My travel wish list is populated with places I've seen only on kids' TV: Mongolia, Chile and Greenland.
Day 2
An army travels on its stomach, and so does our jury. The table in front of us is always set with fruit (bananas for eating, bananas for voting), nuts, pretzels, chocolates, juice and lots of coffee.
With such an international assemblage of experts, however, it seemed wasteful not to bring a cultural twist to our snacking. In advance of coming to Munich, I asked jury members to bring something from home for us to sample. We now have a table laden with Norwegian reindeer, Malaysian green pea crackers and peanut sweets, Canadian maple cookies, sweet/savory chocolates (prosciutto & figs! smoked ham and pumpkin seed!) from Slovenia, southern US GooGoo Clusters and Moon Pies, British biscuits, German gummy bears and more.
Maybe we need to have a worldwide snack stand at Prix Jeunesse – a global bake sale supplied by participants and raising money for production in under-resourced regions!
Non-spoiler alert: When I refer to themes and topics, I'm not giving away whether specific shows made it to the finals of Prix Jeunesse. We're talking content, not quality.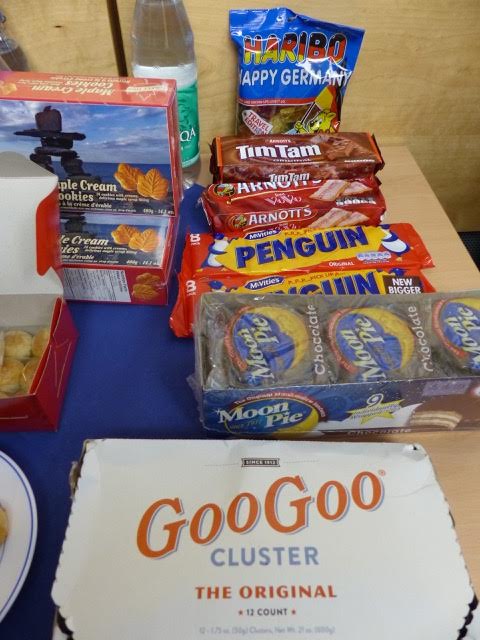 Day 3
We saw about 33 programs. Stockholm Syndrome is setting in, or maybe that's just the name of a show from Sweden.
Three interesting trends we have gathered thus far:
Horror – in drama, comedy, magazines, even a reality format – is everywhere. Interestingly, Dubit's tracking surveys have noted an ongoing uptick in tweens' and teens' preferences for horror, fantasy and sci-fi, so it's fascinating to see the trend made concrete. (Of course, it's circular – content generates exposure, and audience response generates more content).
The "life swap" concept, so prevalent 10-15 years ago, is back. Kids from the country visit the city and vice versa; teens try life in the land of their heritage. These shows are ideal for the 2016 PRIX JEUNESSE theme of "identity," but didn't feel like they were made or entered to pander. More likely, young people live global lives virtually, so why not tell real-world stories of crossing borders.
We've seen several shows in which old people talk with unflinching honesty about seminal moments in history – war, hardship, revolution. These feel like an urgent attempt to capture a disappearing generation's critical experience, perspective and lessons learned.
I was amused to see a science show about friction that featured hovercrafts. In 1978, as part of a Harvard Graduate School of Education "practicum" in children's TV program design, my class worked on the concept that became "3-2-1 Contact!" For our sample episode on friction, we wrote a "make and do" segment about frictionless pucks – tiny, basic hovercrafts. Where we used a styrofoam plate, straw and balloon, this show used propane tanks and compressed water blasters. Science is constant, formats are constant, budgets and audience expectations change.
Asian dinner. My fortune cookie: "You will watch a load of TV tomorrow."
Day 4
Once again, we watched more than 30 shows. I'm contacting the International Rescue Committee of the American Academy of Pediatrics.
This is as close as I'll come to a spoiler. An old friend is coming back to Prix Jeunesse. A broadcaster revived a preschool series, but for a teen audience. All the wondrous child-like elements are still there, but the content level is ramped up. I've never seen that done before.
Today at lunch we became the "Fellowship of the Chili Chocolates." Frederik Hansen brought Chili Klaus capsicum candies (licorice around spiced chocolate, rolled in pepper dust). Danish orchestral conductor Klaus Pilgaard feeds hot peppers to his musicians, for alertness; worth a try for us, too. Frederik brought level six of 15, attention-getting but not Level-12 "face melting."
During pre-selection, as often happens at Prix Jeunesse itself, shows can pinball you emotionally. The schedule isn't curated to put like content, genre or format shows together, so you can easily go straight from a documentary about illness, disability, or abuse to a raucous game show or humor magazine.
Tomorrow is the home stretch – 35 more programs and final decisions. We need to be ready for day six, when the three juries reconvene. We need to ensure that we've hit our time goals; that we've selected strong, competitive shows; that the world is represented; and that we've got the goods for lively, deep discussion about the state of children's TV. After all, PRIX JEUNESSE isn't just about honoring the tallest trees, but also about assessing the health of our forest.
Day 5
Maybe I'm obsessing about how well we're fed here, but a film producer once told me people will do anything if they feel cared for, so her most important budget line item was M&Ms. How we've been fed and pampered is typical of festival organizer Kirsten Schneid and her team. Anyone who's been to Prix Jeunesse knows the festival runs with a unique, wonderful blend of German precision and "gemütlichkeit."
The theme for Prix Jeunesse 2016 is "Identity," and several shows in the competition will touch on one critical global aspect: Migration and refugees. What struck me during pre-selection was the many unique facets to these stories. We saw entries addressing four unique aspects: Why people left, how they traveled, how they're settling into new societies, and – conversely – how immigrants and refugees are viewed by the people in countries receiving them.
We often talk about the possibility of children's media making real change in the world. Here is a case where the world is changing children's media – we have no choice but to help children understand what's happening around them. Prix Jeunesse 2016 offers a unique opportunity to react to existing shows, swap ideas, and build partnerships to do more. It promises also to do what Prix Jeunesse has always done – remind us why we do the work we do, and send us home inspired to do more.
Day 6 – Epilogue
A few last-minute mop-up screenings and decisions, and then the final meeting. The most fun is when we share favorite clips. Having seen the selections, I can promise that Prix Jeunesse 2016 will bring laughs, tears, surprises, mystification, insight, inspiration and at least one "CAN THEY SHOW THAT ON KIDS TV?!?" moment.
How do you close out the grueling Prix Jeunesse pre-selection? After a sedentary week (I may have to revise my views on "screen time"), we were each given a special Prix Jeunesse rain jacket and a glass of sekt, told to bundle up as much as possible, handed a glowing balloon, and loaded into taxis with no further information. Twenty minutes later, we pulled up at the base of a big, snowy hill in Munich's Olympiapark. Out of the taxi trunks came sleds and sleighs, torches, extra boots and thermoses of warm gluhwein. And after a week of incredible highs, it was all downhill from there.
Prix Jeunesse 2016 will take place at Bayerischer Rundfunk in Munich from May 20-25. For information on how to register as a participant and voter, and for a list of the finalists (coming soon), visit www.prixjeunesse.de.