Interactive toyco Tiggly and Sesame Workshop have partnered to launch an app for Tiggly Words, an innovative learning system that fuses physical toys and digital elements in play.
The early literacy app, entitled Sesame Street Alphabet Kitchen (US$2.99), is designed to teach kids ages four to eight how to spell by combining tactile and tablet play, a play pattern that is proven to increase early childhood learning.
In Tiggly Words, kids place physical letters on a tablet to complete words, explore language patterns and discover new sounds. With the introduction of Sesame Workshop to the app, kids get to play alongside Cookie Monster and his voracious appetite. And soon, Elmo will be added to the mix through an app update.
Tiggly's partnership with Sesame Workshop is the first with a third-party kids brand for the New York-based company, which now has three US$29.99 learning systems at retail—Words, Shapes, Math—and 10 corresponding digital apps, with an 11th due out in December.
For Dr. Azadeh Jamalian, Tiggly's chief learning officer and co-founder, the biggest reasons why her company decided to team up with Sesame Workshop were because of the trust parents have in the 45-year-old brand, as well as its strong educational grounding, which doesn't take a dry approach to academic content.
"Sesame is very well-known for their humor, wacky characters and playful approach to very serious subject matters,"  says Jamalian. "For little kids, it's important to enjoy the learning process and not be drilled with memorization and all those things."
While Tiggly will continue to explore partnerships with kids brands to see if there is a good fit to bring other IPs into its learning systems, Jamalian says the company is trying to avoid licensing partnerships. Instead, Tiggly is looking for truly collaborative partnerships—like in the case of the deal with Sesame.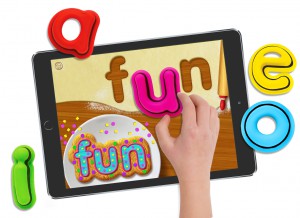 "Whomever we partner with, we want them to be involved as much as we're involved, and that was the case with Sesame. We had a lot of design meetings and discussed a lot of the details up to the point of choosing the colors for the cookies and how to pronounce certain letters in the app," she says. "Those are the types of partnerships we want, because we think we will learn from them and they will learn from Tiggly and this new innovation in play, and that's when good things will happen."
She adds that two years ago, when Tiggly first started creating toys that combined physical play with digital apps, a lot of parents didn't understand the concept and there was a lot of skepticism in the industry about whether it would work or not. But the tide has been turning.
"More and more parents are in line with it, and we're also seeing great traction in terms of placement in stores. This year, we launched in mass market at Target, Best Buy and Toys 'R' Us, which is a great confirmation that there is a need for this," she says. "Also, partnerships like this with Sesame Workshop are another assurance that this play pattern is something you can really invest in."