Dear Cannes,
I have never liked you. You overcharge me. You're not very nice. And you celebrate all the worst aspects of the entertainment industry: Celebrity, exclusivity, vanity, excess. I suppose you've never liked me much either. I don't speak your language. I ask dumb questions about the menu. And I make kids TV shows, which, in a town like Cannes, is the equivalent of making finger paintings in Florence. Plus, I'm an American. So, strike three.
But the freak storm that hit your town on Saturday night October 3rd changed many things for me. I was eating risotto at Le Cannelle with some friends when the storm arrived. We were on a terrace with a glass ceiling and the big raindrops began to swat the place like locusts. The chef and the owner came out of the kitchen to see what was happening. The rain became hailstones as big as peppercorns. The palm trees outside the Gray d'Albion began to bend violently in the wind, and we could hear distant shouting from high up in the hills. In the faces of the staff at Le Cannelle, we could see that this was not a typical storm. We could see that this one was very bad.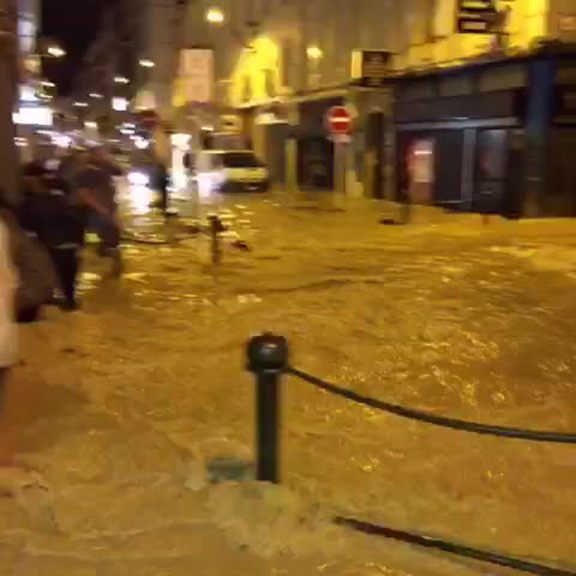 Saturday night and throughout Sunday morning, terrible images began to appear on Facebook: European cars drifting like gondolas down the narrow streets of Cannes. Flooded hotel lobbies. Tourists wearing garbage bags and wading though water up to their knees. There were no buses, taxis, or other forms of transportation. And then we began to hear the reports of deaths. It was hard to know what was true and what was rumor but, by Sunday afternoon, it was confirmed that at least 16 people had died in Cannes.
According to one story, some of the manhole covers in Cannes had been removed to help drain the rushing water from the streets. But it was dark that night and the water was deep, and some pedestrians did not see the open manholes. And they dropped into them. And the water carried them beneath the old streets of Cannes and swept them out to sea. All week, I was told, their bodies washed up ashore along the Côte d'Azur like gentle dolphins.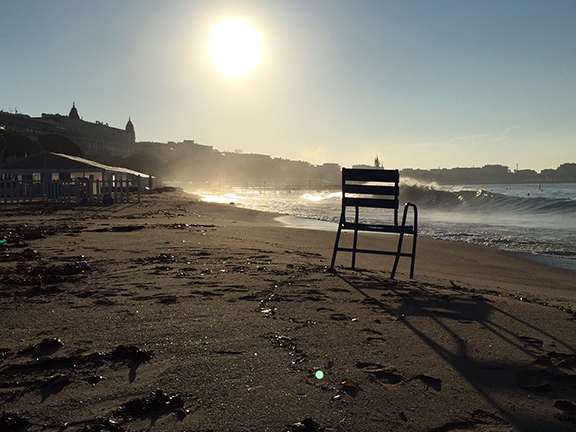 For most of us media types along the Croisette, there were only minor inconveniences on Sunday: Loss of power, no hot water, puddles in the lobbies, and the partial closing of The Martinez Hotel, where MIP Junior was being held. But the stories of the flood, and its awful impact on the residents and the businesses of Cannes, hung in the air like frankincense. Each meeting and meal began with some new, sad tale of injury or loss. And everywhere you looked, the people of Cannes were cleaning up. Hoses pumped water out of basements. Carpets were laid out to dry. Electricians rewired restaurants. Everyone seemed to be helping everyone. And everyone was also helping us.
For the first time ever, while I walked through the streets of Cannes, I actually saw Cannes. Not as a place I go to twice a year to hustle my kids shows, but as a town with families and businesses whose very livelihoods depend on the annual markets. One small café owner explained to me that the loss of even one day's revenue during a market has a big impact on local restaurants. She also explained that they charge so much in Cannes not because they want to, but because their rents are so high that they simply have to.
Humans recover fast. I saw this in New York after 9/11. And I saw it again in Cannes last week. On Monday morning, MIPCOM opened right on schedule even though, just one day before, water had literally been pouring through the roof of the Palais des Festivals. The teams at Reed MIDEM and many residents of Cannes worked through two straight nights to make sure the Palais would be open and safe. Their hard work and sacrifice meant that we could all do what we'd come to do: Buy and sell our television shows.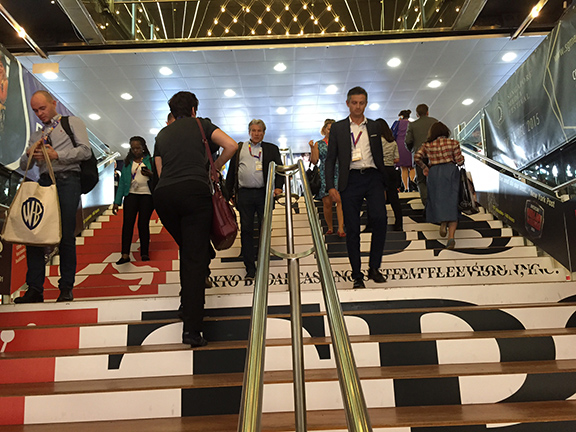 I learned recently that, in Chinese, the word for "crisis" is made up of two different characters. One is the character for "danger," and the other is the character for "opportunity." The storm in Cannes last week was clearly dangerous, and the loss of life will be mourned by the families and friends of the victims for years to come. But the storm was also an opportunity. For most of us, it was an opportunity to experience Cannes as a community, a tight knit group of schools, businesses, and houses of worship that came together during their worst flood in many years.
And it was also a reminder that we are guests in Cannes, and we must never take for granted what the locals here do for us. This year, I think all the MIP delegates found a new admiration for our hosts in this lovely seaside town.
So, thank you, Cannes. See you in April. God bless you.
Josh