Now that the American Academy of Pediatrics has revised its media guidelines to be more in sync with family life, we owe it to parents, early childhood educators and content creators to open additional research lines exploring best practices in media for the youngest children.
It's fair to say that there may be no reason why kids under two need to use screen media. Still, we know that they do, up to an hour a day, per Common Sense Media's 2013 study, and so it's incumbent on us to understand why parents make these choices, and what they want or expect from media.
Armed with that knowledge, and with understanding of child development and kids' capabilities with various technologies, we can responsibly develop content that meets families' hopes and needs.
We can also evolve a marketing code of conduct that doesn't rely on false promises to parents. (Personally, for all-aged kids, I advocate telling parents what went into a product or media property, without predicting outcomes. Say what you're teaching, because learning is more complex and contingent.)
Simultaneous with the AAP's update, The University of Sheffield, Dubit, CBeebies and other partners have released an in-depth study of apps for preschool children, covering the ages 0-5 (one of very few to explore 0-2 year olds). The research is based on a 2000-parent survey, six in-depth family case studies, over 20 hours of video of children using apps, and an analysis of the most popular pre-school apps. A preliminary version was issued this summer, written primarily for app developers. The final version features individual analyses and insights for parents, policy makers and early-years practitioners, as well as industry.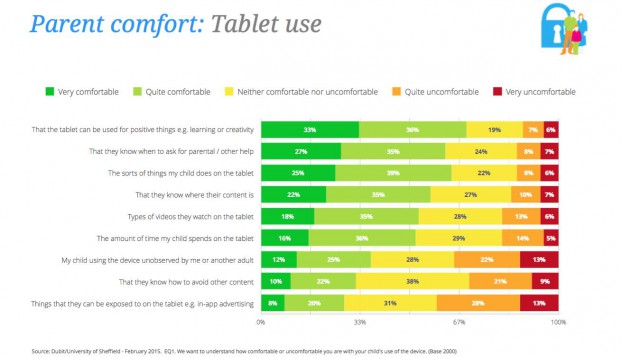 Bolstering the AAP's new insights, this array of reports reveals strong common values and conclusions with the pediatricians' Beyond 'Turn it Off column.
The pediatricians' central declaration of how the world has changed since its previous statements is that Media is just another environment. Children do the same things they have always done, only virtually. The British study, meanwhile, outlines how apps can support classic creativity and play patterns, focusing on what makes technology-enabled approaches to storytelling, art, music and more unique from "real-world" equivalents.
The AAP statement also concludes both parenting has not changed; the same parenting rules apply to your children's real and virtual environments, as well as the more media engender live interactions, the more educational value they may hold. Similarly, the Sheffield/Dubit/CBeebies report advises just as you would ensure your child had a range of books and toys, it is fine for them to enjoy a variety of different types of apps and recommends that children learn more from media when adults interact with them…think about how their favourite apps can inform non-digital play.
The pediatricians emphasize that curation helps. More than 80,000 apps are labeled as educational, but little research validates their quality. The UK work discusses and makes recommendations on this issue in each of its reports. It suggests that policy makers support programs to aid parents in understanding quality and educational value in digital media, via healthcare professionals, child minders and parenting organizations, and build capacity for media literacy and technology training for early-years educators. It addresses preschool teachers with "best practices" advice on choosing apps for classroom use, on utilization for promoting creativity, and also on how to talk with parents about technology. The report aimed at industry provides guidance on characteristics of apps that support learning and creative expression.
While of course the University of Sheffield/Dubit/CBeebies study was fielded before the AAP issued its revised guidelines, the parallel publications both celebrate the wisdom of the pediatricians' new guidelines, and herald great new opportunities for research and industry collaboration. Now that we acknowledge that we live in a world where "screen time" is becoming simply "time" and that policies must evolve or become obsolete, it's time to understand, guide and support families' lives, needs and choices, rather than reproach them.