Following the success of its first season, family sitcom Millie Inbetween from UK-based Zodiak Kids Studios has been recommissioned for a second 13 x half-hour season and a one-hour Christmas special by CBBC.
Co-produced by  Zodiak's The Foundation, Millie Inbetween features 13-year-old Scottish starlet Millie Innes from CBBC's Dani's House.
The series puts a positive spin on living in a broken home while following the ups and downs of Millie and her older sister Lauren as they alternate between their mom's home and their dad's flat.
Elaine Sperber and is back on board as executive producer for The Foundation and Melissa Hardinge also returns as commissioning editor for CBBC.
CBBC controller Cheryl Taylor secured the recommission, which is expected to air this fall.
Zodiak, which holds the global distribution rights to the IP, will launch the new series first at MIPCOM.
In other pre-MIPCOM news for Zodiak Kids Studios, a co-development deal has been signed with Coolabi Group for Sea Quest, a brand-new 26 x 22-minute action/adventure CGI series for six- to 11-year-olds.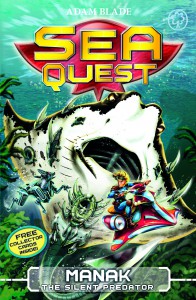 Based on a successful book series by Adam Blade and owned by Coolabi Group, Sea Quest is a spin-off of the hit book franchise Beast Quest, which has sold more than half a million copies.
For the new Sea Quest TV series, Zodiak and Coolabi have enlisted UK animation studio Factory to produce the series' initial animation concepts that will be presented in Cannes.