Millennial fans of iconic Nick shows from the '90s and beyond including Rugrats, Kenan & Kel and Hey Arnold! can rejoice as the kidsnet is set to launch a brand-new cross-platform retro content destination on October 5 called The Splat.
Spanning traditional television, seven social media platforms and a dedicated website, The Splat will kick off on TeenNick from 10 p.m. to 6 a.m. (ET/PT) followed by a move across platforms.
Along with the beloved Nick programs, the experience will include classic programming stunts like Nick or Treat, U-Pick and Super Toy Run, days of programming scheduled as they aired in the '90s, and original promos and interstitials.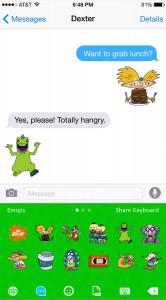 TeenNick's TV block will feature an eight-hour rotating lineup airing daily from 10 p.m. to 6 a.m. (ET/PT), while social space TheSplat.com will let fans interact with a Splat-branded keyboard featuring more than 30 Nick emoticons, stickers and GIFs called the Emoji Keyboard.
The keyboard will be released in early October on iTunes and Android and will be updated monthly with new content based on seasonal favorites and trending topics.
The Splat follows TeenNick's "The 90s Are All That" programming block, which found success with young adults after launching in 2011.