It's a truism that "content is king," but content without well-targeted distribution leaves a lonely kingdom. So, perhaps distribution is queen?
Even if you have both of those, though, young people need to know how or where to find your content in today's anything, anytime, anywhere media world. Otherwise, the king and queen rule only themselves. So, discovery is the ace that's requisite for a winning hand.
Once upon a time, discovery was simple. Television dominated, and kids knew that some channels or blocks were programmed for them, especially at logical times: early morning, afternoons before the news, the iconic Saturday morning. The competition was two or three other TV channels, picking up a book or toy, or going outdoors. Today, especially as children spend increasing media time with tablets, everything is in competition: kids are just a "home" button away from games, books, video, communication, exploration, learning and more.
How tough has it gotten? Dubit research finds that more than 60% of kids are often or sometimes frustrated trying to find content they want. Maybe they don't know what they're looking for; maybe they know but can't find it in the content maelstrom.
There's good news, though, if you're lucky enough to get found and adopted. Kids engage more deeply than ever with favorite characters, stories and brands. They'll follow you across platforms, consume your content voraciously, and share it with others.
("Sharing" and "recommendation" complete the Royal Flush, to torture the metaphor.)
Here, then, are five thoughts on making content more discoverable and sharable.
1. Don't discount the ongoing value of live TV viewing. Some may say that live viewing is passé, but heed the story of ABC 4Kids in Australia, which pulled Curious George from its late afternoon schedule only to endure a barrage of letters from parents, accompanied by photos of crying children. Not in the children's realm, but the recent Fear the Walking Dead premiere set same-night viewing records for a basic cable debut. If you're on YouTube, consider releasing new content on a consistent timetable that kids can anticipate; if you're on a streaming service without a ready vehicle for "scheduling," you might use marketing messaging to suggest fitting moment or moods for your brand.
2. Be cautiously multi-platform. Single-source distribution is becoming extremely rare; more common is an an anxious need to be on too many platforms. The chart shown here demonstrates how kids interact with favorite brands in a wide variety of digital and physical ways; however, they also tend to associate a character or story most with one or two platforms.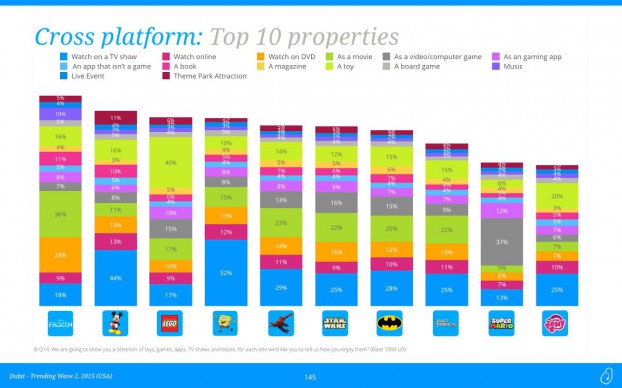 You can go broke trying to be everywhere. Moreover, kids can sniff out a fraud, and will reject content that's put on a wrong platform just because it's popular. Develop a world you can build broadly, but start with "sweet spot" authentic platforms for your audience and content. Drive discovery in those few places, then use your relationship with the audience to introduce new options.
3. Cherish your first fans. Dubit Trending finds that young people who consider themselves innovators or early adopters share their favorite things on a daily basis at double (US) or even triple (UK and Brazil) the overall population's rate. While the "first-in" are the hardest to attract, they're also the fans that will determine your trajectory, from flash-in-the-pan rise and plummet to lasting long-tail stability.
Sharing on a daily or weekly basis appears to peak at ages 8-10, the time when divergence of personal interests really takes hold, when mastery is a big motivator and unique knowledge a big source of pride, and when many kids are getting their own mobile devices.
4. Don't ignore the tried and true. It's tempting to use the newest social networks to promote discovery. For some audiences or at some points in a brand lifecycle, that may be very valuable. According to our tracker, however, kids and tweens still share their "likes" face-to-face at school or at play, more often than digitally. Facebook makes its appearance as a top sharing method among 11- to 15-year-olds, but live personal sharing still ranks very highly.
Coming at the question from the other direction, TV advertisements are still kids' top source for hearing about brands, with friends second and parents (surprisingly, and not just among toddlers) close behind.
5. Know what drives your audience. The motivations that lead young people to seek and adopt new content and brands have remained fairly constant over the past 20 years, but the avenues they use to fulfill those motivations shift with technology. Innovators and early adopters are still characterized as risk-takers, but now they seek the next new thing in niche, online communities rather than specialist magazines or from local trailblazers. Among the early majority, celebrity endorsement is still powerful, but young people's trust and modeling has shifted from TV and movie stars to YouTube and other digital influencers.
It's a Game of Thrones out there for King Content. As difficult as it is to ascend to the throne, it's equally hard to stay there. It takes patience, insight and some luck to draw the Royal Flush – content, distribution, discovery, sharing and recommendation. I hope the five points above help you play your cards right.