In celebration of the global retail launch of products from the highly anticipated film Star Wars: The Force Awakens, Disney Store locations will open for midnight madness on Friday, September 4 (Force Friday), and 14 live toy unboxing events will unfold around the world.
Disney Stores in New York City in Times Square, Chicago on Michigan Avenue, and San Francisco on Stockton Street will open their doors at 12:01 a.m. local time for fans to purchase an array of new Star Wars products including toys, collectibles, books and apparel.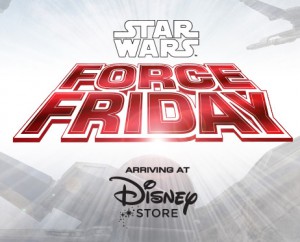 The first 1,000 guests will also receive a free Star Wars: The Force Awakens D23 commemorative fan poster.
On Force Friday, all North American Disney Stores will start the day with Star Wars-themed opening ceremonies, including free commemorative Star Wars: The Force Awakens pins for the first 100 guests who make a purchase, R2-D2 craft activities, story time sessions and free Topps vintage trading card giveaways.
Online shoppers will be treated to limited edition products on DisneyStore.com and free shipping on all Star Wars items from September 4 to 6.
The excitement will kick off a day earlier at the North Michigan Avenue Disney Store when its plays host to one of 14 live toy unboxing events.
At 8:30 a.m. on September 3, HobbyKidsTV, a YouTube channel part of the Maker Studios network, will broadcast live from the store revealing new products from the movie available at Disney Store and DisneyStore.com.
The first-ever global live toy unboxing event will take place on Star Wars' YouTube channel from September 3 unfolding over 18 hours in 15 cities across 12 countries.
Sydney, Australia will host the first live-stream at 7:45 a.m. local time (5:45 p.m. EDT on Wednesday, September 2) and the finale will be held at Lucasfilm in San Francisco at 8 a.m. PDT on September 3.
A social media campaign will encourage using the hashtag #ForceFriday.