Following the successful broadcast run of Over the Garden Wall in November, Cartoon Network is set to launch a consumer products line this fall based on the animated 10-part miniseries from former Adventure Time  creative director Patrick McHale.
The line will feature a DVD release including all 10 episodes of the series and bonus materials, a limited-edition "For Sara" cassette from Mondo and a four-issue comic book series written by McHale from BOOM! Studios imprint KaBOOM!
On September 8, the US$14.97 DVD will be distributed by Warner Home Video with special features including title cards, deleted animatics, the series' original pilot Tome of the Unknown, and an exclusive featurette with McHale, composers The Blasting Company and the series' stars Elijah Wood, Collin Dean and Melanie Lynskey.
Also launching in September on mondotees.com is Mondo's "For Sara" cassette, which fans will recognize as main character Wirt's analog love letter to his crush Sara in the form of poetry and clarinet. The release features more than 20 minutes of brand-new audio material, produced and performed by The Blasting Company and featuring the voice of Elijah Wood.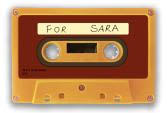 Rounding out the line is KaBOOM!'s comic book series from Patrick McHale and Jim Campbell. The series follows the success of the publisher's one-shot Over the Garden Wall comic book that sold out when it debuted in November 2014.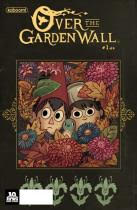 Issue one of the new series will arrive in comic shops on August 26 and feature a story set between episodes three and four of the miniseries. Issue two for September will be set between episodes four and five, October's issue three between episodes five and six, and the final fourth issue in November will be a prequel to the entire story.
Reaching a total of 4,277,000 viewers ages two and up for its broadcast run, Over the Garden Wall offers a soft and nostalgic storybook feeling inspired by folk art, featuring a soundtrack of original Americana-influenced songs.