For '90s kids and parents who remember the classic educational game Zoombinis, but can't access it any more, three Boston-based companies and a Kickstarter campaign have ensured a multiplatform comeback for the property's adorable blueberry-shaped creatures.
On August 6, 2015, a Zoombinis reboot for kids ages seven and up will launch on iPad and Android tablets for US$4.99, nearly 20 years after leading non-profit educational organization TERC and the creator of the original Carmen Sandiego games, Broderbund Software, introduced Logical Journey of the Zoombinis, the first of three CD-ROM games, to homes and schools.
The original math- and logic-based game from 1996 and its two sequels (2001's Mountain Rescue and 2002's Island Odyssey) were lauded for being fun games first, and consumers responded by purchasing more than one million copies.
But when CD games software and the edutainment category became passé in the early 2000s, TERC's technology director David Libby says Broderbund underwent a series of takeovers and was eventually acquired by global education leader Houghton Mifflin Harcourt.
"We loved Zoombinis, but the rights got passed to a succession of publishers, so we've been working to bring it back for about 10 years," says Libby.
"We felt that integrating Zoombinis with today's touchscreen technology, particularly since gaming in education and tablets in schools are on the rise, would be a great fit."
He says TERC finally sat down with Houghton Mifflin Harcourt, which at the time, was still trying to figure out its own digital strategy.
"They had some ideas for Zoombinis, but nothing came to fruition, so we told them we could do something with the game. That's when we got the rights back and all of the original assets, including the game's individual audio files."
With the rights in hand and thousands of engaged Facebook fans interested in a new game, Libby secured funding for a tablet version through TERC's board.
To redevelop the game properly, TERC found a lead developer in educational media company FableVision, whose clients includes Scholastic, Sesame Workshop, PBS KIDS and The Jim Henson Company.
Not-for-profit Learning Games Network also jumped on board, which reunited TERC with Scot Osterweil, one of Zoombinis' original creators and Learning Games Network's creative director.
In addition, a partnership was struck with digital marketing company The Games Agency. Zoombinis' co-creator Chris Hancock rounds out the relaunch team.
Like the original game, the new one sees players use logic, data analysis, pattern-finding and problem-solving skills to help move hundreds of Zoombinis to the safety of Zoombiniville after the blue heroes were imprisoned by evil colonizers known as Bloats.
Zoombinis features 12 increasingly difficult challenges such as Pizza Pass and Mudball Wall, no in-app purchases and approximately 50 to 100 hours of total gameplay.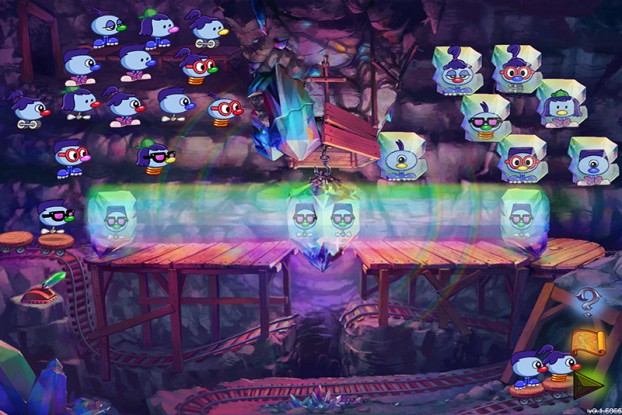 Libby says one of the biggest worries was whether or not the new game would satisfy longtime fans, but also appeal to today's digital natives.
"We paid a lot of attention to what we preserved and how we updated. Before we even started development, we floated a particular conception of the game's pizza troll character on Facebook and thought it looked great, but the fans thought otherwise," says Libby.
As for the game's backgrounds, the original artwork had to be scanned in and tweaked to meet today's high-resolution standards.
"FableVision used an artist named Chris Cyr who has a marvelous Alice in Wonderland look to some of his work. We went with a more muted color pattern that is both enchanting and a little challenging or creepy at the same time because, while the game is fun, the Zoombinis are on an adventure," says Libby.
In terms of the game itself, Libby says it's essentially the same, but with a few updates.
"In the original game, you could create two of the same Zoombini, but it made some of the challenges easier. So, in the revised version, Scot eliminated the twin feature," he says.
On the marketing side, which can often make or break a game, Libby says 20% of Zoombinis' funding been dedicated to a number of initiatives including Facebook contests, trips to education technology conferences like ISTE, an ad campaign currently running on NPR podcasts, media coverage, some direct marketing and word of mouth.
"There are a surprising number of people who still remember Zoombinis," he says.
With the mobile launch imminent, Zoombinis is also now destined for PCs, Macs and tablets of all sizes after a Kickstarter campaign launched in February raised US$101,716, more than doubling the original goal of US$50,000.
Libby says the desktop versions are currently in production.