The second season of animated preschool series Guess How Much I Love You – The Adventures of Little Nutbrown Hare and a brand-new animated Blinky Bill series are both primed to make their Australian television debuts.
On August 3, ABC Kids will exclusively premiere the 26 x 11-minute new season of Guess How Much I Love You from Australia's SLR Productions and its German co-production partners KiKA and Hessischer Rundfunk of ARD.
Toronto, Canada's 9 Story Media Group is once again on-board to distribute the series internationally.
Based on Sam McBratney's bestselling book published by Walker Books and illustrated by Anita Jeram, the first season of Guess How Much I Love You currently airs worldwide on channels including KiKA and ARD (Germany), Disney Junior (US), ABC Kids (Australia), Nickelodeon (UK and France), Hop! (Israel), Disney (Spain and Italy), TFO and TVO (Canada) and YLE (Finland).
JCC (Middle East), Minimax Chello (Central Europe) and RUV (Iceland) also snapped up the series last fall.
Meanwhile, Seven Network Australia has commissioned a brand-new series featuring Australia's beloved koala bear Blinky Bill.
Aussie prodco Flying Bark Productions, in association with Telegael (Ireland) and Giant Wheel (India), has revived the iconic franchise with a 26-episode animated series entitled The Wild Adventures of Blinky Bill.
Before the series airs on Seven in 2016, fans of the property in Australia will be treated to the release of Blinky Bill: The Movie this September.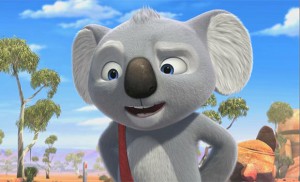 Blinky Bill originally launched in the 1930s as a series of children's books called The Complete Adventures of Blinky Bill, which would become an Australian classic.
In the 1990s, the feature film Blinky Bill: The Mischievous Koala was produced by Yoram Gross Film Studios (now Flying Bark Productions) and several TV series subsequently followed, which continue to air in more than 80 countries around the world.