Perhaps best-known for his role playing British secret agent James Bond, actor Sir Roger Moore's next mission involves taking on an educational project in the kids digital space.
The British icon, along with acting greats Dame Joan Collins, Ewan McGregor and Stephen Fry, has lent his voice to a new children's app called GivingTales.
Available for iOS, Android and Windows Phone 8 devices, the storybook app launched yesterday worldwide. It offers interactive versions of Hans Christian Andersen's classic stories, read by Moore and crew, modernized and condensed to fit the digital format.
As part of the project's commitment to education, 30% of the app's revenue will be donated to UNICEF UK,  for which Moore and McGregor are longtime ambassadors.  The nonprofit org will put the funds towards educating and supporting kids around the globe.
The app comes from the minds of Danish entrepreneur Klaus Lovgreen and Jacob Moller, CEO of Denmark-based games development company Kiloo. Three years back, Lovgreen happened to have a conversation with Moore's son (Christian Moore) in which the topic of the app came up.
"I was having a discussion with Christian Moore, just general brainstorming," Lovgreen recalls. "I said it would be nice if we could get some celebrities to read it up, and did he think his dad might want to read one of these stories? He called him right there and then. That was really how it came about."
The GivingTales chairman notes that the former James Bond actor was excited about the idea, and helped bring aboard the rest of the voice cast. Soon after, Lovgreen and Moeller launched a same-name tech startup, located in Budapest, Hungary, to create the mobile offering.
One free title, The Princess and the Pea, read by Sir Roger Moore, also accompanies the app. Each additional story is available for US$3.99, including The Emperor's New Clothes (Dame Joan Collins), The Little Match Girl (Ewan McGregor) and The Ugly Duckling (Stephen Fry).
"It's for children and adults alike," Lovgreen contends. "I think that's really the essence of it, that you can also read it as a parent and enjoy it as well."
He is banking on the famous names to help entice parents to download. The actors' social media reach will also help in marketing the app. One tweet from Stephen Fry, for example, puts the news about GivingTales in front of 10.2 million followers.
"Roger Moore and Joan Collins and so forth, they were heroes when I was growing up," notes Lovgreen. "We are targeting this at parents who choose these stories because they know the actors. It's very hard to get any attention out there, particularly when you start from scratch. We're very much hoping the reach of the celebrities we work with will help give us momentum."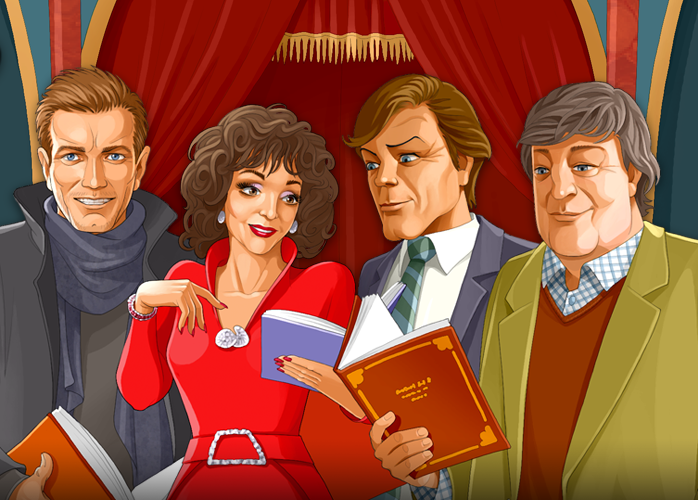 As for the strategy behind the app's design, Lovgreen wanted to bring the classics to the book app realm, which tends to house newer stories.
"I think it's also important to bring the more classic tales to children," says Lovgreen. "These stories have been around for more than 100 years, so they've proven themselves."
Lovgreen notes that the team at GivingTales did update the titles slightly, condensing the stories and putting their moral lessons more front and center.
"If you take a story like The Ugly Duckling, which is very much about bullying and self-belief and those sort of themes, it wasn't that obvious in the original," Lovgreen explains. "The original stories are very long and some of them are very dark." In the Little Match Girl, for instance, the young heroine freezes to death.
"Our objective is to try and create the best possible versions of fairy tales for children, so they can learn and enjoy and get some of the morals and wonderful learnings from these stories," notes Lovgreen. "One of the other things we have done, which I think is very important, is to condense the stories down to anywhere between six and 10 minutes, so that it's easy for children to consume in one sitting."
In each story, as the actors read the words, the text is highlighted for kids to follow along. Parents can switch the function on or off for different levels of readers, as well as the actors' voices, so kids can read on their own.
"Each of the illustrations, you can see there's some animation built into it," says Lovgreen. "We have tried to keep it simple so that you're not too distracted by what is going on and try to focus on the story itself."
Going forward, the studio has additional releases slated to roll out later this year, featuring different actors and stories.
"It's all about creating products these days that are sharable," Lovgreen contends. "If parents like it, they'll spread the word."