Kids across the UK can now read about their favorite on-screen World of Warriors and Boj characters in magazines, thanks to a range of new publishing deals.
Egmont Publishing has launched Mind Candy's World of Warriors in Allabout magazine, a monthly publication series that features the biggest brands and trends in each issue.
The World of Warriors edition target boys ages six to 10 and aims to provide in-depth info on the game's historical characters (ninjas, knights, Vikings) and their worlds through funny and engaging editorial. The magazine is now available in the UK for £3.99 at newstands and supermarkets.
Since launching in November, the World of Warriors game, which featuring some of the greatest combatants in history, has amassed more than five million players worldwide and was voted one of Apple's best games of 2014.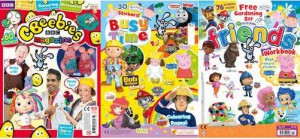 Sticking with the UK, Pesky Productions' preschool TV series, Boj, is headed to a raft of children's magazines.
Immediate Publishing will bring "Boj-a-boom" activities, which are designed to challenge and educate kids in a fun and imaginative way, to CBeebies and Toybox preschool magazines. The magazines will look to replicate Boj's on-screen success, which has more than 500,000 viewers tuning into each episode on CBeebies.
Kennedy Publishing will also showcase the loveable Australian character Boj the bilby and his buddies in Giggly Park in Get Busy and Busy Time magazines. Redan Publishing, meanwhile, will feature Boj and co. in Fun To Learn Favourites and Fun To Learn Friends children's magazines. Each issue will offer kids a range of educational activities to complete and enjoy, including lots of "Lets Get Boj-ing" craft ideas to encourage their creativity.