PBS KIDS has announced air dates for Nature Cat (pictured) and Ready Jet Go!, two key series in its 2015/2016 lineup.
Nature Cat bows on November 25. It follows the animated antics of day-dreaming house cat Fred, who transforms into Nature Cat to explore the great outdoors. Co-created by siblings David Rudman (Sesame Street, The Muppets) and Adam Rudman (Sesame Street, Cyberchase), the series is a co-pro from the brothers' prodco Spiffy Pictures and WTTW Chicago.
An array of comedic actors, including Saturday Night Live stars Taran Killam (Nature Cat), Kate McKinnon (Squeeks), Bobby Moynihan (Hal) and Kenan Thompson (Ronald), are set to voice the series.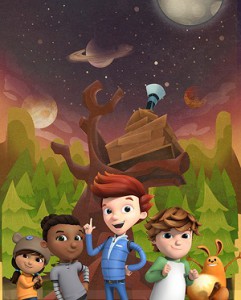 And from the forest to the friendly skies, Ready Jet Go! (pictured left) will debut on February 15, 2016. The CGI-animated series sees neighborhood kids Sean and Sydney befriending new-in-town Jet Propulsion, whose family happens to be aliens. Together, the trio explores the solar system.
The show is designed to help kids learn astronomy and Earth science concepts, featuring live-action interstitials with Jet Propulsion Laboratory astronomer and curriculum consultant Dr. Amy Mainzer.
Created by Craig Bartlett, who is also the mind behind The Jim Henson Company's Dinosaur Train that airs on PBS KIDS, Ready Jet Go! is produced by Wind Dancer Films with local station PBS SoCaL.