Rai Fiction, the drama and animation prodco owned by Italian pubcaster Rai, has announced its new slate, featuring several European co-productions, including new hybrid live-action/animation offerings, two preschool shows and social engagement-focused series.
Hybrid series Seven Dwarfs and Me, being co-produced with France's Method Films, spans 26 mixed-media eps that follow Snow, the great-great-great granddaughter of Snow White, as she meets the seven dwarfs.
Also in the works are more episodes of Rai Fiction's first live-action/animated series Mia and Me. The first 13 eps of season two aired exclusively on Rai Gulp, and the next 13 are set to air, while a third season is planned with an additional 26 episodes for the end of 2016. The fantasy series from Hahn Film, m4e and Rainbow production is co-produced with Germany's ZDF.
On the preschool front, Rai Fiction has lined up Bobby and the Bike Buddies, a new preschool series from Peppa Pig producer eOne Family, made in collaboration with Monza, Italy-based Maga Animation, which revolves around the adventures of a group of highly anthropomorphic motorbikes that act like kids.
Nefertine (pictured), produced by Rome's Graphilm and directed by Maurizio Forestieri, is a 52 x 11-minute series for four to sixes focused on young heroine Nefertine and is inspired by the book All'ombra delle Piramidi (In the Shadow of the Pyramids).
For older kids, Rai Fiction has lined up a new TV interpretation of Robert Louis Stevenson's literary classic Treasure Island. The 26 x 26-minute show is being co-produced by Mondo TV and Giuseppe Maurizio Laganà.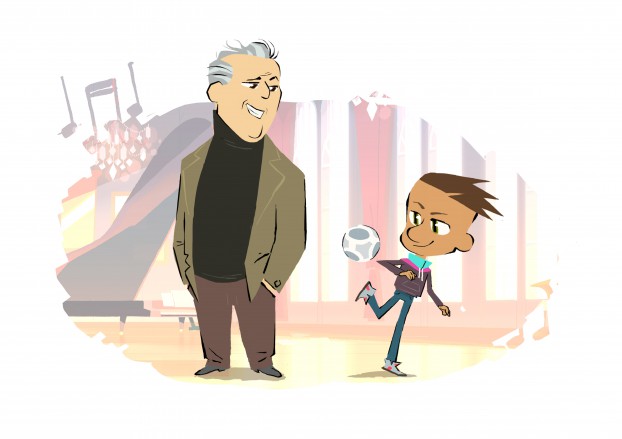 Rai  Fiction has also unveiled  Max & Maestro (working title, pictured), a 52 x 11-minute animated series featuring Argentine pianist and conductor Daniel Barenboim. The show features a boy who grows up surrounded by rap music and video games, but dreams of becoming an orchestra conductor. He meets the great Maestro Barenboim (who has lent his own image to the character), and that dream becomes a reality. The series is being coproduced by Rai Fiction, with France-based Monello Productions and Italy's MP1.
Rounding out the list, Gruppo Alcuni and Rai Fiction, in collaboration with the UN Food and Agriculture Organization and the UNESCO Office in Venice, are producing Young Leonardo, a series created especially for the upcoming food-focused Expo 2015 in Milan. Written by Francesco and Sergio Manfio, the 26 x five-minute show depicts the lives of young Leonardo da Vinci and his inseparable group of friends. Each ep deals with a theme linked to the content of the Expo, such as nutrition, sustainable development, renewable energies and water assets.